By Pat Harty
IOWA CITY, Iowa – Ladell Betts played running back for Iowa during some lean years from 1998 to 2001, and he often had little room to manuever.
So, many of his yards came the tough way, in traffic and with defenders draped all over him.
And yet, Betts still finished his career with 3,686 rushing yards, which ranks second best in program history.
He was recruited to Iowa by Hayden Fry and he played his redshirt freshman season under Fry in 1998 before playing his final three seasons under Kirk Ferentz.
Iowa won three, one, three and seven games, respectively, in each of Betts's four seasons as a Hawkeye.
He helped lead the resurgence under Kirk Ferentz, and did so with a running style, and an attitude, that Betts now preaches to the current Iowa running backs.
"They all know that the way to finish runs is to run through the defense," said Betts, who is entering his third season as the Iowa running backs coach. "I tell them all the time, defenses get tired of tackling. If they have a guy that keeps attacking them, and attacking them play after play, they don't like that. They don't want to have to deal with that. And so, they all know the best way to do that is to finish their runs and wear a defense down."
Betts also played nine seasons in the NFL, so he has instant credibility with the Iowa running backs because he has been where each of them hopes to be some day.
Iowa takes great pride in its running game, and has a long-standing tradition of being considered a power running team, although, its productivity on the ground has left much to be desired recently.
Returning starter Kaleb Johnson set an Iowa freshman record with 779 rushing yards last season, but as a team, Iowa only averaged a paltry 94.9 rushing yards per game.
Part of the blame could be directed at what was a young and sometimes overmatched offensive line.
But with a year of experience, the hope is that the offensive line will go from being a weakness to a unit that can hold its own on a regular basis.
Iowa currently has five running backs on scholarship, and two of them – Johnson and fourth-year junior Leshon Williams – have a considerable amount of game experience, while redshirt freshman Jaziun Patterson also had his moments last season.
The other running backs on scholarship are true freshmen Terrell Washington Jr. and Kamari Moulton, while Cedar Rapids native Max White is a sophomore walk-on.
"I think the offense has been built around the running game, even from the days I was here," Betts said. "That's just how I see it. I'm probably biased as the running back coach, but it all begins with the running game. If we're able to run the ball, that makes us more effective as an offense. That opens up the play action and the deep passing game and tall hat.
"So, with me going into my third season and having a returning starter, that's something I didn't have last year. Last year we had a young group, an inexperienced group. This year we have more experience, so we're just trying to build on that and make sure we're an integral part of the offense."
Williams, as a fourth-year junior, is the veteran amongst the running backs, and he helps to set the tone on a daily basis.
"I feel like we're all focused, and we all have a chip on our shoulder knowing the production we had last season," said Williams, who is from Chicago.
Competition can sometimes lead to conflict when a group of players all want the same thing.
But in the case of Johnson and Williams, they seem different in that their competition actually seems to have made them closer.
They already spend a lot of time together as running backs on the same team, but also as roommates.
"Of course, when we're on the field we all compete," Leshon Williams said. "But me being an older guy now, I look at everybody as my little brother, and I'm really here to help them all as much as I can and give them as many tips and tricks because with me being here for a while now.
"So, it's just like brotherly love. We all compete, but we're all here to make each other better. We all have the same goal."
Johnson won the starting job during the course of last season, and now with a year of Big Ten football under his belt, the Ohio native is better prepared for what lies ahead in his sophomore season.
"I'm way more confident than I was," Johnson said. "I just feel that now I understand how the game is and how the game goes."
Johnson also understands the importance of his teammates, not only the running backs, but everybody on the roster.
"We just bond," Johnson said.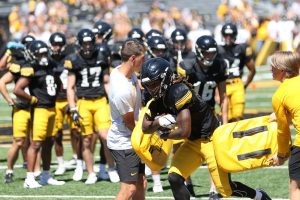 Johnson helps to stay focused by writing his thoughts in a journal on a nightly basis. He said it's sort of like a diary, but with more focus on the future than about the recent past.
"I write my goals and my manifestations every night because I want to be great," Johnson said. "It's just like believing in the future and what you can do in the future."
And while injuries are always a concern with running backs because of how much contact they absorb, Iowa seems equipped to handle the grind with two proven running backs in Johnson and Williams, and with Patterson having shown glimpses of his potential.
Patterson appeared in three games last season, which allowed him to preserve his eligibility, but also show enough to impress the head Hawk, Kirk Ferentz.
Patterson rushed for 23 yards in Iowa's 21-0 victory over Kentucky in the Music City Bowl, including 17-yard on a run that Kirk Ferentz still talks about to this day.
"He started playing a little bit toward the end of the year and I think really got more of an opportunity as we begam prepping for Kentucky in our bowl game," Betts said of Patterson, who is from Pompano Beach, Florida. "I know coach Ferentz has made a couple comments about Jazz, even during bowl prep. He's gained the confidence of his teammates and from the coaching staff, too."
Iowa's running backs
name, class, height-weight, hometown
Kaleb Johnson, So., 6-0, 222, Hamilton, Ohio
Leshon Williams,  Jr., 5-10, 208, Chicago
Jaziun Patterson, #Fr., 5-10, 204, Pompano Beach. Florida
Terrell Washington Jr., Fr., 5-11, 205, Wylie, Texas
Kamari Moulton, Fr., 5-9, 185, Fort Lauderdale, Florida
Max White, So., 5-10, 205, Cedar Rapids
# – redshirt