By Pat Harty
IOWA CITY, Iowa – It occurred to me recently that Kirk Ferentz by the end of the 2023 season will have spent half of his life in Iowa, and as a member of the Iowa football team's coaching staff.
Ferentz turned 68 years old less than a month ago on Aug. 1, and this will be his 25th season as the Iowa head coach.
Combine that with the nine seasons he spent as the Iowa offensive line coach under Hayden Fry from 1981 to 1989 and that adds up to 34 years.
Around here, we take Iowa's coaching stability for granted because we live with it every day.
There isn't anything unusual about having had just two head football coaches since 1979 because that's all we know around here.
Anyone under the age of 50 probably doesn't even remember an Iowa football game that was coached by someone other than Hayden Fry or Kirk Ferentz.
"If you had told me in 1981 I was going to live thirty-plus years in Iowa City, I would have said you're absolutely nuts, out of your mind," Kirk Ferentz said. "So, you just never know where it's going to take you. I've been really lucky."
Ferentz made that comment at Big Ten Media Day last month in Indianapolis.
When you're the longest tenured FBS head coach in the country, that is new news for those that don't live with it every day because Iowa's coaching stability in football is so rare and unusual.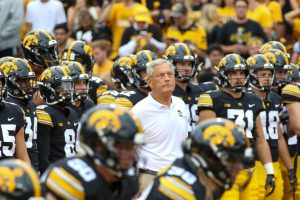 Even Penn State, despite Joe Paterno's 46-year reign as head coach from 1966 to 2011, has had more head football coaches than Iowa since 1979 by a three-to-two margin.
No other Big Ten football program has had fewer than five head football coaches since 1980, led by Minnesota and Purdue with nine head coaches, while Illinois and Wisconsin both have had eight if you include the one season Jim Hilles spent coaching the Badgers in 1986.
Indiana, Maryland, Michigan State, Nebraska and Rutgers all have had seven head football coaches since 1980, although, in the case of Rutgers, it's just six different head coaches since current head coach Greg Schiano is in his second run with the Scarlet Knights.
Hayden Fry's final season as the Iowa head coach was 1998, ending a spectacular 20-year reign as the head Hawk.
The 1998 season also marked a new era in Nebraska football as Frank Solich replaced the legendary Tom Osborne as head coach.
Nebraska has since turned into a revolving door as Matt Rhule is now the sixth different head football coach since Osborne retired.
Ferentz has had opportunities to leave Iowa, and he considered taking the Jacksonville Jaguars job following the 2002 season before ultimately choosing to stay put.
Fry also had chances to leave Iowa, and he threatened to do so until the original indoor practice facility known as the bubble was built in the mid-1980s.
The University of Southern California reportedly wanted to hire Fry in the mid-1980s after he rebuilt Iowa into a Big Ten power. But Fry chose to stay in Iowa where he was comfortable and a legend in the making.
The Iowa job isn't considered among the elite jobs in college football, and some might not even rank it in the upper half of the Big Ten, especially with USC, UCLA, Oregon and Washington all set to the join the Big Ten in 2024.
And yet, for Hayden Fry and Kirk Ferentz, the Iowa job was a destination job rather than a stepping-stone job.
That says a lot of about them, and about the job.
It also says something about the University of Iowa, and about the Iowa City community because the coaching stability goes beyond just head football coaches.
Lisa Bluder is entering her 24th season as the Iowa women's basketball head coach, while Fran McCaffery is entering his 14th as the Iowa men's basketball head coach.
Tom Brands is also entering his 18th season as the Iowa wrestling coach.
His willingness to stay put is easy to understand since Brands grew up in Iowa and wrestled as a Hawkeye for Dan Gable, winning three national titles.
Bluder also grew up not far from the Iowa campus in Marion, so this is also her home, even though, she played basketball for Northern Iowa.
But with Fry and Ferentz, they knew very little about Iowa before it became their home as Fry grew up in Texas, while Ferentz was born in Michigan and then lived in Pittsburgh, Pennsylvania for much of his childhood.
There apparently is just something about coaching at Iowa that makes you want to stay.
The pay is good, but that's the case with most head coaching jobs in the high-profile college sports these days.
Ferentz makes about $7.5 million annually, which is some serious coin. But he also makes about $2 million less annually than Michigan State head football coach Mel Tucker, who has finished with a losing record in three of his four seasons as a college head coach,
A cynic, or a frustrated fan, might say that Iowa has made it easy for Kirk Ferentz to stay by giving him so much power and leverage, and for allowing him to have his son be the offensive coordinator despite mixed results.
But then how do you explain why Fry stayed for so long?
At some point, you have to recognize that there are benefits to coaching at Iowa and to living in or around Iowa City.
There are no professional sports teams in Iowa, so the Hawkeyes are the only show in town, and some find that attractive.
Former Iowa men's basketball coach Tom Davis, I'm told, still lives in the same house in Iowa City in which he has lived for decades.
And if anybody had reason to leave Iowa City, it would've been Tom Davis for how he was treated and forced to resign after 13 mostly successful seasons.
The stability also goes beyond just head coaches.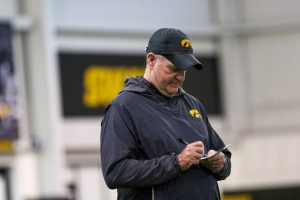 Phil Parker is just the fourth different defensive coordinator for the Iowa football team since 1979 as he was proceeded by Bill Brashier, Bobby Elliott and Norm Parker, while Brian Ferentz is just the fifth different offensive coordinator since 1979 as he was proceeded by Bill Snyder, Don Patterson, Ken O'Keefe and Greg Davis.
Jan Jensen is also entering her 24th season as Lisa Bluder's top assistant coach, and now has the title of Associate Head Coach.
It's silly to think that Jensen hasn't had chances to move on, and the same with Phil Parker.
And yet, both have chosen to stay put.
Parker said it was important for him to provide his family with a sense of stability in every-day life, and he feels that staying at Iowa has allowed him to do that to their benefit.
Kirk Ferentz also takes pride in knowing that all five of his children graduated from Iowa City High, partly because it shows stability in a profession where there is very little.
The Iowa Athletic Director job is yet another job in which stability has been on display for decades.
Beth Goetz is currenty Iowa's Interim Athletic Director, and just the fourth different athletic director since 1970.
Bump Elliott, Bob Bowlsby and Gary Barta, who retired at the end of July, were the three athletic directors prior to Goetz.
Iowa's stability even stretches beyond the coaching profession as Matt Weitzel was recently hired as the new Iowa Sports Information Director, and he is just the fifth different person to hold the job since 1924.
Eric Wilson, George Wine, Phil Haddy and Steve Roe were the four Iowa sports information directors prior to Weitzel being promoted, covering nearly a century.
And while we're on this subject, I've been covering the Hawkeyes and living in Iowa City since 1991, and much like with Kirk Ferentz, in no way did I think I'd stay this long when I first arrived.
But there is just something about this town that makes it hard to leave. It sort of grows on you, even with all the road construction and parking meters.
The job might wear on you at times, but then you take a step back for some perspective and realize that covering the Hawkeyes and living in this community is as fun and as fulfilling as coaching the Hawkeyes.
Except, of course, on pay day.