By Pat Harty
IOWA CITY, Iowa – Cade McNamara's decision to transfer from Michigan to Iowa is part of the changing times in college football.
This kind of thing would've been almost unthinkable prior to the creation of the transfer portal.
But now almost anything seems possible from a roster standpoint.
McNamara has gone from being on top of the world after having led Michigan to the 2021 Big Ten title, and to the college playoff, to now trying to help jumpstart an Iowa offense that finished last season ranked 130th out of FBS 131 teams in total offense.
Football is often described as the ultimate team sport in which multiple players on offense, defense and special teams join forces to fight for a common cause.
But there is also no denying that McNamara will be under tremendous pressure to not necessarily match what he accomplished at Michigan, but to perform at a level that makes the quarterback position a strength for Iowa rather than a weakness.
"I'm just really grateful that I was able to get the opportunity to play for a place like Iowa," McNamara said. "And if it wasn't for the transfer portal, I would never have been able to experience this place.
"So, I'm just super grateful that I'm here and that I'm getting this opportunity."
Spencer Petras had his moments as Iowa's starting quarterback for most of the past three seasons. But he also struggled to where it became apparent that the offense needed a change behind center.
And since none of the backups were able to beat out Petras for the starting job, Iowa head coach Kirk Ferentz apparently felt it was necessary to step outside of his comfort zone by landing a proven quarterback from the portal.
McNamara decided to enter the portal after having lost his starting position at Michigan early last season.
He zeroed in on Iowa soon after entering the portal and now he's preparing to make his first start as a Hawkeye when Iowa faces Utah State in the season opener on Saturday at Kinnick Stadium.
There was some concern about McNamara's availability for Saturday's season opener after he suffered a soft-tissue injury in the Kids Day practice on Aug. 12 at Kinnick Stadium.
He missed over a week of practice, but he has since returned and is now listed as the starter for the Utah State game, much to the delight of Hawkeye fans.
McNamara is also one of 15 Iowa players that were named to the Player Council on Monday.
His leadership qualities have stood out since McNamara became a Hawkeye.
"I love Cade, man," sophomore running back Kaleb Johnson. "He came here a leader and automatically took over with his leadership.
"He's serious about winning."
Kirk Ferentz saw signs of McNamara's leadership when Iowa lost to Michigan 42-3 in the 2021 Big Ten Championship game.
Those same qualities have also stood out since McNamara became a Hawkeye.
"He's just a really good leader," Kirk Ferentz said. "He's a good football player. He's got good vision, makes good decisions. It's really been positive. Excited he's here."
McNamara's performance could go a long way in determining whether Brian Ferentz keeps his job as the Iowa offensive coordinator.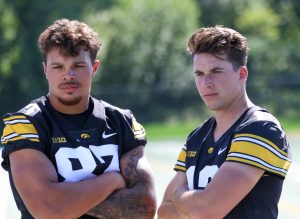 There were performance incentives added to Brian Ferentz's contract this past March, including that Iowa must win at least seven games and average at least 25 points per game for his contract to roll over.
"This isn't a movie out here. Nobody is writing a script," Brian Ferentz said. "If you want to gain respect you have to show up on a daily basis and be a consistent person and a consistent worker, and you have demonstrate reliability before you can even begin to think about maybe vocalizing as leadership.
"And that's what (Cade) did first from day one, and he let that happen. And I think that's how it happened naturally. And if you earn respect, people are going to listen to you."
McNamara is among several players on offense that Iowa has added from the transfer portal.
Former Michigan tight end Erick All also has transferred to Iowa, and he looks forward to playing with McNamara again.
"He's just a great guy and he cares about his teammates," All said of McNamara. "He just lets it known that he wants to win."
It remains to be seen if McNamara's supporting cast at Iowa can come close to matching what he had as Michigan's starting quarterback.
McNamara had the luxury of playing behind arguably the best offensive line in college football as a Wolverine, whereas at Iowa he will play behind an offensive line that struggled for much of last season.
It's hard to remember Iowa fans being more excited about a quarterback since maybe Drew Tate almost two decades ago.
Tate was named the Big Ten Offensive Player of the Year in his first season as a sophomore starter in 2004. He also led Iowa to a share of the Big Ten that season with Michigan.
Fans are now hoping that McNamara will have a similar effect in his first season as a starter for the Hawkeyes.
McNamara is way more experienced than Tate was as a sophomore, and that is reason for optimism.
McNamara has been there and done it before at a high level and now Hawkeye nation is hoping that he can do it again.
The answers will start to come on Saturday.