By Pat Harty
IOWA CITY, Iowa – Hayden Fry didn't just rebuild the Iowa football program, he rebuilt the tight end position as well.
From the moment Fry had his tight ends stand up on the line of scrimmage, the position has stood out.
At first, it was more of a curiosity because of how strange and unusual it was to see a tight end stand at the line of scrimmage rather than in the traditional three-point stance.
But there was a method to Fry's madness.
He had big plans for the tight end position, and the position has been producing ever since, many times in spectacular fashion.
Kirk Ferentz spent nine seasons as Fry's offensive line coach for Iowa from 1981 to 1989, so Ferentz saw up-close just how valuable the tight end position could be.
Ferentz is now in his 25th season as the Iowa head coach, and the tight end position is as strong as it's ever been at Iowa.
Fry would be proud of how Kirk Ferentz has taken a good thing and made it better, the latest example being the versatile duo of Luke Lachey and Michigan transfer Erick All.
The Ohio natives combined for 10 of Iowa's 17 receptions in last Saturday's 24-14 victory over Utah State in the season opener at Kinnick Stadium, with Lachey catching seven passes for 73 yards, including two critical third-down grabs in the second half, while All caught a three-year touchdown pass in the first quarter.
"Lachey to me is that big physical guy that you don't want to get into a tussle with, but yet, he can go run these routes against corners and safeties and that tells you everything you need to know about him, and then he becomes an absolute matchup nightmare," said former Iowa All-America tight end Marv Cook. "And then you throw in All on the other side, he's a matchup issue as well.
"They've got a dynamic one-two punch."
Cook has the distinction of being the first tight end in program history to be named a consensus All-American, earning that honor as a senior in 1988.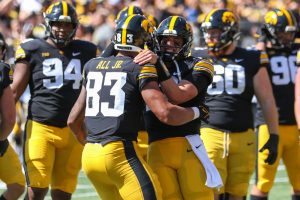 He is one of just two Iowa tight ends to be named a consensus All-American, along with Dallas Clark, who was honored in 2002.
But the list of star tight ends for Iowa is long and distinguished, from Jonathan Hayes to Tony Moeaki to C.J. Fiedorowicz to George Kittle to Noah Fant to T.J. Hockenson to Sam LaPorta, Iowa has certainly earned its title of Tight End U.
And now Lachey looks poised to join the elite group as a fourth-year junior, who just keeps getting better.
"It's super cool and it's humbling definitely," Lachey said of being recognized as an emerging Iowa tight end. "This is the kind of thing you dream of, being a part of something like that.
"I'm not going to say I'm in there. But I'm just going to try and do my best to get in that at some point."
Lachey was recently asked by CBS Sports to name his top Iowa tight ends, and while he mentioned multiple names, the 48-second video that was posted on X, previously known as Twitter, only included six: Marv Cook, George Kittle, C.J. Fiedorowicz, Noah Fant, T.J Hockenson and Sam LaPorta.
"I'll tell you what, I got kind of slammed for that video because I missed all these guys," Lachey said. "But I mentioned way more than they actually put on there."
Lachey said he heard from some of his teammates, but most of the backlash came from social media.
"So, I've got to ignore that stuff at the end of the day," Lachey said. "But I did ignore it."
For Lachey to have named all the star tight ends for Iowa would have taken much longer than 48 seconds.
"It would have been like a five-minute video," said Lachey, who is the son of former Ohio State and NFL offensive lineman Jim Lachey
Cook appreciates that Lachey mentioned him because it would have been easy to overlook a tight end that played for Iowa nearly 40 years ago.
"He understands the game, obviously, his dad was one of the all-time greats collegiately and professionally," Cook said. "So, I think he's got a great history of the game and what it's all about."
Lachey showed star potential last season despite playing in Sam LaPorta's shadow.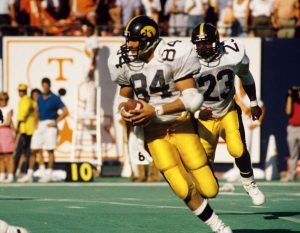 Iowa only had seven touchdown receptions last season, but Lachey had four of them. He also finished second team on the team behind LaPorta with 398 receiving yards and third on the team with 28 catches.
Lachey will definitely be a point of emphasis for the Iowa State defense when team teams meet on Saturday in Ames.
"To me, he is the full package," Cook said of the 6-foot-6, 253-pound Lachey.
The same thing also used to be said about Cook, who played seven seasons in the NFL and earned All-Pro recognition, although, Cook considers Lachey to be more complete than he was as a tight end.
"I was an adequate blocker at best," Cook said. "But he is to me, he's physical, but he can run."
George Kittle was hobbled by injuries for much of his career as a Hawkeye tight end, and has been for parts of his current NFL career.
But when healthy, Kittle is a versatile force as a tight end, one of the best at his position in the NFL.
T.J. Hockenson also now ranks among the best NFL tight ends, and he recently signed a four-year contract extension that was initially reported by ESPN's Adam Schefter as being worth $68.5 million over those four years.
"The amazing thing, like George Kittle, he can fly, but he is an incredibly physical, dominant run blocker with his athleticism," Cook said. "And Hockenson is similar. Hockenson is really, really good at all of it.
"Lachey to me is a bigger version of Hockenson. I think he runs pretty well. I think he runs better than you think."
Lachey also has shown that he can make difficult catches in traffic as he did in the second half against Utah State when the Iowa offense was sputtering.
He caught a 31-yard pass from Iowa quarterback Cade McNamara on third down despite having a defender draped all over him.
"The other thing he does incredibly well is just his body awareness when the ball is in the air," Cook said of Lachey.
Cook said there was a stretch during the prime of his career when he played with extreme confidence.
"There was a couple-year stretch where I felt I would always be open for at least a quarter or half second," Cook said. "If the quarterback was willing to throw the ball in the location, I could be open and make the catch because of the way I would position my body coming out of the break against a defender."
Asked if he sees that starting to happen with Lachey, Cook said.
"One-hundred percent."
Lachey credits part of his success as a pass catcher to having played basketball since a young age. He was a four-year letter-winner in basketball in high school.
"I feel like basketball has helped me with that," Lachey said. "Like rebounding and stuff and trying to go and get the rebound at the highest point."
Lachey also played games on his own as kid in which he worked on his ability to catch.
"Growing up, I would just lay on the ground and throw the ball up and down to myself for hours," Lachey said. "I kind of learned to catch just doing that."
As for his ability to catch in traffic, Lachey has a simple explanation for why he excels at that.
"This is a thing that us tight ends talk about is you're going to get hit, so you might as well try to come down with the ball anyway because if you don't catch it, you're still going to get hit," Lachey said. "That's what I try to think about."
Lachey is known for being a good guy away from the football field and his teammates and coaches admire him for that, and for his leadership skills.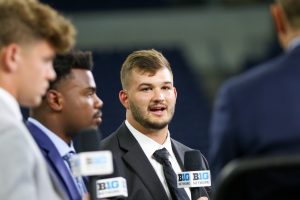 He served as one of four team captains for the season opener against Utah State and will also be a captain for the Iowa State game.
But there is also a side of Lachey that is emerging on the football field, much to the delight of Iowa tight end coach Abdul Hodge.
"He's maturing as an overall individual on and off the field, understanding the difference between off the field being a good guy and it's okay when you're on the field to be an —hole," said Hodge, who is a former All-Big Ten linebacker and three-year starter for Iowa. "Luke's been doing a great job playing the game fast and physical. I thought he played a physical game last week.
"Luke's a great guy, but on the field, he gets after it. Obviously, he's a team captain now. He's been a lot more vocal, and he's been doing a great job for us."
Now in his fourth year in the program, Lachey has studied Iowa's history at tight end there are constant reminders of that rich history.
"Hodge also recently made a video that pays tribute to Iowa's tradition of developing star tight ends.
"You feel like you just kind of learn," Lachey said. "Coach Hodge made kind of Tight End U video. It shows a bunch of the guys, the best guys that have ever come through here.
"So, it is really cool, and just nice to learn about the past."
Cook is certainly a big part of Iowa's past at tight end, and he was also on the receiving end of one of the most famous touchdown passes in program history.
It happened in 1987 when Cook, on 4th-and-23, caught a 29-yard touchdown pass from Chuck Hartlieb in the final seconds of the game to defeat Ohio State 29-27 in Columbus, Ohio.
"I've seen that highlight a couple times," Lachey said.
Kirk Ferentz, meanwhile, has seen Lachey improve steadily, first as LaPorta's understudy and now in a leading role.
"Good players just keep getting better," Kirk Ferentz said. "Even when they get older and their skills start to deteriorate, that's why you've got a brain. If you're thinking right and thinking about how you can get better and improve, there's so much to be said for experience if you're doing it the right way.
"Luke's a great young guy. He's starting to feel it. Last year he started taking off, and he's done a great job in the out of season. We expect him to play well. If we're going to have a chance, I say it all the time, our best guys, our most experienced guys have to play better than they did a year ago or we're going to be in a bad place."
The addition of Erick All has made a position of strength even stronger.
All had over 400 receiving yards during Michigan's Big Ten championship season in 2021, and with Cade McNamara throwing to him.
All held a zoom conference with the media on Wednesday and talked about the circumstances surrounding his first touchdown as a Hawkeye.
"It was crazy that being my first catch and it being a touchdown and it being from Cade," All said. "That was pretty surreal."