By John Bohnenkamp
IOWA CITY, Iowa – Iowa's next win will be the 200th career victory for coach Kirk Ferentz.
To do it against rival Iowa State on Saturday?
"That would be sick," offensive lineman Gennings Dunker said on Tuesday. "That would be pretty cool."
"That would be awesome," quarterback Cade McNamara said. "I think that is just an unbelievable feat that a head coach can reach. We definitely try to play our best for Coach Ferentz.
"And I didn't even know that. That's insane."
Ferentz will become the 24th coach in NCAA Division I play to reach the milestone, but it's not a number that he's focusing on at the moment.
Asked what 200 wins would mean, Ferentz said, "Not a heck of a lot really, quite frankly, other than I've been doing it for a while. It means I've been around good players and good people and in a good place. I've been really fortunate that way. At least I'm smart enough to know that. 
"The only reason I know is because somebody reminds me of it, not frequently, but occasionally. Right now all I know is we're 1-0. That's nice. That's the best we could be. We've got a lot of work in front of us, that's all I know."
Ferentz is in his 25th season at Iowa. He is 187-115 with the Hawkeyes, including a 115-83 win in Big Ten play.
**********
THE RIVALRY:
Iowa had its six-game winning streak over Iowa State snapped with last season's 10-7 loss.
That streak started with a 42-3 win in 2016. Since then, the last five games have been decided by a total of 27 points.
The Hawkeyes still have a streak in the series — they've won five consecutive games in Ames.
"It just is what it is," Ferentz said. "It's really been pretty even since then. Just a lot of really tough, hard-fought games. Not always predictable, but it's a tough, tough series. Just expect more of that on Saturday."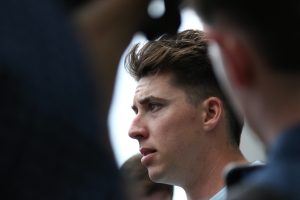 **********
FIRST RIVALRY GAME FOR CADE:
McNamara, who transferred from Michigan in the offseason, will get his first experience in the Cy-Hawk Series, and he's heard that playing at Jack Trice Stadium can be, well, hostile.
"I've heard plenty of middle finger stories, honestly," McNamara said, smiling. "So, I'm pretty excited to get in that environment."
McNamara played in an in-state rivalry at Michigan, starting the 2021 game against Michigan State.
"I just remember it being just an awesome game," said McNamara, who threw for 383 yards and two touchdowns in the 37-33 loss to the Spartans. "We came up a little short, but to be honest, I loved playing in that game. I love playing in rivalry games and I just can't wait to experience the Cy-Hawk rivalry for the first time."
**********
PLENTY OF BIG NAMES MISSING:
The gambling investigation into the athletic departments at Iowa and Iowa State took away some key players from last season's game.
Iowa State quarterback Hunter Dekkers, who threw for 184 yards and the Cyclones' lone touchdown last season, is gone. So is running back Jirehl Brock, who rushed for 100 yards, and Iowa defensive lineman Noah Shannon, who had four tackles but is currently appealing his season-long suspension.
"The guys that aren't there aren't there," Ferentz said. "I can't speak to their side. I can speak to ours. We'd be a better team with our guys out there. I'm sure they feel the same way. The reality is they aren't, so we've all had ample time to get ready."