By Pat Harty
IOWA CITY, Iowa – When you've covered a college football team for as long as I've covered the Iowa Hawkeyes dating back to 1992, you know trash talk and bulletin board material when you hear it.
What Iowa sophomore receiver Seth Anderson said to the media about facing Iowa State on Saturday wasn't trash talk or bulletin board material, even though it could have been interpreted that way.
Anderson was asked at the weekly press conference this past Tuesday what he's seen on film from Iowa State.
"A lot of opportunity, for sure," Anderson said.
He was then asked in what way?
"In a good way," Anderson said.
A reporter then reminded Anderson that Iowa State has one of the best defensive backfields, probably in the country, and then asked Anderson what he sees from them specifically in their unusual 3-3-5 alignment.
"We're working on our game plan," Anderson said. "We're just working to better our offense so we can perform our very best because they're going to be good.
"We're just trying to be the best we can, too."
Should Anderson have phrased it differently when asked about facing the Cyclones?
Yes. You could say that.
But that still doesn't mean his intent was to insult the Cyclones, or to minimize them as an opponent.
Anderson has only played in one game as a Hawkeye after having transferred from Charleston Southern where he had over 700 receiving yards as a freshman last season.
He probably never did, or rarely, faced the number of media that interviewed him on Tuesday, so this is sort of new experience for Anderson.
When former Iowa linebacker Fred Barr said more than two decades ago that he hated Iowa State, that was trash talk because he meant it and wasn't afraid to say it.
When former Iowa defensive lineman Bret Bielema said to former Iowa State head coach Jim Walden at midfield after the annual showdown in 1992 that he enjoyed kicking his ass the last four seasons, that was also trash talk.
However, Bielema, who is now the head coach for Illinois, at least said it after the game, and as a senior who had faced the Cyclones for the last time.
Anderson was correct in saying that facing Iowa State (1-0) would be a lot of opportunity because it will be.
For both teams.
The problem is that what he said could be interpreted as Anderson belittling the Iowa State defense rather than promoting the importance of the game.
But it would make no sense for a player with just one game as a Hawkeye under his belt to intentionally bring the wrong kind of attention to himself by trash talking.
Predictably, what Anderson said became a hot topic on social media where trash talk thrives.
But again, it was a bad choice of words rather than bad intentions.
Anderson now plays for a head coach that always goes out of his way to praise the opponent.
If Kirk Ferentz had a problem with what Anderson said, it was probably addressed, and Anderson will now learn from it.
Anderson might face the wrath of Cyclone fans on Saturday, but that is also part of the thrill of competition.
The best way for Anderson to silence the Iowa State fans is to make plays, and to show why facing Iowa State is an opportunity.
"It's going to be a pretty toxic environment," Anderson said. "It's going to be loud. You live for that. So, it's going to be fine."
Iowa has won six of the last seven games in the series, but Iowa State prevailed last year at Kinnick Stadium by a 10-7 score.
Iowa was held to just 150 yards, including 92 passing yards in last year's game, and also lost two fumbles.
That game was a sign of things to come as the Iowa offense would struggle throughout the season, completing just seven touchdown passes as a team.
Kirk Ferentz hit the transfer portal hard in the offseason, and in addition to Anderson, Iowa also added former Michigan quarterback Cade McNamara, former Michigan tight end Erick All, former Ohio State receiver Kaleb Brown and graduate transfer offensive linemen Rusty Feth and Daijon Parker.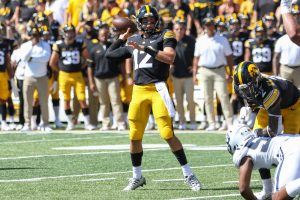 The offense started fast in last Saturday's 24-14 victory over Utah State in the season opener, scoring touchdowns on its first two possessions, but then mostly struggled for the rest of game.
Anderson, who is the son of former NFL receiver Willie "Flipper" Anderson, has the distinction of having scored Iowa's first touchdown this season, which came on a 36-yard pass from McNamara on the opening drive of the game.
McNamara will also be facing the Cyclones for the first time on Saturday, and he will be less than 100 percent physically as he continues to recover from a soft-tissue injury that clearly affected him against Utah State.
McNamara knows about playing on the road in a hostile instate environment after having faced Michigan State in 2021 in East Lansing, Michigan.
He passed for 383 yards and two touchdowns, but the Spartans still won 37-33 at home.
"I remember it just being an awesome game," McNamara said. "We came up a little short.
"But to be honest, I loved playing in that game. I love playing in rivalry games. I just can't wait to experience the Cy-Hawk rivalry for the first time."
One of the sidebars to Saturday's game is the gambling investigation that has impacted the rosters for both Iowa and Iowa State, although, the Cyclones were hit much harder with 2022 starting quarterback Hunter Dekkers and 2022 starting running back Jirehl Brock among those who were charged as part of the probe.
Iowa will be without two-year starting defensive tackle Noah Shannon, who has been suspended for the entire season for gambling on sports.
Their absences will have an impact on Saturday's game more than anything Seth Anderson might have said.
Prediction: Iowa 23, Iowa State 20 
Iowa vs. Iowa State
When: Saturday, 2:30 p.m.
Where: Jack Trice Stadium, Ames
TV: FOX
Radio: Hawkeye Radio Network
Series: Iowa leads, 46-23
In Ames: Iowa leads, 21-8
Last meeting: Iowa State 10, Iowa 7 at Kinnick Stadium on Sept. 10, 2022