By John Bohnenkamp
AMES, Iowa  — Jaziun Patterson's 59-yard run in the first quarter of Iowa's 20-13 win over Iowa State on Saturday was the longest of his short career for the Hawkeyes.
It was the beginning of an 86-yard day in which he emerged as another rushing option for a running game that needs plenty of boosts.
"I mean, it just kind of happened," Patterson said. "When I got in, I just took advantage of my opportunity."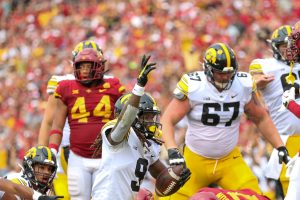 The early run led to Iowa's first points — Drew Stevens' 28-yard field goal — and it helped establish some early momentum for the Hawkeyes.
And then early in the second quarter, Patterson got his first touchdown on a four-yard run that put Iowa up 10-0.
Patterson rushed for 47 yards late last season. He's showing he can be a bigger part of the offense.
"I'd say he runs hard," Iowa coach Kirk Ferentz said when asked to describe Patterson's game. "He's a north-south (runner). He runs hard."
"He's such a downhill runner," quarterback Cade McNamara said. "He's willing to sacrifice his body for the team. We definitely appreciate when he does it like that."
**********
CASTRO'S PICK: Sebastian Castro helped Iowa extend an impressive streak with his 30-yard interception return in the second quarter that gave the Hawkeyes a 17-0 lead.
McNamara had been intercepted to give the Cyclones the ball deep in their own territory, but Castro got the ball back by intercepting Iowa State quarterback Rocco Becht and racing through the opening in front of him for the score.
"It was like slow motion," Castro said. "I saw it the whole way. It felt like practice — just slowing down. It's something I'll never forget. I saw the ball coming really slow. I brought it in, and I was like, 'Bring it home.'"
Iowa extended its streak of interception returns for touchdowns to 16 consecutive seasons — and 21 of the last 23 years — with the touchdown. The streak is the second longest nationally.
"There were a lot of key plays in the game, a lot of ups and downs," Castro said. "I wouldn't say there was one key play. We're just a collective unit of guys doing our job."
Asked if putting up points is expected from the defense, Castro said, "What's expected is good defense. And with good defense comes pick-sixes. Pick-sixes are flashy, but I always expect the little things. That's where the battle is won. That's the key focus of our defense."
**********
OTHER NOTES: … Iowa's defense has allowed one touchdown or less in 11 of its last 15 games, dating back to the start of last season. The Hawkeyes allowed one touchdown (and two field goals) in its season-opening 24-14 triumph over Utah State on Sept. 2 in Kinnick Stadium. Since the start of the 2015 season, Iowa is now 65-2 when leading by eight points at any point in a game … The Hawkeyes scored on their opening possession in back-to-back games (touchdown vs. Utah State, Stevens' field goal in this game). … Iowa had an eight-play, 80-yard scoring drive on its second possession – it's longest scoring drive of the season. … Iowa didn't commit a penalty in the game. It is the se