By Pat Harty
IOWA CITY, Iowa – The subtle hype from Kirk Ferentz started to be more apparent near the end of last season.
It seemed whenever he would be asked about his rotation at running back, Ferentz would make it a point to include then true freshman Jaziun Patterson even though Patterson had contributed very little on game day.
Ferentz kept saying the Florida native was practicing well, and at some point, would be a factor.
Ferentz continued to praise Patterson during preparation for the Music City Bowl, and then Patterson, after having appeared briefly in just two regular-season games, had his best early moment as a Hawkeye in that bowl game as he carried four times for 23 yards in Iowa's 21-0 victory over Kentucky.
Patterson was listed as the No. 3 running back throughout spring practice and entered this season season third on the depth chart behind Kaleb Johnson and Leshon Williams, but Kirk Ferentz continued to include Patterson in any discussion about the running backs.
Patterson figured in the game plan right away against Utah State in the 2023 season opener as he turned a screen pass into an 18-yard gain on Iowa's first possession of the game.
He then had a breakout performance in Saturday's 20-13 victory at Iowa State, rushing for a career-high 86 yards and scoring Iowa's only offensive touchdown on a four-yard run early in the second quarter.
Patterson also broke loose on third down for a 59-yard run on Iowa's opening possession of the game.
All of this from the running back listed third on the depth chart.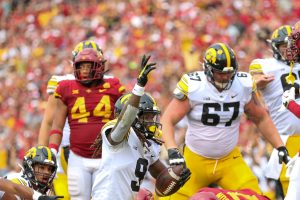 "I just kept my head up and every day I just worked because I knew my time would come," Patterson said after Saturday's victory in Ames. "And when it comes, I'm going to show up."
Patterson's opportunity came this past Saturday on a big stage, and in a game in which state bragging rights were on the line, and he showed up in impressive fashion.
Patterson could've sulked or complained after he fell behind classmate Kaleb Johnson on the depth chart at running back.
Johnson set an Iowa freshman rushing record with 779 yards last season and has been listed as the starting running back ever since, while Patterson only appeared in three games last season.
It would've been easy in this age of the transfer portal for Patterson, a former four-star recruit, to have transferred after how last season unfolded, and after he failed to climb above third on the depth during spring practice.
But he stayed the course and now as a redshirt freshman is being rewarded for his patience and loyalty.
The challenge for Iowa running back coach Ladell Betts is to devise the best way to use all three running backs, and to keep them happy because Patterson obviously deserves more playing time.
To say that he should replace Johnson as the starter is probably premature because it was just one game.
Iowa needs all three running backs to contribute, and to be locked in each week because the position is so demanding from a physical standpoint.
Injuries are always a concern with running backs, so for Iowa to have three dependable running backs is a huge positive for an offense that still leaves much to be desired.
The best thing that could happen for Iowa quarterback Cade McNamara, besides getting healthy, is to have a productive and consistent rushing attack to help lead the way.
McNamara had one of the best rushing attacks in the country during the 2021 season when he led Michigan to the Big Ten title, and to the college playoff.
That is hardly the case with Iowa, where the running game has struggled recently.
Even with Patterson's 86 yards, Iowa still only gained 112 yards on the ground against the Cyclones.
Iowa will look to finish the nonconference part of the schedule undefeated when it faces Western Michigan next Saturday at Kinnick Stadium.
Patterson probably won't start the game, but he will be a factor from this point moving forward.
He has earned the respect of his head coach, and he showed why against the Cyclones.
Iowa RB Jaziun Patterson on staying ready for his moment when it came: pic.twitter.com/lNtEAqdKq4

— Dallas Jones (@DallasJonesy) September 9, 2023