By Pat Harty
IOWA CITY, Iowa – Two games still doesn't tell us much, but at this early stage it seems the Big Ten, and especially the West Division, has more mediocre to average teams than good teams.
Once you get past the top four teams in the conference, the drop off is pretty dramatic based on what has transpired so far on the field. The drop from three to four seems pretty sharp, too.
Of course, the rankings are fluid and will change on a weekly basis, but this is where I see the 14 teams after Week 2.
Michigan, (2-0) – Jim Harbaugh has the greatest three-game suspension maybe ever. He gets to work during the week, and then gets three straight Saturdays off while his team faces East Carolina, UNLV and Bowling Green at home. That'll teach him.
2. Penn State, (2-0) – I wonder if James Franklin has a performance incentive in his contract in which the Nittany Lions, who defeated Delaware 63-7 this past Saturday, will have to average at least 60 points per game?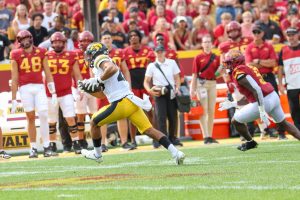 3. Ohio State, (2-0, 1-0) – Perhaps the most interesting thing about the Buckeyes so far is that backup quarterback Devin Brown wears No. 33 in honor of former NFL quarterback legend Sammy Baugh, who passed away in 2008 at the age of 94.
4. Iowa, (2-0) – Mr. Optimist: Iowa has 220 interceptions, including 34 pick-sixes since 2009. Mr. Pessimist: Iowa has 16 touchdowns passes since the start of 2021 season.
5. Maryland, (2-0) – There is a sharp drop off from fourth to fifth, and I tried not put the Terrapins in the fifth spot because they leave much to be desired and can't be trusted, especially on defense. But the pickings are slim. Maryland also has one of the best quarterbacks in the Big Ten in Taulia Tagovailoa, and that should account for something.
6. Wisconsin, (1-1) – It was tempting to drop the Badgers lower than sixth based on their listless performance in this past Saturday's 33-21 loss at Washington State in which they gained just 90 yards on the ground. But again, the pickings are slim.
7. Illinois, (1-1) – This is where picking the best of the least really starts. It came down to the Fighting Bielemas or the Gophers and I picked Illinois because I like Bret Bielema, while P.J. Fleck can be annoying.
8. Minnesota, (2-0, 1-0) – Even with their team undefeated, Gopher fans have no right to make fun of Iowa's offense.
9. Michigan State, (2-0) – The Spartans took care of business this past Saturday in defeating Richmond 45-14, but then football suddenly became irrelevant due to the sobering news that broke on Sunday about Mel Tucker.
10. Rutgers, (2-0, 1-0) – The Scarlet Knights faced two mediocre and overmatched opponents in Northwestern and Temple in the first two games, but they also manhandled them both. So, perhaps this is the beginning of a breakthrough season under Greg Schiano. There just isn't enough proof to rank Rutgers any higher.
11. Indiana, (1-1, 0-1) – The Hoosiers showed this past Saturday by defeating an overmatched and not very good Indiana State squad 41-7 that they would be a serious threat to win the Missouri Valley Conference this season.
12. Purdue, (1-1) – To beat a Power Five team on the road is certainly a noteworthy accomplishment, but Purdue's 24-17 victory at Virginia Tech this past Saturday probably says more about Virginia Tech's weaknesses than Purdue's strengths. The once-proud Hokies just aren't very good right now.
13. Nebraska, (0-2, 0-1) – It obviously falls short of winning a national title. But Cornhusker fans can take satisfaction in knowing their beloved team isn't ranked last in these rankings, although, it was seriously considered because Nebraska has a mess at quarterback.
14. Northwestern, (1-1 0-1) – The Wildcats can only hope that Big Ten expansion eventually includes UTEP, which they defeated 38-7 this past Saturday for their first win in the United States since the 2021 season.