By John Bohnenkamp
IOWA CITY, Iowa – Cade McNamara has been a full-go this week in Iowa's practices for Saturday's game against Western Michigan at Kinnick Stadium.
That's a big step forward for the Hawkeyes' quarterback, who has been bothered by a quadricep injury since the middle of August.
"It's feeling really good," McNamara said. "This is the most healthy I've felt in a month. I'm excited to be fully back in."
It's a big step for McNamara, who suffered a season-ending knee injury three games into last season at Michigan, did little work in the spring after transferring to Iowa, and then was injured early into fall camp when he stumbled on a run during the Hawkeyes' Kids' Day open scrimmage on August 12.
"This is the most amount of time I've ever been away from football," McNamara said. "I've been throwing footballs every single month, every week, for the last 15 years of my life.
"This is my first week of practicing for a game in, like, a year or so. I'm just really happy now that I'm in a situation when I can really put the gas pedal down and get out there each week for preparation."
It's a big step for a quarterback who has been expected to put some life into an Iowa offense that was one of the worst in FBS play last season. McNamara has completed 29-of-52 passes for 314 yards. He has two passing touchdowns and an interception, and has completed 55.8 percent of his passes, a number he expects to improve.
Iowa coach Kirk Ferentz said he knew McNamara was feeling better after talking to him last Thursday after McNamara and teammate Erick All were watching film at the Hawkeyes' facility.
"He indicated that he was feeling like he was gaining ground at that point," Ferentz said. "That was encouraging.
We're in a lot better position today than two weeks ago, which is encouraging, too. With injuries, you never know how they're going to go, everybody heals differently."
McNamara's lack of mobility has put some limits on Iowa's playbook.
"With all that being said, you have to keep your fingers crossed, hope he keeps climbing," Ferentz said. "The fact that he can practice now is huge because he's missed a lot of time, and the timing component is so important. It's important because it's not like he's played with our guys a lot. This was the first time he has done any team stuff since August.
"There's a lot of work to do right now. That's encouraging for me. I talk about the potential of our team. I think that's a big part of it. If we can keep him out there, keep him practicing, common sense would say we'll probably play better with him getting more work. If he's more physically able to move around a little bit, that's a good thing, too."
**********
HARRIS BACK: Iowa will get back cornerback Jermari Harris, who was suspended for two games.
Ferentz said it shouldn't take long for Harris to catch up.
"He's been active. He's been great," Ferentz said. "He's had a great camp. Basically he's been with our team. Was with us Saturday. Just didn't play the last two weeks.
"He's fully engaged, ready to roll. It will be good to get him back."
Harris was No. 1 on the depth chart at right cornerback. He didn't play all of last season because of injury, but had four interceptions in 2021.
"He did a great job in tough circumstances two years ago," Ferentz said. "All of a sudden he was in there, maybe not necessarily ready. Stepped up and did a good job."
**********
BROWN'S STATUS: There were plenty of expectations placed on wide receiver Kaleb Brown, who transferred from Ohio State in late spring.
Brown, though, doesn't have a reception after Iowa's first two games.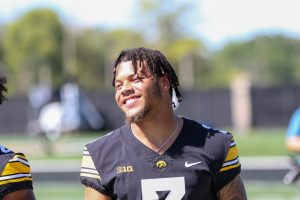 Ferentz, though, thinks Brown can be a big part of the Hawkeyes' receiver group that includes returners Nico Ragaini and Diante Vines and transfer Seth Anderson.
"I really think Seth and Kaleb are similar. They're both guys … we didn't see anything of them in the spring. One wasn't here and the other was hurt. Both of them have done a nice job since August.
"Probably the only difference is Seth played a little bit more receiver, whereas this is new for Kaleb. Great guy, great attitude. He has a good ability. I think if everybody is just patient, let this thing go as it goes, all four of them I see being active in the rotation."