By Pat Harty
IOWA CITY, Iowa – The Iowa football team will face Western Michigan for the fourth time on Saturday at Kinnick Stadium, and with a chance to even the series at 2-2.
That's right, the Broncos from the Mid-American Conference have won two of the three games in the series with their wins coming in 2000 and 2007.
Not to take anything away from those wins because it's always a big deal when a team from the MAC defeats a Big Ten team, but those two Iowa teams weren't very good.
Kirk Ferentz was only in his second season as the Iowa head coach in 2000 when the Hawkeyes lost to Western Michigan 27-21 in the second game of the season.
Iowa would go on to show some progress in the 2000 season, but still only finished 3-9 overall.
Iowa was 6-5 and had won three games in a row when it faced Western Michigan in a rare nonconference regular-season finale in 2007.
A victory would've given Iowa a winning record and a bowl invitation, but it wasn't meant to be as Western Michigan prevailed 28-19 at Kinnick Stadium.
Iowa finally got over the hump against the Broncos in 2013, cruising to a 59-3 victory at home.
The oddsmakers like Iowa's chances of evening the series on Saturday as Iowa is a four-touchdown favorite, and the Iowa players also have some extra incentive to win.
"We've made a point about it, and we are never going to look at an opponent that's just going to be an easy game," Iowa sixth-year senior defensive Joe Evans said of trailing in the series. "Every opponent that we play is going to challenge us as a defense and challenge us as a team.
"So, never ever are we going to look at an opponent and say this is an easy game. That's not how we do things. But just being 1-2 against this team is, obviously, a little bit of fuel to the fire."
Evans basically repeated what his coaches probably have said throughout the week that every opponent deserves respect and your full attention because that is the only way to approach any game.
Lance Taylor is in his first season as the Western Michigan head coach and was previously the offensive coordinator for Louisville.
The Broncos have been greatly impacted by the transfer portal as multiple players either have left or joined the program since the end of last season.
As for the matchup itself on Saturday, here is a look at which team has the advantage at each position.
Both teams have only played two games, so there isn't much data to use.
Western Michigan defeated Saint Francis University 35-17 in the season opener but then was crushed by Syracuse 48-7 last Saturday in Syracuse.
**********
Quarterback: Western Michigan sophomore Jack Salopek has gotten most of the snaps behind center so far and has 280 passing yards in two games. But he has only thrown one touchdown pass and has been intercepted twice.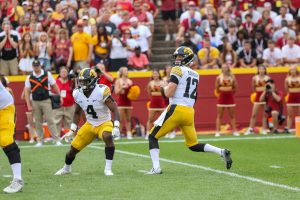 Freshman backup Treyson Bourguet has completed 10-of-16 passes for 64 yards and no touchdowns.
Iowa quarterback Cade McNamara was hampered by a soft-tissue injury in the first two games, but he told the media earlier this week that he's feeling much better and has been full-go in practice.
McNamara has 314 passing yards and two touchdowns so far this season, and he has been intercepted just once.
Those aren't great numbers, but we're also talking about the same quarterback that led Michigan to the 2021 Big Ten title.
Advantage: Iowa
 **********
Running back: A case could be made for giving Western Michigan the edge based solely on statistics.
But statistics don't always tell the whole story.
Western Michigan has more than doubled Iowa's rushing total with 436 yards compared to just 200 on the ground for Iowa.
However, a big chunk of those yards came against Saint Francis University, and on one carry against Syracuse when Jalen Buckley scored on a 75-yard run in the first quarter.
Buckley has rushed for 281 yards in two games and is averaging an impressive 7.4 yards per carry. So, he has outgained Iowa by himself on the ground and that was taken into consideration when trying to decide which unit has the advantage.
However, take away Buckley's 75-yard run against Syracuse and he only gained 12 yards on seven carries.
Iowa has three capable running backs in sophomore Kaleb Johnson, junior Leshon Williams and redshirt freshman Jaziun Patterson, who rushed for a career-high 86 yards against Iowa State last Saturday.
Iowa's running game is still a work in progress, but that is also the case with the Broncos despite Buckley's early productivity.
Advantage: Iowa
**********
Receiver: This is similar to the situation at running back in that Western Michigan has slightly better statistics, but that doesn't tell the whole story.
Sophomore Kenneth Womack, who transferred from Sacred Heart, leads the Bronco receivers with eight catches for 121 yards, while sixth-year senior Nico Ragaini leads the Iowa receivers with just four catches for 44 yards.
Sophomore Seth Anderson, who transferred to Iowa from Charleston Southern, leads the Iowa receivers with 55 receiving yards and he also has one of the team's two touchdown catches.
Both units need to increase their productivity, but one plays in the Big Ten, while the other plays in the MAC.
Advantage: Iowa  
 **********
Tight end: Iowa's dynamic duo of Luke Lachey and Erick All has combined for 16 receptions for 178 yards and one touchdown, which All scored on a 3-yard pass from McNamara in the season opener.
Western Michigan sophomore tight end Blake Bosma has three catches for 23 yards.
Enough said.
Advantage: Iowa
**********
Offensive line: Both units returned multiple starters from last season, but it remains to be seen if that is a positive or a negative.
It's hard to evaluate both units after just two games, but Iowa's offensive linemen have faced tougher competition and most of them were more heavily recruited in high school than the Western Michigan offensive linemen.
Advantage: Iowa
**********
Defensive line: Junior defensive end Marshawn Kneeland leads the Western Michigan defensive linemen with 10 tckles, while sophomore reserve tackle Aaron Graves leads the Iowa defensive linemen with nine tackles.
Iowa has six defensive linemen with at least four tackles and five with at least six tackles.
This was really a no-brainer.
Advantage: Iowa
 **********
Linebacker: Junior Damari Roberson leads the Western Michigan linebackers with 12 tackles in two games, while senior Jay Higgins leads the Iowa linebackers, and the defense overall, with 23 tackles in two games.
Virginia transfer Nick Jackson also has 14 tackles after two games as a Hawkeye linebacker.
Advantage: Iowa
**********
Defensive backfield: Safeties Tate Hallock and Aaron Wofford lead Western Michigan with 17 and 13 tackles, respectively, while cornerbacks Cooper DeJean and Deshaun Lee lead the Iowa defensive backs with 17 and 15 tackles, respectively.
Senior cornerback Keni-H Lovely had four interceptions for Western Michigan last season and was a third-team All-MAC selection. He has two pass breakups so far this season, but no interceptions.
Deshaun Lee started the first two games while junior Jermari Harris served a two-game suspension. Harris is now listed as the starter and is expected to make his seventh career start on Saturday.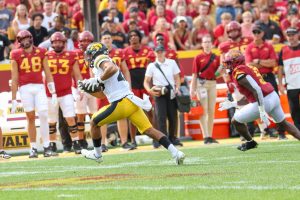 Senior free safety Quinn Schulte has made 15 starts for Iowa and has appeared in 30 games overall.
Sophomore Xavier Nwankpa, a former five-star recruit from Southeast Polk, will make his fourth career start at strong safety on Saturday, while senior Sebastian Castro has started 10 games and has played in 29 games overall as a Hawkeye. Castro was also named the Big Ten Defensive Player of the Week for his performance against Iowa State, which included a 30-yard pick-six.
Advantage: Iowa
 **********
Special teams: Western Michigan has used two punters with Cameron Peasley and Carson Voss having punted five and four times, respectively, in the first two games. Peasley is averaging 42.2 yards per attempt, while Voss is averaging 35.75 yards per attempt.
Western Michigan still hasn't attempted a field goal after two games.
Iowa will counter with arguably the best punter/kicker combination in the Big Ten in senior punter Tory Taylor and sophomore kicker Drew Stevens.
Taylor has punted 12 times for a 47.5 average and five of his punts have traveled at least 50 yards and three have been downed inside the 20-yard line.
Stevens has made all three of his field-goal attempts this season after having made 16-of-18 as a true freshman last season.
Advantage: Iowa
**********
Western Michigan (1-1) vs. Iowa (2-0)
When: Saturday. 2:30 p.m.
Where: Kinnick Stadium
TV: Big Ten Network
Radio: Hawkeye radio Network
Series: Western Michigan leads 2-1.