By Pat Harty
IOWA CITY, Iowa – The Iowa offense has been ridiculed and mocked, and has been the source of jokes for how poorly it has performed in recent seasons.
Iowa offensive coordinator Brian Ferentz has been blamed for most of the problems, and he also has been accused of receiving preferential treatment from his father, Iowa head coach Kirk Ferentz.
The offense hit rock bottom last season when it finished ranked 130th out of 131 FBS teams in total offense.
The situation became so bad that Brian Ferentz had performance incentives added to his contract during the offseason.
One of the performance incentives is that Iowa will have to average at least 25 points per game for Brian Ferentz's original contract to roll back.
Iowa scored a season-high for points in Saturday's 41-10 victory over Western Michigan at Kinnick Stadium.
The final touchdown was scored by reserve walk-on running back Max White with just 30 seconds left to play.
Kirk Ferentz's decision to go for a touchdown rather than take a knee was met with criticism on social media as was to be expected.
In this case, however, the criticism was unfair and misguided.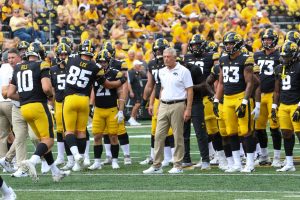 Say all you want about the Iowa offense under-performing, and about Brian Ferentz not meeting the standards for his job because it's hard to argue against those narratives.
But to say that Kirk Ferentz chose to score that late touchdown just to help his son's cause isn't fair or accurate.
"I just wanted to let our guys play," Kirk Ferentz said when asked about White's late touchdown.
The guys to whom Kirk Ferentz referred were all backups, including White, who is no higher than sixth on the depth chart.
The Cedar Rapids native might never get another opportunity to score a touchdown as a Hawkeye, and that was Kirk Ferentz's motivation more than anything else.
Kirk Ferentz wanted to reward a guy who hardly ever gets rewarded on game day.
Because even in most blowouts, which Saturday's game turned into in the latter stages, it's rare for a sixth-team running back to get any carries.
But Iowa was missing two of its top three running backs due to injuries, so, options four, five and six moved up in the rotation.
By the time White entered the game, true freshmen running backs Kamari Moulton and Terrell Washington already had been given their chance to play with eight and six carries, respectively. Moulton also scored his first two touchdowns as a Hawkeye and the Florida native should have more opportunities down the line as a scholarship player.
Max White, on the other hand, might have scored his first and only touchdown as  a Hawkeye on Saturday.
"Max is a guy who walked on here," Kirk Ferentz said. "He had a chance to go other places and receive aid, but he came here. He works extremely hard in practice and is playing on special teams and doing a good job right now."
One of the problems with Brian Ferentz's revised contract is that it provides more ammunition for the critics and naysayers who always seem ready to pounce.
Former Iowa Athletic Director Gary Barta was accused by some fans of coddling Kirk Ferentz and for allowing him to turn Hawkeye football into a family business.
But then prior to retiring in August, Barta finally took a stand by revising Brian Ferentz's contract.
However, the amendments made a bad situation worse because they brought more attention to Kirk Ferentz's working relationship with his son.
Why should Barta care, though, because he isn't around anymore to deal with the backlash.
Kirk Ferentz could have chosen to kick a field goal in the final seconds of Iowa's 24-14 victory over Utah State in the season opener, but he took a knee instead, leaving his team one point short of meeting the performance incentive in his son's contract.
Kirk Ferentz chose to take a knee because it was the right thing to do in that situation.
Iowa kicker Drew Stevens will have plenty more opportunities to kick field goals as his career progresses.
Stevens didn't have anything to prove in that situation, so, Kirk Ferentz felt no need to score more points.
Kirk Ferentz wasn't motivated by wanting to score more points for his son when he gave Max White a chance to score a late touchdown.
Kirk Ferentz just wanted to reward a kid who works extremely hard and who sacrifices for the good of the team, but with little fanfare or recognition.
It was obvious how important White is to his teammates from how they responded to his touchdown.
"I was just telling him how proud I am of him" said junior cornerback Cooper DeJean. "He's my roommate. He's a guy who comes in every single day and just works his tail off no matter the circumstance."
Iowa will face Penn State next Saturday in State College, Pennsylvania, and it's fair to assume that Max White probably won't have a chance to score a rushing touchdown in that game.
His chance came on Saturday and his head coach rewarded him for all the right reasons.