By Pat Harty
IOWA CITY, Iowa – Somewhat lost or overshadowed by Kirk Ferentz's decision to score a touchdown in the final seconds of Iowa's 41-10 victory over Western Michigan this past Saturday at Kinnick Stadium is that Cade McNamara will have to play better than he has so far this season.
Iowa might have enough to win what appears to be a mediocre Big Ten West Division with McNamara being more ordinary than extraordinary.
To win beyond that, however, would seem unlikely because so much depends on the play of the quarterback.
That puts a lot of pressure on McNamara to deliver, but dealing with pressure is part of being a quarterback and McNamara is used to it after having led Michigan to the 2021 Big Ten title as its starting quarterback.
It could be argued that McNamara had a better supporting cast at Michigan than he has right now with Iowa, especially if Iowa junior tight end Luke Lachey is lost for an extended period due to the injury that he suffered this past Saturday, which seems likely.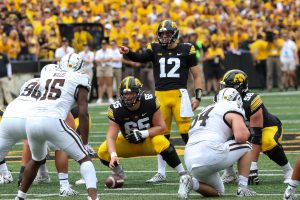 But McNamara also passed for 2,576 yards and completed 64.2 percent of his passes in the 2021 season. He also threw 15 touchdown passes and just six interceptions.
He maybe wasn't extraordinary as a Wolverine, but he was much better than ordinary, whereas McNamara has mostly been ordinary or average as a Hawkeye.
That was enough for Iowa to win all three of its nonconference games, but it's hard to envision Iowa winning at Penn State this coming Saturday with McNamara being just ordinary.
In fairness to McNamara, he has been hampered by a soft-tissue injury, and the running game was mostly ineffective in the first two games against Utah State and Iowa State, making it hard to use play action.
However, against Western Michigan the Hawkeyes rushed for 254 yards and the pass blocking was solid as McNamara usually had plenty of time to throw in the pocket.
And yet, he still only completed 9-of-19 passes for 103 yards, and was sacked four times.
He threw two touchdown passes, but he was also intercepted twice, including in the Western Michigan end zone on a throw late in the second quarter that was ill-advised and that caused Iowa offensive coordinator Brian Ferentz to lose it on the sideline.
If former Iowa quarterback Spencer Petras had made that throw, Kinnick Stadium would have been filled with boo birds and he would've been shredded on social media.
For the season, McNamara has completed 38-of-71 passes for 417 yards and four touchdowns in three games. He also has thrown three interceptions.
"He'll be OK, I'm totally confident in that," Iowa head coach Kirk Ferentz said of McNamara after the victory over Western Michigan. "When you miss practice, it's hard. He's done it. He's got a resume. When you miss time, it's just not the same. I don't care what position you play, it's just not the same."
That is what you would expect Kirk Ferentz to say to the media, and what you would expect him to believe since he aggressively pursued McNamara in the transfer portal.
McNamara has been there and done it, and he did miss over a week of preseason practice because of the injury.
And it's only been three games, all of which were victories.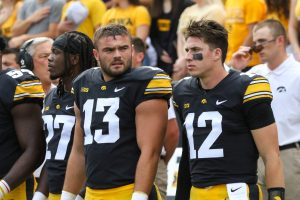 But for Iowa to have one of those special double-digit win seasons, and to seriously compete for a Big Ten title, McNamara will have to play better than he has so far.
He might even have to win a game or two almost by himself as Drew Tate did as Iowa's All-Big Ten quarterback in 2004.
Tate led Iowa to a share of the Big Ten title in 2004 and that marks the last time Iowa has won or shared a conference title.
Iowa had a rock-solid defense in 2004, but it hardly had any semblance of a running game due mostly to injuries, and yet, Tate and his cohorts still founds ways to be productive and successful.
In saying that McNamara will have to play better for Iowa to achieve its goals, that's meant more as an observation at this stage than criticism.
Iowa offensive coordinator Brian Ferentz needs all the help he can get in trying to make the offense better, but no one player can help more than McNamara because he's the quarterback.
McNamara already knows what it takes to win at Penn State as he led Michigan to a 21-17 victory over the Nittany Lions in 2021.
He threw three touchdown passes in the game, including the 47-yard game-winner to tight end Erick All with 3 minutes, 29 seconds left in the fourth quarter.
And speaking of Erick All, his decision to transfer to Iowa, along with McNamara, will take on even more significance now that Lachey is injured.
All now becomes the No. 1 option at tight end, and anyone who is familiar with Iowa's offense knows that is a massive responsibility.
McNamara said he was full-go at practice this past week and he apparently made it through the Western Michigan game without suffering a setback.
But now it's time for McNamara to lift his performance level because it's hard to see Iowa defeating Penn State in a night game, which will also be a White Out game, without McNamara playing at a high level.
"I think kind of in a way I think this was a trap game because everyone is pretty aware the Big Ten games are the most important," McNamara said after Western Michigan victory. "We've got to win those if we want to have any kind of success in the postseason.
"I've never played in a White Out. I've only played in a day white out. So, me and Erick have both played there and I'm sure a lot of other guys on this team have played there. But I don't think it's going to be a difficult task in getting ready for this game. I think everyone is going to be extremely motivated for this one."
The task of getting ready to face Penn State on the road won't be difficult.
The difficult part will be playing well enough to win.