By Pat Harty
IOWA CITY, Iowa – Probably the worst part about covering the Iowa football team, or any football team for that matter, is when a player gets injured.
It just sucks the enthusiasm out of you.
It's a cruel reminder that life isn't always fair, and that playing a violent sport like football is dangerous and unpredictable.
Injuries don't discriminate as everyone is at risk, from the biggest star on the team to the last guy on the roster.
All those thoughts came roaring back as I watched Iowa tight end Luke Lackey get helped off the field in the first quarter of last Saturday's 41-10 victory over Western Michigan at Kinnick Stadium.
He wasn't putting any weight or pressure on his right foot, and early reports from those who saw it up close were that it didn't look good.
Lachey was hurt on an incomplete pass from Cade McNamara on a third down late in the first quarter, and a play before kicker Drew Stevens missed a 41-yard field goal.
Lachey watched the second half of the game from the Iowa bench with his right lower leg in a boot.
Iowa head coach Kirk Ferenz then said afterwards that the injury was significant, and that Lachey would likely be out for an extended period.
Lachey wasn't listed on the depth chart that was released Monday, and the fear is that he will likely miss the remainder of the season.
This cuts deep because Lachey was playing so well, but more so because Lachey is such a good kid who represents his team, his family and himself with class and dignity.
He does everything right away from the football field based on what his teammates and coaches say about him, and yet, this is what happens to him.
"It's very tough," said Iowa running back Leshon Williams. "Prayers for my boy, Luke. That's a big loss."
There is no mercy in football, however, and as tough as it was to see Lachey get injured, his teammates and coaches will have to carry on without him.
"It's next man up, opportunity," Williams said.
Lachey was developing into a force as Iowa's featured tight end and his absence will be felt against Penn State on Saturday, on and off the field.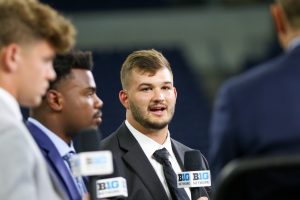 In addition to being Iowa's leading receiver with 10 catches for 131 yards, Lachey is also a team captain and somebody that his teammates and coaches greatly admire.
From a media standpoint, Lachey is a joy to interview and a joy to watch play.
The good news is that Lachey will overcome this setback with help and encouragement from lots of people.
He will receive the best medical care and will do everything within his power and control to recover as quickly as possible.
But that still probably doesn't make it any easier for those impacted the most by his injury, including his parents in Ohio.
I had the privilege of meeting Lachey's father, Jim Lachey, at Big Ten Media Day in late July in Indianapolis.
Jim Lachey was a star offensive lineman for Ohio State, and in the NFL, and his job as a color analyst for Ohio State football keeps him from attending Luke's games.
Big Ten Media Day allowed Jim the chance to be around his son, and he was so proud as he watched Luke represent Iowa at the annual event.
Luke also knows that he has the support of Hawkeye nation as he starts the recovery process.
But there will undoubtedly be some tough and lonely days ahead for him.
A common theme when talking with Iowa players that have been injured is that one of the worst parts is being away from the team and missing out on the little things that occur along the way.
Iowa running backs Kaleb Johnson and Jaziun Patterson also won't play against Penn State on Saturday because of injuries, but they both are expected to return at some point this season and are listed as week-to-week by Kirk Ferentz.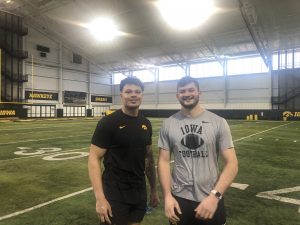 You now wonder if the 6-foot-6, 253-pound Lachey has played his final game as a Hawkeye since he is considered a potential high selection in the 2024 NFL draft as a fourth-year junior.
Former Iowa All-America tight end Marv Cook, who also played seven seasons in the NFL, recently called Lachey the total package as a tight end and Cook raved about his potential.
Lachey's injury now means that Michigan transfer Erick All will become the No. 1 option at tight end, while backups Addison Ostrenga and Steve Stilianos will assume more responsibility.
As Leshon Williams said, it's next man in.
All was considered a huge addition when he decided to transfer to Iowa from Michigan, along with Cade McNamara, and now All's importance to the offense can't be overstated.
In this case, the transfer portal has paid huge dividends and is just what Iowa needed to help withstand the impact from an injury.
Football is a wonderful game in so many ways, but there is also an nasty side that showed its ugly self when Luke Lachey suffered his injury.
Luke Lachey deserves better, and that's what makes this so sad.