By Pat Harty
IOWA CITY, Iowa – When ranking the Iowa football team's best rivalries, Penn State often gets overlooked when it shouldn't.
Iowa and Penn State aren't long-time, traditional border rivals, nor do they play for a trophy each year.
But the series has been highly competitive and has had some dramatic finishes that have helped both teams prevail.
Saturday's game between Iowa and Penn State in State College, Pennsylvania will be the 32nd meeting in the all-time series.
Kirk Ferentz has a 10-8 record against Penn State and Iowa has won the last two games in the series, including a 23-20 victory over the fourth-ranked Nittany Lions in 2021 on Nico Ragaini's 44-yard fourth-quarter touchdown pass from Spencer Petras.
Ragaini's touchdown is one of many moments/plays that have stood out in the series.
Here are my top five plays/moments in the series dating back to 1992 when I started covering the Iowa football team.
It was hard enough trimming the list to five, but even harder to rank them from one to five.
**********
Tim Dwight's 83-yard punt return in 1996: Iowa was trailing 7-0 in the first quarter when Dwight caught a punt at his own 17-yard line.
The Iowa City native then blasted through an opening, cut to his left and outraced several Penn State players down the Penn State sideline for an 83-yard touchdown.
Iowa, despite playing without senior running back Sedrick Shaw who was injured, would go on to prevail 21-20 on a rainy and miserable day in Happy Valley.
**********
2. Daniel Murray's game-winning field goal in 2008 at Kinnick Stadium: The Nittany Lions were undefeated and ranked third heading into this game, while Iowa was 5-4 and coming off a 27-24 loss at Illinois in its previous game.
There were concerns that Iowa's season was slipping away, but those concerns turned to jubilation when Murray, a graduate of Iowa City Regina, made a 31-yard field goal in the final seconds to secure the 24-23 upset victory.
Iowa would go on to win its final three games, including a 31-10 victory over South Carolina in the Outback Bowl to finish 9-4.
Iowa running back Shonn Green also won the Doak Walker Award that season as the nation's best collegiate running back.
**********
3. Adrian Clayborn's blocked punt that he returned for a touchdown in 2009: Iowa was trailing 10-5 early in the fourth quarter in Happy Valley when Clayborn plowed through his blocker before blocking the punt.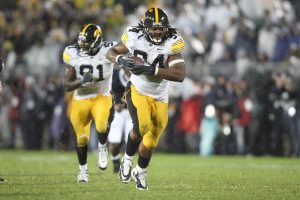 The St. Louis native then scooped up the ball and ran untouched into the end zone for the go-ahead touchdown.
Iowa would go on to prevail 21-10 against a Penn State team that was ranked fourth at the time.
The victory over Penn State came in the Big Ten opener and was part of a nine-game winning streak dating back to the season opener.
**********
4. Ryan Hansen's game-clinching interception in 2000: The former Iowa City West High graduate, who was attending law school at the time, made the interception in double overtime after the ball had deflected off a Penn State receiver.
Iowa won 26-23, giving Kirk Ferentz his first Big Ten road win as the Iowa head coach.
The Hawkeyes would go on to defeat No. 18 Northwestern 27-17 the following week and it was clear that the program was finally moving in the right direction under Kirk Ferentz.
**********
5. Saquon Barkley's performance at Kinnick Stadium in 2017: I made an exception with this pick since it doesn't involve an Iowa player and was an overall performance rather than just one play.
A national television audience watched Barkley turn Kinnick Stadium into his own playground as he rushed for 211 yards, caught 12 passes for 94 yards and returned three kicks for 54 yards in Penn State's 21-19 victory.
If there is one play that stood out, perhaps it was when Barkley hurdled Iowa All-America cornerback Josh Jackson, or when he juked Iowa All-America linebacker Joey Jewell on a play that probably should have gone for negative yardage, but instead went for a first down.