By Pat Harty
IOWA CITY, Iowa – Great quarterbacks are defined mostly by what they do in the biggest moments on the biggest stages.
Tom Brady retired as the NFL's all-time passing leader with 89,214 yards, but his seven Super Bowl victories are what stands out the most about his legendary career.
It's the same with Joe Montana and his four Super Bowl wins and Michael Jordan and his six NBA titles.
Statistics, of course, matter, but it's how a quarterback responds under the glare of the spotlight that means more to a legacy.
Iowa quarterback Cade McNamara will face the glare of the spotlight on Saturday against Penn State in a game that could go a long way in shaping his Hawkeye legacy.
McNamara already has defeated the Nittany Lions once at Beaver Stadium in University Park, Pennsylvania, but that was as Michigan's starting quarterback in 2021.
He threw three touchdowns passes to lead the Wolverines to a 21-17 victory on their way to the Big Ten title.
If McNamara were to do something similar on Saturday night in front of a hostile sellout crowd that will be dressed in all white and creating huge distraction, then his Hawkeye legend would receive a significant boost.
McNamara can't do it alone because football is the ultimate team sport in which multiple players have an impact.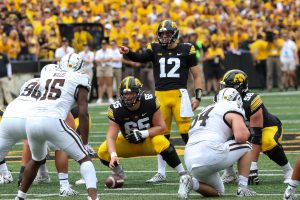 But the quarterback position has by far the biggest impact, and that's why quarterbacks probably get too much credit in times of success and too much blame during tough times.
From a performance standpoint, McNamara has been average, at best, in his first three games as a Hawkeye, passing for just 417 yards and only completing 53.5 percent of his throws.
It's hard to see Iowa winning on Saturday if McNamara were to be average again.
In McNamara's defense, he has been hampered by a nagging soft-tissue injury that happened in the Kid's Day practice on Aug. 12.
He missed more than a week of preseason practice and that was costly.
"Hopefully, with each week at practice we'll see better execution out there," said Iowa coach Kirk Ferentz. "And this is going to be a tough test here because you're going into a tough environment against a team that's really athletic and very opportunistic on defense.
"It's going to be another step up. But good news is he's a veteran player who has done it. And at least he's got that to draw upon. But you still need to be in the here and now in terms of practice."
In addition to his injury, McNamara will also be without three of Iowa's best offensive players because of injuries, including his favorite target in junior tight Luke Lachey.
Running backs Kaleb Johnson and Jaziun Patterson are also expected to miss Saturday's game because of injuries.
That will put more pressure on McNamara to make plays.
But on the flipside, should McNamara play well without three of his best weapons, his legacy would certainly benefit from that, especially if Iowa wins, because rising above adversity is another mark of a good quarterback.
Every game on the schedule matters, but to play in a game like Saturday's much-anticipated showdown is a big reason why Cade McNamara transferred to Iowa and why Iowa pursued him in the transfer portal.
It could be a defining moment, even with eight games left in the regular season.
Iowa (3-0) vs. Penn State (3-0)
When: Saturday, 6:40 p.m.
Where: University Park, Pennsylvania, (Beaver Stadium)
TV: CBS
Radio: Hawkeye Radio Network
All-time series: Penn State leads, 17-14.
In University Park: Iowa leads, 8-7
Last meeting: Iowa won 23-20 on Oct. 9, 2021 at Kinnick Stadium