By Pat Harty
IOWA CITY, Iowa – Groundhog Day is defined as a situation in which a series of unwelcome or tedious events appear to be recurring in exactly the same way.
Insanity has been described as doing the same thing over and over and expecting different results to where it is now almost cliché to say it.
You probably know where I'm going with this after having covered Kirk Ferentz's weekly press conference on Tuesday.
Because it felt like Groundhog Day as members of the media asked Kirk Ferentz why his offense continues to perform at a historically low level, why his receivers don't get targeted more, why the offensive line continues to struggle despite now being filled with veterans, why the running game often fails to produce, why the play calling is what it is, and why he can't fix it.
There are some changes from last season, including Cade McNamara having replaced Spencer Petras as the quarterback on the hot seat.
But Tuesday's press conference was very similar to press conferences from last season when the Iowa offense was performing woefully.
Kirk Ferentz told the media on Tuesday that while the fans hate losing, the players and coaches hate it even more because they live with it every day.
He also said there is no quick fix or miracle cure.
The only option is to pick yourself back up and get back to work.
"Just try to get better in every phase,' Kirk Ferentz said when asked what realistically could be done in season to right the ship. "There's no magic answers; see what we can do to just improve in each and every phase."
Kirk Ferentz said almost the same exact thing last season and will stick with that narrative for as long as he coaches.
Those hoping or waiting for Kirk Ferentz to change his offensive philosophy in year 25 as the Iowa head coach, or to fire his son, Iowa offensive coordinator Brian Ferentz, are in for a long wait because it would never happen, especially in season.
And it shouldn't happen in season.
Brian Ferentz's performance as the offensive coordinator certainly leaves much to be desired, and it makes sense why some fans would believe that he is receiving preferential treatment from his father.
But to demand that he be fired, or to think that his father would take that drastic step in season, is just being naïve and unrealistic.
And what would it accomplish?
Brian Ferentz is the offensive coordinator and the play caller, but the offense, which was held to just 76 yards in the 31-0 loss at Penn State this past Saturday, belongs to his father.
Kirk Ferentz has won 201 games, including 189 at Iowa, coaching a certain way and he isn't about to change now, just because his offense is struggling.
He is determined to stay the course and to stick with what has helped him get this far as the 68-year old Dean of Big Ten head coaches.
"I think you have to," Kirk Ferentz said. "I didn't pretend to know everything in 1999, when I got here, and I certainly don't at this point. In fact, I think most of us could tell you the more experience you get, the more you figure out, boy, there's a lot of things going on that need some clarity on.
"But, yeah, as I said earlier, at some point you've got to have some beliefs and you continually examine those. You re-examine those and probe and prod and all that kind of stuff. But you have to be true to something. I guess that's life in general; you've got to be true to something."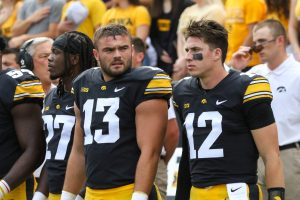 The problem is that with each season the offense struggles, fans become more frustrated and impatient.
The hope was that the addition of Michigan transfer Cade McNamara at quarterback would help to jumpstart the offense. But so far, it just hasn't happened.
McNamara only had 42 passing yards in the loss at Penn State, and he has 459 passing yards in four games.
To put that in perspective, Spencer Petras had 524 passing yards after four games last season.
McNamara was reminded by a member of the media on Tuesday about what he said shortly after committing to Iowa this past winter when he encouraged the many doubters and naysayers to keep saying Iowa was the worst offense in college football, sort of an us-against-the-world battle cry.
He was then asked what he would say to those people now.
It was a fair, but also a tough question.
"I mean the season's not over yet," McNamara said. "We're continually evaluating every single week. This isn't even close to the finished product. There's a reason why there are 12 games in a season. There's a reason why there are four quarters in a game.
'If we just shut it down right now based on what already has happened, I think that's just not a good mindset."
It's hard to argue with that response or mindset because two-thirds of the regular season still is left, and Iowa might be favored in seven of the last eight games.
The numbers 35 and 14 were popular on Tuesday as that represents the number of targets and catches, respectively, for the Iowa receivers after four games.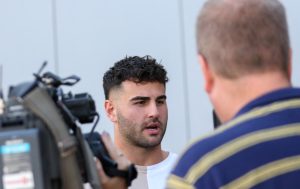 Sixth-year senior receiver Nico Ragaini was asked multiple times on Tuesday about the apparent disconnect with the receivers and he stood firm in his team-first mentality.
He was even asked if the play calling is the result of the coaches not trusting and having enough confidence in the receivers to target them more frequently.
"I understand what you're saying," Ragaini said. "Let me think about this. I don't know. That's just the way the game went last week, and went the past couple weeks. So, just staying positive. If I have a mentality like that, then when the ball comes my way, then my mindset won't be correct.
"So, I can't even put those thoughts in my head. I just have to continue to push forward just like the whole offense does. And when the ball comes my way, I'm going to make the play. And I think that's the mindset of every other receiver as well."
That was the perfect answer under the circumstances.
Ragiani is too smart and too team-oriented to question the play calling or how the receivers are being used.
Of course, he's frustrated by the lack of targets as any receiver would be.
But he isn't about to become a distraction because that's the last thing this team needs right now.
Everybody on offense has to play better, from McNamara down to the last receiver in the rotation.
The offensive linemen will have to block better and freshmen running backs Kamari Moulton and Terrell Washington Jr. will have to grow up in a hurry since injured running backs Kaleb Johnson and Jaziun Patterson both are expected to miss their second straight game when Iowa faces Michigan State on Saturday at Kinnick Stadium.
Brian Ferentz will also have to coach better.
"One thing we always talk about, it's always a team loss," Kirk Ferentz said. "Anytime you come off the field without a victory, that's certainly the case.
"And everybody's got ownership. Coaches, players, everybody's got ownership. It's always been that way. Always will be."
Sounds familiar doesn't it.
That's because Kirk Ferentz probably said something similar last season when the offense was struggling.
As bad as the offense has performed this season, and last season, Iowa still has a 74-31 record since the start of the 2015 season, and has won two Big Ten division titles.
Some fans might roll their eyes at the mention of that, but it matters because Kirk Ferentz still has enough leverage to call the shots, and to keep his son as the offensive coordinator.
The performance incentives that Gary Barta added to Brian Ferentz's contract just a few months before Barta retired as the Iowa Athletic Director are silly and just made a bad situation worse.
But they didn't take away any leverage from Kirk Ferentz.
Something tells me that Kirk Ferentz would love to win 10 or 11 game this season, but average just 24.5 points per game just to see what would happen.
Brian Ferentz's revised contract says that Iowa must average at least 25 points per game this season for his contract to roll back.
But it doesn't say that he would be terminated if he fails to meet all the incentives.
The Iowa offense is a national punchline as it was last season. And though, Kirk Ferentz has a pretty good idea what's being said, he doesn't pay attention to it, and he encourages his players to do the same.
It's just business as usual for Kirk Ferentz until the circumstances say otherwise.
And right now, with all of Iowa's 2023 home games old out, and with the Big Ten West there for the taking, the circumstances are still on Kirk Ferentz's side.