By Pat Harty
IOWA CITY, Iowa – While Iowa fans deal with the sobering possibility of having another horrible offense, Michigan State has bigger problems that stretch far beyond the football field.
Michigan State fired football coach Mel Tucker for cause on Wednesday, less than three weeks after USA Today revealed that the school was investigating a sexual harassment claim against him.
In a statement, the school said it had terminated Tucker's 10-year, $95 million contract signed in November 2021 "for his admitted and undisputed behaviors which have brought public disrespect, contempt and ridicule upon the university; and constitute a material breach of his agreement, and moral turpitude."
Harlon Barnett, a former Michigan State defensive back, has been promoted to interim head coach, and he now faces a monumental challenge.
The Spartans started this season 2-0 but have lost two straight games by a combined score of 72-16 with Barnett serving as the acting coach following Tucker's suspension.
Michigan State now faces a 3-1 Iowa team on Saturday at Kinnick Stadium that should be angry and embarrassed because of how it performed in last Saturday's 31-0 loss at Penn State.
The Hawkeyes were held to just 76 yards, were 1-of-9 on third-down plays and only had four first downs.
"A lot of the guys on this team haven't gone through a loss like that maybe, and if not, in a real long time," said Iowa quarterback Cade McNamara, who transferred from Michigan where he led the Wolverines to the 2021 Big Ten title. "That one hurt.
"Coach always refers to the 24-hour rule, so it sucks for that 24 hours. But after that we have to move on, and we've got to focus on the next week."
Michigan State has won three of the last four, and four of the last six meetings in the series, but Iowa was favored by 12.5 points as of Wednesday afternoon.
Here is a look at which team has the advantage at each position:
**********
Quarterback: None of Michigan State's quarterbacks have come close to accomplishing what Cade McNamara did when he led Michigan to the 2021 Big Ten title as its starting quarterback.
Much has changed since then, however, including McNamara's team as he now plays for the Iowa Hawkeyes.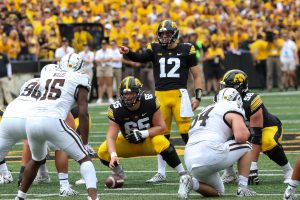 The transition has been rocky, though, as McNamara only has 459 passing yards in four games and is completing just 50.6 percent of his passes. He was held to just 42 passing yards in the loss at Penn State.
Making matters worse is that McNamara is also dealing with a soft-tissue injury that he suffered in the Kid's Day practice way back on Aug. 12 at Kinnick Stadium.
The injury has limited McNamara's mobility, although, he said Tuesday that he's feeling much better.
"Every single week it's progressing very well," McNamara said. "I'm getting a lot closer to being able to run 100 percent. I'm able to run and make all my pocket movements. It's just more when I open it up and just run out in open field is probably when I still feel it a little bit.
"But other than that, I feel great."
The Spartans, meanwhile, have used three quarterbacks this season, including two in each of the first four games.
Noah Kim has taken the most snaps and has thrown for 897 yards and six touchdowns, while backup Katin Houser has 158 passing yards.
This was a tough choice because of how poorly McNamara has performed so far this season, and also because McNamara has played his best as a Wolverine.
Michigan State has the advantage in statistics, but McNamara has the edge in body of work, although, most of his statistics were compiled as a Wolverine.
McNamara will also have home-field advantage on Saturday.
In this case, he gets the benefit of the doubt.
Advantage: Iowa
**********
Running back: Redshirt sophomore Nathan Carter, who transferred from Connecticut, leads Michigan State with 369 rushing yards and is averaging 5.1 yards per carry. He also has four touchdowns.
No other Spartan running back has rushed for more than 31 yards, so it's either Carter or bust.
Junior Leshon Williams leads Iowa with 173 rushing yards and is averaging 6.9 yards per carry. However, all but 28 of his yards came in the 41-10 victory over Western Michigan in week 3.
Iowa is expected to be without starter Kaleb Johnson and redshirt freshman Jaziun Patterson because of injuries for the second straight game.
True freshmen Kamari Moulton and Terrell Washington Jr. have moved up in the rotation and both should see action in Saturday's game. Moulton has 69 rushing yards and has scored two touchdowns, while Washington has 31 rushing yards.
This choice would've been easy if Iowa were healthy at this position, but that isn't the case.
Advantage: Michigan State
**********
Receiver: Michigan State has four receivers with at least 147 receiving yards, led by Jaron Glover with 209 yards, while sixth-year senior Nico Ragaini leads the Iowa receivers with just 52 yards on six catches.
Iowa's receivers only have 14 catches overall as a group and have been targeted just 35 times in four games.
This choice was really a no-brainer, even though Michigan State is from loaded at this position.
Advantage: Michigan State
**********
Tight end: Iowa would've had a clear advantage at this position with a healthy Luke Lachey.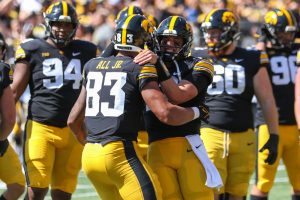 But with Lachey expected to miss the rest of the season because of a lower leg injury, the choice was more difficult.
Junior Maliq Carr leads the Michigan State tight ends with 10 receptions for 113 yards and one touchdown, while Michigan transfer Erick All has 10 catches for 116 yards and one touchdown for Iowa.
All and Lachey both lead Iowa with 10 receptions. Lachey also still leads the team with 131 receiving yards despite having played in slightly more than two games.
Iowa backup tight ends Steve Stilianos and Addison Ostrenga only have two catches apiece, but they should have more opportunities in the passing game without Lachey.
Advantage: Iowa
**********
Offensive line: Neither of these units have distinguished themselves this season despite having multiple starters back from last season.
Iowa is only averaging 118.5 rushing yards per game, and that reflects poorly on the offensive line.
The Spartans are even worse, though, averaging just 111.0 rushing yards per game.
However, the rushing statistic are sort of misleading because Iowa gained 254 of its 474 rushing yards against Western Michigan.
Advantage: Michigan State
**********
Defensive line: Sophomore Zion Young leads the Michigan State defensive linemen with 16 tackles and with 3.5 tackles for loss, while Iowa has four defensive linemen with at least 16 tackles, led by Yahya Black and Ethan Hurkett with 19 tackles apiece.
Hurkett also leads the Iowa defensive linemen with three tackles for loss despite not being a starter.
Iowa's four starting defensive linemen – Joe Evans, Yahya Black, Logan Lee and Deontae Craig, have combined to make 56 starts, led by Lee's 31 career starts.
Evans, a sixth-year senior, has started 17 games and played in 47 overall. He leads Iowa with five quarterback hurries this season.
Advantage: Iowa
 **********
Linebacker: Iowa seniors Jay Higgins and Nick Jackson are developing into one of the best linebacker duos in the Big Ten. Higgins leads the team with 50 tackles, while Jackson, a transfer from Virginia, is second on the team with 36 tackles.
Higgins also leads the Big Ten, and is ranked fourth nationally, averaging 12.5 tackles per game.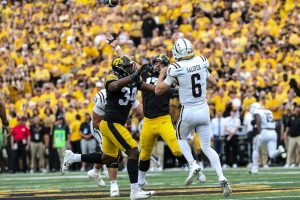 He matched his career-high with 18 tackles against Penn State, while Jackson had a season-high 13 tackles against Penn State.
Higgins, Jackson, and senior linebacker Kyler Fisher, combined for 38 tackles against Penn State as Fisher recorded a career-high seven stops.
Redshirt junior Cal Haladay leads the Michigan State linebackers with 25 tackles. He also has three tackles for loss and one interception.
Sixth-year senior Aaron Brule has 17 tackles, 2.5 tackles for loss and two sacks for the Spartans, while redshirt senior Jacoby Windmon has 15 tackles.
Advantage: Iowa
 **********
Defensive backfield: Four of Michigan State's five leading tacklers are defensive backs, led by Malik Spencer and Dillon Tatum with 26 tackles apiece.
Defensive backs Angelo Grose and Jaden Mangham have two of Michigan State's three interceptions. Grose also leads the Spartans with three pass breakups.
Iowa's top five defensive backs have combined for 58 career starts, led by All-Big Ten cornerback Cooper DeJean and free safety Quinn Schulte with 17 starts apiece.
Safeties Sebastian Castro and Xavier Nwankpa have both of Iowa's interceptions this season as Castro recorded a pick-six in the win at Iowa State.
Iowa has 13 pass breakups as a team, led by redshirt freshman cornerback Deshaun Lee with two. Lee started the first two games this season while Jermari Harris served a suspension.
Advantage: Iowa
********** 
Special teams: Senior punter Tory Taylor has been a huge weapon for Iowa since he joined the program in 2020.
The Melbourne, Australia native was one of the few bright spots for Iowa in the loss at Penn State as he punted seven times for a 52.3 average.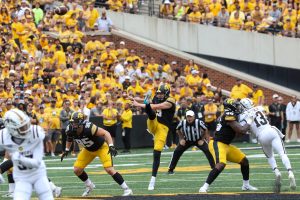 Taylor is averaging 48.0 yards on 23 punts this season, and he has a 45.7 career average on 225 punts with 72 going over 50 yards. His ability to shift field position makes him arguably Iowa's most valuable player.
Iowa sophomore kicker Drew Stevens has made 4-of-5 field-goal attempts this season after having made 16 of 18 last season. He also handles kickoffs and is 18-for-18 in kickoff touchbacks this season.
Michigan State has used two punters this season as Ryan Eckley and Ohio State transfer Michael O'Shaughnessy both have punted nine times in four games. Eckley is averaging 40.22 per punt, while O'Shaughnessy is averaging 40.11 per punt.
Kicker Jonathan Kim has made 3-of-4 field-goal attempts this season, with a long from 52 yards. Kim also has nine touchbacks on 16 kickoffs.
DeJean has returned 11 punts this season for a 9.1 average.
Advantage: Iowa
**********
Michigan State vs. Iowa
When: Saturday, 6:37 p.m.
Where: Kinnick Stadium
TV: NBC/Peacock
Radio: Iowa Radio Network
Series record: Iowa leads, 24-22-2
In Iowa City: Iowa leads, 14-10-1
Last meeting: Iowa won 49-7 in 2022 at Kinnick Stadium