By John Bohnenkamp
IOWA CITY, Iowa – Ben Krikke had a decision to make.
Krikke had built a solid resumé with some gaudy numbers at Valparaiso, but with a year of eligibility remaining, thought he might try something different.
The loyalty to Valpo, Krikke said, tugged at him.
But when coach Matt Lottich was let go at the end of last season, Krikke decided to look elsewhere.
The search didn't take long, and now the 6-foot-9 Krikke is quite comfortable in Iowa's frontcourt.
"I love my decision," he said at Monday's media day.
Krikke led the Missouri Valley Conference in scoring, averaging 19.4 points overall and 21 points within the conference. He had a final year of eligibility because of the COVID-19 pandemic, and faced a choice after the Beacons went 11-21 last season.
"I was kind of on the fence on what to do after last year," Krikke said. "I had one year of eligibility left. I could stay. I could go play pro somewhere. Transferring somewhere else, I really wasn't sure about that. I always appreciated the coaching staff (at Valparaiso), I had built some really good relationships. But once they got fired, it made my decision easy."
Iowa assistant coach Matt Gatens was one of the first to contact Krikke after he entered the portal, and Krikke committed to the Hawkeyes soon after visiting the Iowa campus.
"For me, I wanted to make a quick decision, just to get it out of the way," Krikke said. "I didn't see any point in dragging it along, having conversations with coaches and stringing them along for a month or two.
"I knew what to expect. I knew what college was about, and I knew what I wanted out of a school for my fifth year. Just having a short list of what I wanted made my decision easy."
"He's a perfect fit for us," Iowa coach Fran McCaffery said.
McCaffery was looking for experienced frontcourt help with the losses of Kris Murray and Filip Rebraca, who combined to average 34.3 points and 15.3 rebounds last season.
"He's different than Kris, but he's big and physical," McCaffery said. "He's athletic. He's got an unbelievable motor. He can really score and never stops working. He's very competitive.
"I think, most importantly, he understands motion, and as you know, if you're going to transition to motion, you have to have guys who understand how to play with four other people, how to play fast without making mistakes, how to move without the ball, how to screen and get people open, how to slip when they're switching and that comes with experience, sometimes. He's obviously an experienced guy."
That experience, McCaffery said, is crucial as the Hawkeyes bring in freshmen forwards Owen Freeman and Ladji Dembele.
"When you get a guy like him, the learning curve is a lot shorter because of the experience that he has," McCaffery said.
Krikke likes being an older voice, even though he's in a new place.
"Coming in here as one of the older guys now, it's cool to be able to share my experiences," he said. "It wasn't in the Big Ten, but it's four years of college basketball nonetheless."
**********
THE FRESHMEN: McCaffery likes his freshman class, which also includes guard Brock Harding and guard/forward Pryce Sandfort.
So expect to see a lot of the younger players.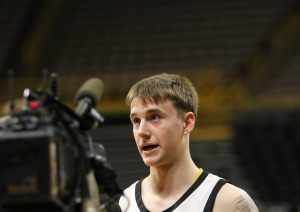 "All four of them are going to play," McCaffery said. "They're all good players. They're not mistake guys. They compete. Sometimes you have a guy whose body is not ready. They're good, they're going to be good, but it's going to take a year. I wouldn't say that for any of those guys.
"And they all bring something to the table that's a little different. That's why I recruited them in the first place."
Senior forward Patrick McCaffery said the group brings a "youthful energy."
"Brock's a constant chatterbox," he said. "Pryce is really funny. Owen's really funny. Ladji has his own unique energy. It's really fun and I really enjoy being around these guys."
**********
THE FUTURE: Fran McCaffery said the Big Ten's expansion to 18 teams next season isn't something he's thinking about.
"That's the world we live in — conference expansion," McCaffery said. "We're not the only conference that did it. Everybody else did it. We can debate all the reasons for it. We know what the main reasons are."
The Big Ten will add USC, UCLA, Oregon and Washington beginning in the 2024-25 season.
"I think it makes our conference pretty impressive. We're bi-coastal. A lot of big name programs, a lot of teams with expectations to make the NCAA Tournament. A lot of interest from a TV standpoint, from a fan base standpoint. You think about the number of alums throughout the country from all those places and how they'll support this conference.
"So I don't look at it like, OK, do I like it, do I not like it; should it have gone differently? I deal with what it is, what the facts are. This is who is in our league, this is who we play. They'll give us a schedule. It won't be the same teams every year. We'll prepare to play those guys when we see them on our schedule."