By Pat Harty
IOWA CITY, Iowa – The first step in making a change is the willingness to at least consider that perhaps a change is needed.
Iowa Interim Athletic Director Beth Goetz appears to be taking that approach with the seating at Carver-Hawkeye Arena.
Goetz spoke at the university's monthly Presidential Committee on Athletics meeting on Thursday, and she said Iowa has completed a feasibility study for renovating the 40-year-old arena.
Possible upgrades include fan amenities, premium seating and moving the student section closer to the floor to create a better fan environment.
And while completing a feasibility study is a long way from actually moving the student section closer to the court, it's a start, and a step that Iowa has seemed unwilling to even consider until now.
Former Iowa Athletic Director Gary Barta never showed any interest in moving the student section closer to the court, and he usually dismissed any talk about it.
Goetz is at least willing to consider it, and that's encouraging.
"On a basketball court, when you've got them a little bit closer to the action, it's more meaningful to the students," Goetz said. "We are trying to really engage directly with some student groups. We've got a couple classes, we've asked to actually help us understand what would be most important to you as students coming to a game."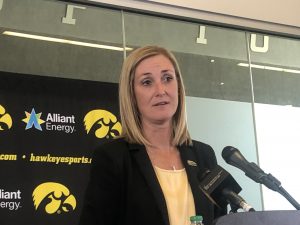 Most of the student sections in the Big Ten are near courtside and the seats are arranged more from side to side than from top to bottom, making them more visible to those watching on television.
Iowa is one of the exceptions as its student section is located behind one of the baskets, but instead of wrapping around the court, the seats are arranged more from top to bottom to where those students sitting near the concourse at the top are just too far from the action.
Goetz told reporters on Thursday that moving the seats is not as easy as it might seem.
"Depending on how you're seated, moving people around is more complicated than it sounds," Goetz said to the Cedar Rapids Gazette after the meeting. "We want to honor and serve all of our longtime fans and season ticket holders. At the same time, you're inviting your student body in."
In other words, Goetz wants to devise a way to move the student section closer, but without upsetting or offending the donors and season ticket holders.
And fair enough.
That is the challenge she and the UI administration face, and yes, it's a big challenge.
But it's a challenge worth accepting because the Iowa student section leaves so much to be desired from a seating standpoint.
By moving the student section closer to the court, the students will not only be closer to the action, they will also be more visible and more of a distraction for the opponent.
Carver-Hawkeye Arena can turn into a hostile environment when all the seats are filled, but it takes some doing to fill the seats, or it takes having a generational talent such as All-America guard Caitlin Clark coming off a season in which she led Iowa to an unprecedented NCAA runner-up finish.
All the women's games are sold out for the 2023-24 season, but imagine how much better the atmosphere would be if the students were seated closer to the court.
Goetz still has the interim tag, so its unclear how that would impact her ability to move forward with this study.
But all signs point to her eventually getting the job, and probably sooner than later.
The student section should have been moved closer to the court a long time, but in this case, better late than never.
Now just make it happen.