By Pat Harty
IOWA CITY, Iowa – The matchup between Iowa and Wisconsin often goes a long way in determining the Big Ten West Division title and Saturday's game at Camp Randall Stadium in Madison will be no exception.
Wisconsin is the only team in the West Division still undefeated in conference play at 2-0, while Iowa is the only team in the West Division that has a 2-1 record.
Of the other five teams in the West Division, four have a 1-2 record, while Illinois is 0-3.
The Badgers would have a two-game lead over Iowa in the loss column should they win on Saturday, along with having the tiebreaker.
Though it's still just midway through the regular season, Saturday's game could be called a must-win for Iowa.
This season marks the start of a new era for Wisconsin with Luke Fickell in his first season as head coach.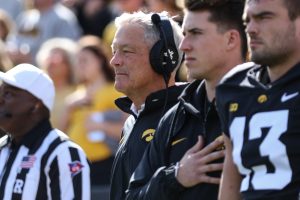 Fickell, a former Ohio State defensive lineman, was hired after a successful run as the head coach for Cincinnati where he compiled a 57-18 record over six seasons, including a 13-1 mark in 2021.
Fickell hired Phil Longo as his offensive coordinator and Longo's air-raid scheme is a departure from Wisconsin's power-running style that dated back to when Barry Alvarez rebuilt the program in the early 1990s.
"They're a different team in some ways," Iowa head coach Kirk Ferentz said of the Badgers. "Obviously, new coaching staff. Few new members they've added onto the team, but they've also got a lot of players that we've seen prior to good blend.
"Coach Fickell has done a great job, most recently at Cincinnati. He's a tremendous football coach, great career as a player. Has done a great job at Cincinnati. Has been doing an outstanding job up there. He and his staff just hit the ground running.
"We're very impressed with them in all three phases up there. And like you'd expect, they're physical. They're strong. Again, a lot of the great players they've had in the past are still on that team. And sitting here thinking about their line, their running back, outstanding players. Some good guys on defense, very active, tough guys to block and deal with."
Wisconsin has won eight of the last 11 games in the series, but Iowa has won two of the last three games, including a 24-10 victory last season at Kinnick Stadium.
Here is a look at which team has the advantage at each position:
**********
Quarterback: A three-year starter with over 7,000 career passing yards versus a one-game starter with a 36.0 completion percentage in Big Ten games.
Wisconsin sixth-year senior Tanner Mordecai versus Iowa third-year sophomore and former Badger, Deacon Hill.
On paper, this matchup isn't close since Mordecai has the advantage in experience, statistics and versatility as both a running and passing threat.
But the game is played on the field, so you never know.
Hill could be so motivated from facing his former Wisconsin teammates that he catches lightning in a bottle, or he could be overwhelmed by the unusual circumstances.
Mordecai, who transferred from Southern Methodist University, has completed 102-of-159 passes for 1,022 yards and three touchdowns this season, and he also has rushed for 152 yards and four touchdowns.
Mordecai can scramble from the pocket when the play breaks down, so the Iowa defenders will have to be assignment sound to prevent that from happening.
Hill has completed 21-of-56 passes for 274 yards overall this season, but in three Big Ten games, he has only completed 18-of-50 passes and has been intercepted twice.
In fairness, at least 10 of Hill's passes have been dropped, including six in the 26-16 victory over Michigan State.
Advantage: Wisconsin
**********
Running back: The Badgers were dealt a huge blow when Clemson transfer Chez Mellusi suffered a season-ending injury in the 38-17 victory over Purdue on Sept. 22 in West Lafayette, Indiana.
His injury was diagnosed as a fractured fibula, and it now prevents the Badgers from having a potent one-two punch at running back with Braelon Allen.
Mellusi had rushed for 306 yards and was averaging 6.0 yards per carry when he was injured. He also scored four touchdowns.
Allen still is a force all by himself as the 6-2, 245-pound sophomore has rushed for 482 yards and scored seven touchdowns this season. He also averages 6.5 yards per carry.
Allen has 2,982 career rushing yards, the second most of any active Power Five running back.
Sophomore Jackson Acker, who is listed at 6-2 and 235 pounds, slides into the No. 2 running back position. He has rushed for 96 yards on 21 carries, but his longest run is just 14 yards.
Without Mellusi, the Badgers aren't nearly as explosive at this position.
Iowa, meanwhile, received a boost at running back with the return of sophomore Kaleb Johnson. He rushed for 134 yards in the win over Purdue after having missed the previous three games with an ankle injury.
Junior Leshon Williams leads Iowa with 285 rushing yards and is averaging 5.3 yards per carry.
Iowa will be without redshirt freshman running back Jaziun Patterson for the fourth straight game on Saturday due to an injury. He led Iowa with 86 rushing yards in the 20-13 victory over Iowa State on Sept. 9 in Ames.
So, his loss, much like the loss of Mellusi, is significant.
Advantage: Wisconsin
**********
Wide receiver: Wisconsin's top five receivers from a statistical standpoint have combined for 66 catches, 783 yards and two touchdowns, while Iowa's top three receivers have combined 20 receptions, 228 yards and two touchdowns.
Iowa doesn't have a fourth receiver with any catches.
The Badgers are far from loaded at this position, but when compared to Iowa, it's no contest.
Advantage: Wisconsin
**********
Tight end: Wisconsin tight ends Tucker Ashcraft and Hayden Rucci both have five catches for 71 and 67 yards, respectively.  Ashcraft also has one touchdown reception.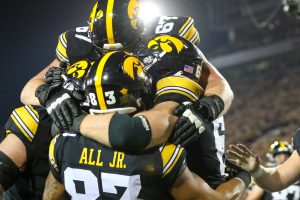 Senior tight end Erick All leads Iowa in catches (19), receiving yards (280) and touchdown catches with three.
The Michigan transfer had a 22-yard touchdown catch in the win over Purdue last Saturday and he also had 97 of Iowa's 110 receiving yards in that game.
Senior Steve Stilianos, who moved into the No. 2 tight end position when starter Luke Lachey was injured against Western Michigan, has five catches for 51 yards.
The loss of Lachey was a massive blow, but All has helped to pick up the slack in Lachey's absence.
Advantage: Iowa
**********
Offensive line: The Badgers returned three starters on the offensive line from last season, and they also added Cincinnati transfers Jack Renfro and Joe Huber, both of whom followed Luke Fickell to Madison.
Wisconsin offensive linemen have accounted for five different all-conference accolades during their careers as Renfro made first-team All-AAC last season, while Huber earned honorable mention All-AAC last season.
The Badgers are averaging 203.6 rushing yards per game, thanks largely to these blockers up front.
This isn't a great Wisconsin offensive line, but it's still a formidable group.
Iowa will counter with an offensive line in which the five starters have combined for 119 starts, led by Miami (Ohio) transfer Rusty Feth with 36, but just two starts for Iowa.
Junior Mason Richman has started 28 games at left tackle, while junior Connor Colby has made 29 starts at guard and tackle.
Run blocking has been a problem for the Iowa offensive line for most of the season, though it showed some improvement against Purdue last Saturday as Iowa rushed for 181 yards.
Advantage: Wisconsin
**********
Defensive line: Senior defensive end James Thompson Jr. leads the Badger defensive linemen with 16 tackles, 4.5 tackles for loss and three sacks. Thompson has at least one sack in five of his last seven games dating back toil at season.
Wisconsin's other two listed starters on the defensive line – Gio Paez and Rodas Johnson – only have eight and three tackles, respectively.
Wisconsin uses a three-man defensive front, along with three linebackers, and sometimes five defensive backs.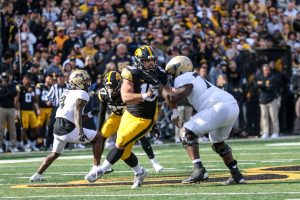 Iowa's four starting defensive linemen – Deontae Craig, Yahya Black, Logan Lee and Joe Evans – have combined for 64 career starts, led by Lee with 33, all of which have been consecutive.
Iowa only had three sacks heading into the Purdue game last Saturday, which was the fewest amongst Power Five teams, but then doubled its season total with six against the Boilermakers.
Junior defensive end Ethan Hurkett and sophomore defensive tackle Aaron Graves both provide quality depth off the bench.
Logan Lee and Yahya Black lead the Iowa defensive lineman with 28 tackles apiece, while Hurkett has 25 tackles. Lee had a career-high 10 tackles in the win over Purdue last Saturday.
Lee, Hurkett and Craig each also have 3.5 tackles for loss.
Advantage: Iowa
**********
Linebacker: Iowa senior Jay Higgins leads the team with 74 tackles, and he also leads the Big Ten, and ranks third nationally, with an average of 12.3 tackles per game.
His sidekick at linebacker, Virginia graduate transfer Nick Jackson. is second on the team with 53 tackles. Jackson also has 4.5 tackles for loss, one sack, two forced fumbles, two pass breakups and two quarterback hurries.
Senior Kyler Fisher has 18 tackles this season and has appeared in 39 games overall. He plays when Iowa shifts to a 4-3 alignment.
Wisconsin mostly uses a 3-3-5 defensive scheme that relies on its linebackers to make plays in space.
Badger linebackers Jack Chaney, Jordan Turner and Darryl Peterson have 25, 20 and 18 tackles, respectively. Peterson also has 4.5 tackles for loss, two sacks and two quarterback hurries.
This was tough choice because Wisconsin uses more linebackers than Iowa does.
But Iowa's top two linebackers are both performing at a very high level.
Advantage: Iowa
**********
Defensive backfield: Two of the top cornerbacks in the Big Ten will be on the field Saturday in Iowa junior Cooper DeJean and Wisconsin redshirt freshman Ricardo Hallman.
DeJean is fourth on the team with 33 tackles and he also has two interceptions, including a near pick-six against Purdue last Saturday. DeJean has six career interceptions, including three pick-sixes from last season.
Hallman leads the Big Ten and is one of six players nationally to have four interceptions. He has interceptions in three straight games and his 95-yard pick-six versus Rutgers last Saturday was the turning point in the game.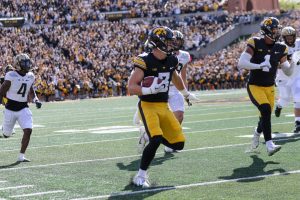 Strong safety Hunter Wohler leads Wisconsin with 50 tackles and three pass breakups. He also has three tackles for loss and one sack.
Nickle-back Jason Maitre has 16 tackles, while cornerback Alexander Smith and free safety Kamo'i Latu have 13 and 12 tackles, respectively.
DeJean is part of a five-man Hawkeye secondary that has combined for 68 starts. Senior Quinn Schulte has started 19 games at free safety and played in 34 games overall. He has 35 tackles, two tackles for loss, and one pass breakup this season.
Senior Sebastian Castro has played mostly the cash position this season and has 23 tackles, two interceptions, including a pick-six against Iowa State, and two pass breakups this season.
Sophomore Xavier Nwankpa, a former five-star recruit from Southeast Polk, has started all six games at strong safety this season and has 23 tackles, one interception and two pass breakups. He also had a pick-six in Iowa's 21-0 victory over Kentucky in the 2022 Music City Bowl.
Rounding out Iowa's secondary is junior cornerback Jermari Harris, who has made 10 career starts.
Both units are solid, making this a tough choice.
Advantage: Iowa
**********
Special teams: Kicker Nathaniel Vakos, who transferred from Ohio, is one of 12 transfers that have played for Wisconsin this season, and he has performed at a high level, making 8-of-9 field-goal attempts with a long from 49 yards.
Badger punter Atticus Bertans, a freshman from Sydney, Australia, has punted 20 times for a 42.6 average. Nine of his punts have been downed inside the 20 and two have traveled beyond 50 yards.
Iowa also has its own punter from Australia in senior Tory Taylor, who ranks among the best in the country. Taylor is averaging 48.0 yards on 36 punts this season and 15 of his punts have traveled at least 50 yards, while 12 have been downed inside the 20.
Taylor's ability to flip field position makes him arguably Iowa's most valuable player.
Iowa sophomore kicker Drew Stevens has made 10-of-13 field-goal attempts this season and 30 of his kickoffs have been touchbacks.
And though only missing three of 13 field-goal attempts is rather impressive, Stevens already has missed more attempts than last season when he made 16 of 18 as a true freshman.
He has set an extremely high. bar
Cooper DeJean also gives Iowa a dangerous punt returner as he showed with a 70-yard punt return for a touchdown in the win over Michigan State.
Advantage: Iowa
**********
Prediction: Wisconsin 17, Iowa 11
**********
Iowa vs. Wisconsin
When: Saturday, 3:05 p.m.
Where: Madison, Wisconsin, Camp Randall Stadium (76,118)
TV: FOX
Radio: Hawkeye Radio Network
Series record: Wisconsin leads, 49-45-2
In Madison: Wisconsin leads, 29-19-1
Last meeting: Iowa won 24-10 on Nov. 12, 2022 at Kinnick Stadium