By Pat Harty
IOWA CITY, Iowa – Reggie Roby has been widely regarded as the greatest punter in the history of the Iowa football program, and to have even suggested anybody else was considered almost blasphemy until Tory Taylor arrived from Australia in 2020, and in the middle of a global pandemic.
Taylor has since become a Hawkeye legend in his own right, and he added to his legend by punting 10 times for a whopping 50.8-yard average in last Saturday's 15-6 victory at Wisconsin.
Taylor on Monday was named the Big Ten special teams Co-Player of the Week for the second straight week.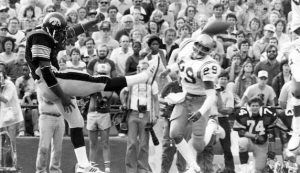 His ability to flip field position and to pin opponents deep in their own territory makes the 26-year-old Taylor arguably Iowa's most valuable player.
Taylor can punt for distance, but he also has an uncanny ability to place the ball almost exactly where he wants it inside the 20-yard line.
Former Iowa offensive coordinator Don Patterson paid Taylor the ultimate compliment on Monday's Hawk Fanatic radio show and podcast when asked if Taylor is better than Roby was at pinning opponents deep in their own territory.
"That is true, and I'll tell you why it's true," Patterson said. "Reggie Roby did not pooch punt. Reggie had the NCAA record at 49.8 (yards per punt), but we had another guy that handled short punts.
"And of course, Tory handles all punts, and some of his best punts he doesn't get much credit for yardage-wise."
You won't find a bigger Reggie Roby fan than Don Patterson, who as a member of Hayden Fry's coaching staff had the luxury of seeing Roby punt up close for four seasons.
Roby was one of the most important and impactful recruits that Hayden Fry signed as the Iowa head coach as Roby would go on to have one of the biggest roles in Fry's rebuilding process.
The combination of Roby's punting and a rock-solid defense helped lead Iowa to the 1982 Rose Bowl in Fry's third season as head coach.
The current Iowa team, which is 6-1 overall, is very similar to the 1981 squad in how Taylor and the defense are leading the way.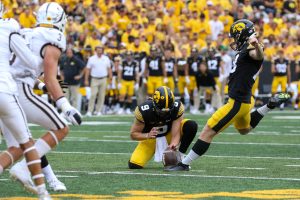 For Taylor to even be compared to Roby is an incredible accomplishment, because before Taylor arrived, no other Hawkeye punter had earned that distinction, and Iowa has had some pretty good punters over the years.
For Patterson to say that Taylor is more versatile than Roby was as a punter speaks volumes about Taylor's immense talent.
Sadly, Roby isn't alive to watch Taylor punt as Roby passed away in 2005 at the age of 43.
Roby punted in the NFL from 1983 to 1998 and the Waterloo native twice made first-team All-Pro in 1984 and 1994.
"Reggie was a great punter, don't get me wrong," Patterson said. "But Tory in terms of multi-talented ways to punt a football, he clearly has the edge on Reggie because he's mastered the art of backing up that punt."
Taylor, who grew up playing Australian rules football, is averaging 48.3 yards per punt heading into Saturday's game against Minnesota at Kinnick Stadium. He also has punted 45 times this season and 19 of his punts have traveled beyond 50 yards and 17 have been downed inside the 20.
Taylor is also the holder for field goals.
"Here's another reason why we have to value Tory so much," Patterson said. "He is absolutely outstanding at holding for place kicks."