By Pat Harty
IOWA CITY, Iowa – If coaching offense is Kirk Ferentz's kryptonite, then coaching against Kirk Ferentz is P.J. Fleck's kryptonite.
The Iowa football team will enter Saturday's game against Minnesota with the worst statistical offense at the FBS level, while Minnesota will enter with an eight-game losing streak against the Hawkeyes.
Fleck is in his seventh season as the Minnesota head coach, and his run has been pretty good by Minnesota's standards.
The Gophers won 11 games in 2019 and nine games in 2021 and 2022.
Fleck's record as the Minnesota head coach is a respectable 47-30 overall, but he's 0-6 against Kirk Ferentz and the Hawkeyes.
Iowa has dominated the series for nearly a decade, but most of the games in the current eight-game winning streak have been close with six wins by seven or fewer points.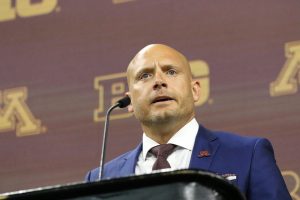 Given Iowa's vast limitations as a passing offense, it's hard to envision Saturday's game being lopsided.
But the Gophers also have multiple deficiencies on offense, and what they don't have for a change, is that proven workhorse running back that stays ahead of the chains and helps to control tempo.
Freshman Darius Taylor has shown signs that he could be Minnesota's next great workhorse running back. But he also has missed the last two games due to an injury
So, it's also hard to see the Gophers scoring many points against the Iowa defense.
Former Gopher running back Mohamed Ibrahim rushed for 263 yards in last year's game, but he also lost a key fumble that helped Iowa win 13-10 in Minneapolis.
Taylor hasn't played enough to be compared to Ibrahim, who finished with 4,668 career rushing yards, but Taylor has shown that he can carry the load as Minnesota's featured back.
Fleck said this week that he was hopeful that Taylor would play against Iowa.
The Gophers are coming off a bye week, so Taylor has had an extra week to recover.
Switching to defense, opponents are averaging a whopping 6.2 yards per play against the Gophers, so Fleck's team has issues on both sides of the line of scrimmage.
The outcome of Saturday's game will ultimately come down to several factors as always, from turnovers to lucky bounces to individual playmaking and penalties.
And it all starts with the position matchups on the field.
Here is a look at which team has the advantage at each position.
**********
Quarterback: Both teams have issues at quarterback, but especially Iowa with sophomore backup Deacon Hill still adjusting to being the new starter in the wake of Cade McNamara's season-ending knee injury against Michigan State.
Hill started the last two games against Purdue and Wisconsin, and he played slightly more than three quarters against Michigan State after McNamara was injured.
Iowa is 3-0 in those games, and some might say the best thing Hill has done so far is hand off to the running backs.
To say that the passing attack has struggled would be a massive understatement, but a nicer way of phrasing it.
Hill completed 6-of-14 passes for just 37 yards in the 15-6 win at Wisconsin this past Saturday.
He is only completing 37.5 percent of his passes in Big Ten play, and of his 24 completions in Big Ten play, just 10 have gone to wide receivers.
Compared to Hill's statistics, Minnesota quarterback Athan Kaliakmanis looks like Tom Brady with 797 passing yards and six touchdowns in six games.
But of those numbers are far from impressive.
Kaliakmanis is a work in progress, and sometimes, a slow work in progress.
He is a threat, however, to leave the pocket to extend plays, while 6-foo3, 258-pound Hill hasn't shown that ability so far.
Advantage: Minnesota
**********
Running back: This almost always has been a no-brainer since I started doing the position breakdowns a few years ago, but this season is different because Minnesota isn't the obvious choice.
From a statistical standpoint, it's pretty close as Darius Taylor leads Minnesota with 532 rushing yards despite missing the last two games with an injury, while Leshon Williams leads Iowa with 459 rushing yards.
Taylor has the edge 5-1 in touchdowns over Williams, but Williams is averaging 6.1 yards per carry and had a career-high 174 rushing yards against the Badgers last Saturday.
Williams also has sophomore Kaleb Johnson to help share the workload.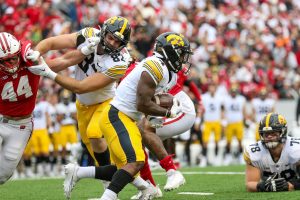 Johnson began the season as the starter, but then he missed three straight games due to an ankle injury.
He is now healthy again and has rushed for 260 yards in four games, which is more than any other Gopher running back has rushed for this season, besides Taylor.
Redshirt freshman Jaziun Patterson also has returned from an injury that caused him to miss three straight games.
He was in uniform against Wisconsin, but he didn't play.
When healthy, Patterson gives Iowa another threat out of the backfield as he rushed for 86 yards against Iowa State.
Advantage: Iowa
**********
Wide receiver: This is a no-brainer, but that says a lot more about what Iowa doesn't have than what Minnesota has at this position.
Daniel Jackson leads the Gophers with 22 catches for 286 yards and five touchdowns.
Those are respectable numbers, especially the five touchdowns, but nothing out of the ordinary.
Except for when compared to Iowa's numbers.
Sixth-year senior Nico Ragaini leads the Iowa receivers with 10 catches for 83 yards.
Diante Vines has seven catches for 63 yards and one touchdown, and Seth Anderson has five catches for 79 yards and one touchdown.
But no other wide receiver on the team has a reception.
Advantage: Minnesota
**********
Tight end: This is almost unfair with Iowa missing its top two tight ends because of season-ending injuries, and with sophomore Addison Ostrenga also hampered by an injury.
But the games must go on, and fortunately for Iowa, there is significant depth at tight end.
Senior Seve Stilianos, who transferred from Lafayette prior to last season, will now assume more responsibility, as will sophomore walk-on Johnny Pascuzzi and freshman Zach Ortwerth.
Pascuzzi had his first career reception last Saturday against the Badgers, albeit for just one yard, but he also blocked for a running game that produced 200 yards on the ground.
Minnesota, meanwhile, has one of the most experienced tight ends in the conference in 6-7 senior Brevyn Spann-Ford.
He finished last season with 42 catches for 497 yards, but so far this season, he only has 13 catches for 66 yards and zero touchdowns. But the threat from Spann-Ford is always there, whereas most of the healthy Iowa tight ends barely have played.
Advantage: Minnesota
**********
Offensive line: What a huge difference a year makes, even without the Iowa offensive line improving significantly.
Minnesota had to replace its three interior linemen from last season, including Rimington Trophy finalist John Michael-Schmitz at center, and it's been a struggle at times.
This is more a case of the Gophers falling back to Iowa's level.
But in fairness to Iowa's veteran blocking crew, they're getting better, and they should be getting better since they've combined to make 124 career starts.
Iowa has rushed for 381 yards in the last two games combined, and these guys deserve a lot of the credit.
Mason Richman will make 30th start at left tackle on Saturday, while Miami (Ohio) transfer Rusty Feth will make his 38th career start, this time at left guard. Feth started 34 games for Miami (Ohio).
Junior Connor Colby has started 30 games for Iowa, while center Logan Jones has started 20.
It has taken a while, but the Iowa offensive line is finally starting to pave the way.
Advantage: Iowa
 **********
Defensive line: Iowa can easily go six or seven deep at this position without having a drop in performance, and help could be on the way should senior tackle Noah Shannon get reinstated by the NCAA.
Senior tackle Logan Lee has started 34 games, while sixth-year senior defensive end Joe Evan has started 20 games and played in a whopping 50 games overall as a Hawkeye.
Lee has 30 tackles, three tackles for loss and two sacks, and he also blocked a field goal against Iowa State.
Evans has 6.5 tackles for loss, 2.5 sacks, two pass breakups, and a team-high seven quarterback hurries.
Junior Yahya Black leads the defensive linemen with 32 tackles, and his sack against Wisconsin forced a fumble that led to a safety.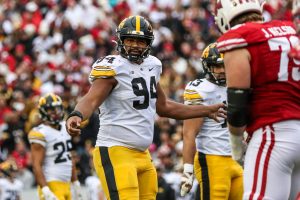 Junior defensive ends Deontae Craig and Ethan Hurkett both have 28 tackles and 3.5 tackles for loss, while sophomore Aaron Graves has 21 tackles, three tackles for loss and one sack.
Minnesota's defensive line is anchored by seniors Kyler Baugh and Danny Striggow. Baugh has 4.5 tackles for loss and 2.5 sacks, while Striggow has 27 tackles and three tackles for loss.
Advantage: Iowa
**********
Linebacker: The Gophers have been without top linebacker Cody Lindenberg for all six games this season because of a hamstring injury that he suffered in preseason practice.
Fleck said this week, however, that there is a chance Lindenberg could play Saturday.
Freshman Maverick Baranowski leads Minnesota with 42 tackles, while sophomore Devon Williams has 19 tackles and five quarterback hurries.
Iowa will counter with one of the top linebacker combinations in the country in seniors Jay Higgins and Nick Jackson.
They have combined for 146 tackles, the highest by any Power Five tandem in the nation.
Higgins leads the Big Ten, and ranks second nationally, with an average of 12.4 tackles per game as a first-year starter.
Jackson, has made 40 career starts, including 33 for Virginia where he played for four seasons before transferring to Iowa.
Advantage: Iowa
**********
Defensive backfield: Iowa has one of the top cornerbacks in the country in junior Cooper DeJean, while Minnesota has one of top safeties in the country in senior Tyler Nubin.
DeJean ranks fourth on the team with 36 tackles, and he has six career interceptions, including two this season. He also has three career pick-sixes, and he nearly had his fourth this season.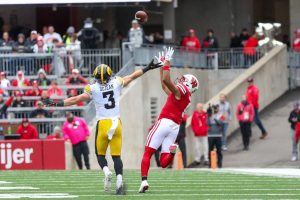 Nubin leads the Gophers with three interceptions, to go along with making 27 tackles.
Sophomore safety Darius Green ranks second on the team with 34 tackles, while sophomore nickleback Jack Henderson has 32 tackles and two interceptions for the Gophers.
Junior cornerback Justin Walley also excels in pass coverage for the Gophers.
DeJean is part of an experienced Iowa secondary in which the top five defensive backs have combined to make 73 career starts.
Senior Sebastian Castro is playing the cash position at an extremely high level as he has 30 tackles, five tackles for loss, three interceptions, including a pick-six against Iowa State, and three pass breakups.
Senior free safety Quinn Schulte has made 20 career starts and has 40 tackles this season, while sophomore strong safety Xavier Nwankpa, a former five-star recruit from Southeast Polk, has 28 tackles, one interception and two pass breakups.
Junior cornerback Jermari Harris rounds out the Iowa secondary and has made 11 career starts. The Chicago native missed the first two games this season because of a suspension and the entire 2022 season because of an injury.
Advantage: Iowa
**********
Special teams: Iowa senior punter Tory Taylor is now being compared to the legendary Reggie Roby and that is the ultimate compliment for any Hawkeye punter.
But it's well deserved as the 26-year-old Taylor is a master at flipping field position, and with Iowa's problems on offense, that makes the Melbourne, Australia native so valuable.
Taylor has punted 45 times for a 48.3 average this season. His 45 punts lead the nation. He also has had 19 punts travel beyond 50 yards and 17 downed inside the 20, and he holds for Drew Stevens on field goals.
And speaking of Stevens, the sophomore has made 12-of-15 field-goal attempts this season and 28 of his 34 kickoffs have resulted in touchbacks.
Minnesota kicker Dragan Kesich has excelled as a first-year starter, making 10 of his 11 attempts, while Mark Crawford is averaging 43.30 yards on 27 punts. Kesich also has 24 touchbacks on 28 kickoffs.
Cooper DeJean also gives Iowa one of the top punt returners in the Big Ten.
Advantage: Iowa
Prediction: Iowa 11, Minnesota 4