By Pat Harty
IOWA CITY, Iowa – With so much attention given to what the Iowa football team doesn't have on offense, it would be easy to overlook, or take for granted, what it has on defense and special teams.
Part of being a good head coach is surrounding yourself with good people and Kirk Ferentz certainly has done that with defensive coordinator Phil Parker, special teams coordinator LeVar Woods, and with arguably the best kicker/punter combination in college football in Drew Stevens and Tory Taylor.
Stevens made a 52-yard field goal with 14 seconds left to play to lift Iowa to a 10-7 victory over Northwestern on Saturday at Wrigley Field in Chicago.
Iowa improved to 7-2 overall and now has sole possession of first place in the Big Ten West Division with a 4-2 mark.
The Hawkeyes control their own destiny heading into Saturday's game against Rutgers (6-3, 3-3) at Kinnick Stadium, and they do so despite being horrendous on offense from a statistical standpoint.
Iowa is ranked at the bottom, or near the bottom nationally in multiple offensive statistical categories, and did nothing to help its cause against Northwestern, gaining just 169 yards, including 65 passing yards.
Iowa's inability to produce on offense has made it a national laughingstock, and it ultimately cost Brian Ferentz his job as offensive coordinator as he will be relieved of his duties after the season.
And yet, despite all the dysfunction on offense, Iowa has a very realistic chance of winning the Big Ten West Division for the second time in three years and finishing 10-2 in the regular season, and that's incredible when you really think about it.
Following the Rutgers game on Saturday, Iowa will face Illinois (4-5, 2-4) on Nov. 18 at Kinnick Stadium before closing the regular season against Nebraska (5-4, 3-3) on Black Friday (Nov. 24) in Lincoln, Nebraska.
There have been times this season when Iowa has struggled just to complete a forward pass, especially to wide receivers, and times when it barely could run the ball, and yet, Iowa still has a better record than Notre Dame, USC, Clemson, and Florida.
Iowa will likely be favored in all three games, but don't expect anything to come easy for this Iowa team.
While none of the final three opponents are close to being elite, neither is Iowa, due almost exclusively to the problems on offense.
Imagine if the Iowa offense was just average instead of awful?
An average offense combined with Iowa's defense and special teams would make Iowa extremely hard for any opponent to beat, even the elite ones.
But for lots of reasons, Iowa isn't anywhere close to being average on offense, so you make do with what you have, and Kirk Ferentz has been doing that, especially since the start of last season when the Iowa offense started its current nosedive.
Iowa has a 15-7 record since the start of the 2022 season.
Kirk Ferentz has basically been cleaning up his own mess on offense with his defense and special teams.
The Iowa defense has had one sub-par performance this season, and that was the 31-0 loss at Penn State in the Big Ten opener on Sept. 23 when it allowed 397 total yards, including 215 rushing yards.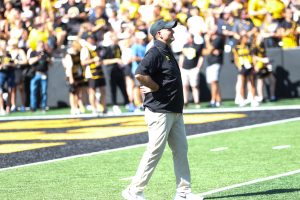 The loss to Minnesota was to no fault of the defense as the Gophers only had 239 yards.
Iowa's goal-line stand against Northwestern on Saturday in which the Wildcats gained just one yard on four rushing attempts was a thing of beauty, a combination of strength, toughness, execution and coaching.
Some might argue that the problems on offense have made it easier to appreciate the defense and special teams, and not to take either unit for granted, because fans see with each game how both units are carrying this team.
Maybe so, but mention Hawkeye football to a typical fan and chances are they will bring up the dysfunction on offense, and the situation involving Brian Ferentz.
This could be the homer in me speaking, but if I were to pick the best defensive coordinator in college football right now, Phil Parker would easily be my choice because he checks all the boxes.
His ability to prepare and strategize, make-in-game adjustments, and identify and develop players is unmatched.
Parker doesn't have the luxury of coaching many four- and five-star recruits, but he has an uncanny ability of seeing talent where other defensive coaches don't see it.
From Micah Hyde to Desmond King to Geno Stone to Amani Hooker to now Sebastian Castro, the list of unheralded recruits that would go on thrive as a Hawkeye defensive back under Parker is long and distinguished.
Defensive linemen and linebackers also have flourished under Parker, who has been the Iowa defensive coordinator since 2012, and a member of Kirk Ferentz's Iowa staff since the beginning in 1999.
Parker deserves credit and praise for being loyal, but Kirk Ferentz also deserves praise for not micro-managing Parker, and for giving Parker the freedom to run the defense without interference.
Their working relationship seems similar to how Hayden Fry and Bill Brashier worked together as head coach and defensive coordinator for 17 seasons at Iowa from 1979 to 1995.
Kirk Ferentz also deserves praise for making LeVar Woods his special teams coordinator in 2017.
Kirk Ferentz might be stubborn and old-fashioned when it comes to his offense, but he certainly values the importance of special teams.
He has built and sustained a culture in which playing on special teams is an honor rather than just a stepping-stone to bigger things.
Kirk Ferentz gave LeVar Woods permission to travel to Melbourne, Australia to recruit Tory Taylor, and that decision now ranks among Ferentz's best decisions, considering what Taylor has accomplished over the past four seasons.
Before Taylor started punting for the Hawkeyes, it was hard to imagine any Iowa punter being compared the legendary Reggie Roby, whose powerful right leg helped Hayden Fry rebuild the program in the early 1980s.
But now some are starting to believe that Taylor might even be better than Roby because of his versatility.
Taylor's ability to flip field position has been crucial in Iowa's ability to overcome its offensive deficiencies.
And though he wasn't spectacular against Northwestern on Saturday, averaging just 39 yards per punt, it's one of the few times when the 26-year-old Taylor hasn't been spectacular as a Hawkeye.
As for Drew Stevens, mark him down as another case of the Iowa coaches making the right choice in recruiting.
Stevens joined the Iowa program as walk-on, enrolling for the 2022 spring semester.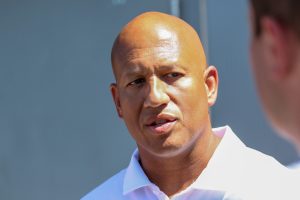 The Iowa coaches obviously made an impressive sales pitch to convince Stevens to come from his hometown of North Augusta, South Carolina to Iowa without a scholarship.
Stevens grew up in the heart of the Southeastern Conference, but he felt that kicking for Iowa would be his best opportunity.
He saw how Keith Duncan thrived as an Iowa kicker after having joined the program as a walk-on from North Carolina and felt he could do the same.
And has he ever.
Stevens entered the Northwestern game having made 13-of-16 field-goal attempts this season and 29-of-34 attempts overall as a Hawkeye.
His game-winner against Northwestern split the uprights down the middle and had plenty of distance with Tory Taylor as his older and Luke Elkin as the long snapper.
So, while the problems on offense is a storyline that will continue to fester and grab headlines, two-thirds of this Iowa team is rock solid, and sometimes, it's just worth pointing that out.