By Pat Harty
IOWA CITY, Iowa – Knowing that the NCAA was set to announce its new gambling regulations on Wednesday, I had my "Better Late Than Never" column about Noah Shannon ready to publish on Hawk Fanatic.
That was my mistake because I should have known better to assume anything with the NCAA, especially about the gambling investigation that ultimately cost Shannon his final season of eligibility as an Iowa football player.
The NCAA softened its punishment for gambling on other sports as it used to result in permanent loss of eligibility under the old rules, but it will now result in a one-year suspension and lost year of eligibility.
The NCAA was under pressure to soften its punishment as more and more college athletic programs, including the University of Iowa, are now partnering with gambling entities to make money.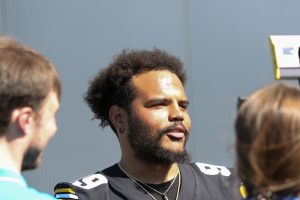 Unfortunately, for Shannon, the new punishment is still severe enough to have cost him his final season as a Hawkeye.
And while you can argue about whether the new punishment is too harsh, or not harsh enough since rules are rules, it's the process that leaves so much to be desired.
The fact that Shannon was allowed to return to practice for almost a month before the NCAA delivered its final verdict just doesn't make sense, and it seems cruel because it gave the impression that Shannon was moving closer to being fully reinstated.
It inspired hope when there really wasn't any hope for Shannon, a sixth-year defensive tackle from Aurora, Illinois.
He put his body at risk by practicing for nearly a month, while the NCAA took its own sweet time before making a final decision.
It was widely believed that Shannon, who started 28 games for Iowa, would be fully reinstated at some point this season, so much so that some in the media were convinced that it would happen two or three weeks ago.
Iowa head coach Kirk Ferentz also seemed optimistic that Shannon would be fully reinstated after Shannon was allowed to return to practice in October.
Ferentz released a statement on Wednesday in which he blasted the NCAA for using an uneven system of justice to severely punish Shannon.
"I am heartbroken for Noah (Shannon) and his family that the NCAA has come to this conclusion," Kirk Ferentz said. "Noah did not break any laws. He did not commit any crimes. And yet he is being severely over-punished by a membership committee that refuses to see perspective or use common sense.
"I have said many times that I think it is peculiar that the state of Iowa is uniquely the focus of this investigation. Noah is being sidelined because the NCAA is ruling on an investigation that they did not instigate, using an uneven system of justice to severely punish an excellent young man. It is just wrong."
Shannon reportedly bet on one Iowa women's basketball game last season, and that ultimately cost him his final season of eligibility.
He had used his free Covid year to return for a sixth season, a decision that was made before the gambling investigation was launched in either April or May.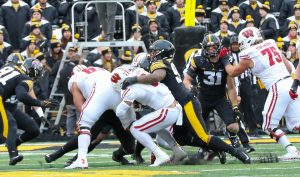 Once the gambling investigation became public, Shannon was open and honest about his involvement when he didn't have to be.
He turned down a chance to represent Iowa at Big Ten media day in late July because he didn't want to be a distraction.
Shannon also talked about his situation at Iowa's annual media day event in early August.
He didn't make any excuses or say that he was being treated unfairly.
He was accountable and hopeful that the NCAA would allow him to play this season.
My biggest issue with how Shannon has been treated isn't how severely he was punished, but rather how the process has played out.
The NCAA has every right to punish a student-athlete for breaking a rule.
But what was the point in allowing Shannon to return to practice if there was no chance of him ever playing again?
It created a false sense of hope for Shannon, for his family, and for his teammates and coaches.
I personally feel that Shannon's punishment doesn't fit the violation that he committed.
But again, it was the process more than the final punishment that is more troubling and harder to understand.
We're now left to wonder why Iowa and Iowa State are the only schools in the nation that have been linked to the gambling investigation.
Kirk Ferentz called it peculiar, and he's right.
So much about this gambling investigation, and the fallout from it, just doesn't make sense.