By Pat Harty
IOWA CITY, Iowa – As surprising as this might seem, Phil Parker has never won the Frank Broyles Award, which is given annually to the top assistant coach in college football.
Barring a late and unlikely decline on defense, that should change this season.
Parker is one of 57 assistant coaches on this year's nominee list for the Broyles Award, which was created in 1996. But you'd be hard-pressed to find another assistant coach on offense or defense that is more deserving of the award than Parker.
Iowa's veteran defensive coordinator is widely regarded as one of the best defensive coordinators in college football, if not the best.
His defenses are known for being tough, physical, fundamentally sound, and always prepared for just about anything.
Iowa has allowed just one touchdown over the past 16 quarters, three touchdowns over the past six games and just 11 touchdowns in 10 games this season, which is the fewest in the nation.
Iowa's defense is giving up just 4.0 yards per play – the lowest figure in the nation – heading into Saturday's home finale against Illinois.
Iowa's defense only allowed 127 yards in last Saturday's 22-0 victory over Rutgers at Kinnick Stadium. It was Iowa's third shutout since the start of the 2022 season.
Iowa senior linebackers Jay Higgins and Nick Jackson have combined for 200 tackles this season, the most by a Power 5 tandem nationally.
Iowa's defense led the nation with seven defensive touchdowns last season, and it was ranked in the top 12 in the nation in scoring defense (second), total defense (second), pass efficiency defense (fourth), passing yards per game (sixth) first down defense (10), third-down defense (11) and rushing defense (12).
So, a strong case could have been made for Parker to win the Broyles Award last season.
But an even stronger case could be made for him to win it this season, considering the unusual circumstances.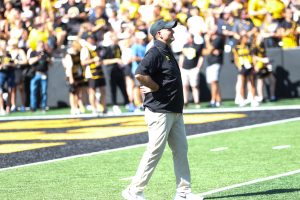 Iowa is 8-2 overall and 5-2 in the Big Ten, and a victory over Illinois on Saturday, or against Nebraska on Nov. 24th in Lincoln, Nebraska, would give Iowa its second Big Ten West Division title outright in the last three years.
Iowa is in this position despite having one of the worst offenses in the country.
The combination of Parker's defense and LeVar Woods' special teams has been enough to overcome the offensive deficiencies in most of the games.
The Iowa defense has very little margin for error with the offense scoring so few points, and that's a lot of weight to carry.
Iowa's defense set a program record and led the nation with 25 interceptions in 2021.
Parker was an outstanding defensive back for Michigan State in the 1980s, earning first-team All-Big Ten honors three times.
He wasn't flashy as a player, and his defenses are the same way, more substance than style.
It's easy to get swept away by the big numbers on offense, and there are some highly successful offensive coordinators that have been nominated for this year's award.
However, holding a team like Rutgers to just 127 yards and zero points is as impressive as an offense gaining a bunch of yards and scoring a bunch of points.
Parker was a member of Kirk Ferentz's first coaching staff at Iowa in 1999, and then was promoted to defensive coordinator in 2012.
He also coaches the Iowa defensive backs, and excels in that role, too.
The Broyles Award isn't supposed to be a life-time achievement award, but at some point, the 60-year-old Parker deserves to be honored as the top assistant coach in college football.
This season would be the perfect time to finally recognize Parker because of how well his defense has performed under tough circumstances.
Just think of the players that Iowa had to replace on defense from last season; a list that includes linebackers Jack Campbell and Seth Benson, defensive linemen Lukas Van Ness and John Waggoner, and defensive backs Riley Moss and Kaevon Merriweather.
Senior defensive tackle Noah Shannon also has missed the entire 2023 season while serving a suspension for gambling on sports.
And then news broke on Wednesday that star junior cornerback Cooper DeJean will miss the rest of the season because of a lower leg injury, which he reportedly suffered in practice on Wednesday.
The loss of DeJean is a massive blow for Parker's defense, but part of being a great coach is overcoming adversity.
Phil Parker will regroup and have his defense ready for Illinois on Saturday.
He doesn't coach to win awards, but it's long overdue for Parker to be recognized as the best assistant coach in college football.