By John Bohnenkamp
IOWA CITY, Iowa – The emotions of Iowa's 15-13 win over Illinois on Saturday at Kinnick Stadium came out when head coach Kirk Ferentz hugged his son, Brian, on the sideline.
It was the last home game for Brian Ferentz, Iowa's offensive coordinator who will be out of a job at the end of the season.
The Hawkeyes rank 130th in the nation in total offense, which led to interim athletic director Beth Goetz's announcement of Brian's ouster on October 30.
That, Kirk Ferentz said, added to the emotions of the win.
"This was Senior Day today, his last day, so there was some sentimental value to that, certainly," Kirk Ferentz said. "So glad it turned out the way it did. I was proud of him. He's been admirable in the way he's handled a very tough situation. And I'm not quite sure I know how he's done it but I'm really proud of him as a dad. And can't say enough about that. But I do try to keep things separate. I'm really proud of him as a head coach."
Brian Ferentz's status hung over the team throughout the season after a provision was inserted into his contract by then-athletics director Gary Barta during the offseason stating that Iowa had to average 25 points per game and win at least seven games, or the contract would be terminated. It was the subject of plenty of national and local interest and at times felt like a distraction for the team.
Players, though, have stood up for Brian.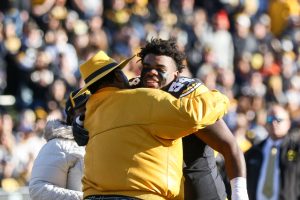 "Just to finish the season strong, and do what we can, that's what's important to us," wide receiver Kaleb Brown said.
"I couldn't be happier for the guy," quarterback Deacon Hill said. "I haven't been this grateful for a while to play for a coach in my life. I'm extremely grateful to play for him. I love that guy to death. He puts me in some good spots. He's taught me a lot so far."
Iowa outgained Illinois 281-280 on Saturday.
**********
GOING HOME: Iowa, which clinched the West Division with Saturday's win, will play in the Big Ten championship game on December 2 in Indianapolis.
That's home for linebacker Jay Higgins, who is looking forward to playing in the game although he knows what will come with it.
"It definitely feels good to go home," Higgins said. "I have a lot of family there. Probably going to start asking for tickets tonight, and I'll probably end up 30 short."
**********
BREAKING THE RULE: Kirk Ferentz always has a 24-hour rule for his players — celebrate a win or mourn a loss for 24 hours, and then move on to the next game.
The significance of Saturday's win, though, made him alter it a little bit.
"Any time you can be a champion, if you can say 'champion,' that's a good thing," Ferentz said. "There's more goals out there to be had. Nothing will be easy.
"But I think we're all thinking the same thing here. It goes back to the players. That's why we do this. And just so happy for these guys, what they've endured and gone through. And they know what's going on, too. But they're on board. And again they've never flinched, including today. It would have been easy today. But everybody stayed the course, same thing last week, kept pressing and some good things have happened. It's all you can ask for in life, just straight ahead and see what comes out of it, and if we come up short today, we'd go back to work tomorrow and see what we can do about the next one and we'll still do that."