By Pat Harty
IOWA CITY, Iowa – Lute Olson needs our thoughts and prayers and well wishes because he reportedly is gravely ill.
The 85-year old college basketball coaching legend, according to a tweet by Arizona Daily Star columnist Greg Hansen, is in the fight of his life.
And what a life it has been, a spectacular journey that started on a farm outside Mayville, N.D., on Sept. 22, 1934.
Olson, like so many other kids, grew up playing sports and was an accomplished all-around athlete, having played football, basketball and one year of baseball at Augsburg University in Minneapolis.
He then made the all-too-familiar jump from competing to coaching after college, but that's where Olson started to distinguish himself and show that he had a gift for coaching basketball.
His rise up the coaching ladder was typical in many ways in that Olson earned his stripes at the high school level before coaching at the small college level.
Nothing was handed to him.
Olson landed his first college job in 1969 as the head coach at Long Beach City College in California.
He was 35 years old and married with five children when he made the leap from high school to college coaching.
Success came right away, though, as Olson led his Long Beach City College teams to a combined record of 103-22 over four seasons and to the 1971 JC Championship.
Olson then spent one season at Long Beach State where his team finished 24-2 overall.
That caught the attention of Iowa Athletic Director Bump Elliott, who convinced Olson to leave the warmth and sunshine of southern California to rebuild an Iowa program that had fallen on hard times under previous head coach Dick Schultz.
Olson would prove to be one of Elliott's best hires by how Olson took a struggling program and turned it into a Big Ten contender almost immediately.
Iowa had suffered through four consecutive losing seasons when Olson was hired, but the circumstances quickly changed as Iowa finished 19-10 in Olson's second season.
That was the start of a glorious run in which Olson led Iowa to the 1978-79 Big Ten regular-season title, to the 1980 NCAA Final Four and to five consecutive NCAA Tournament appearances.
I still can remember when Olson came to watch former Dowling star Bobby Hansen in high school in the late 1970s.  Olson had rebuilt the Iowa program by the point and fans were captivated by his presence.
Hansen would go on to play for four seasons under Olson at Iowa, and was a key contributor as a freshman guard on the 1980 Final Four team.
Olson also played a key role in the building of Carver-Hawkeye Arena, which opened in Jan. 1983 in his final season as head coach. The old UI Field House was steeped in tradition and ambiance, and it gave Iowa a strong home-court advantage.
But Olson wanted something bigger and more up to date and his vision helped to fuel the project.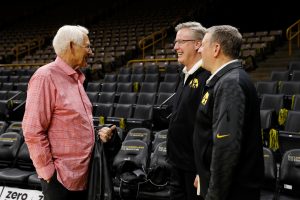 The only downside to Olson's success at Iowa is that it made him a hot commodity and Arizona made him an offer to rebuild its struggling program that he couldn't refuse.
So Olson left Iowa after nine seasons, and that didn't sit well with some Hawkeye fans.
Olson had reportedly grown tired of the Black and Gold fishbowl, and his wife had reportedly grown tired of the Iowa winters.
It was hard for some Iowa fans to watch as Olson turned Arizona into a national powerhouse, a blue blood program that would compete with UCLA on a regular basis for west coast dominance. He was named the Pac-10 Coach of the Year seven times and led Arizona to the national title in 1997.
Olson was also inducted into both the Basketball Hall of Fame in 2002 and the National Collegiate Basketball Hall of Fame in 2006 before retiring in 2008.
But time also has a way of softening a person's resentment and it makes more sense to appreciate Lute Olson for what he accomplished at Iowa.
He still is the last head coach to lead the Iowa men's basketball team to a Big Ten regular-season title, and to the Final Four.
Olson also recruited the great Ronnie Lester and helped to make him a star point guard, and Olson also surrounded Lester with a special group of players that included backcourt partner and fellow Chicago native Kenny Arnold.
The bond between those players shined brightly and took on a whole new meaning as Arnold battled with health issues for over 30 years before passing away in April 2019.
Arnold often had his former college teammates at his side, especially Mike Henry, who played for Olson at Iowa from 1977-81.
"Coach Olson deserves a lot of credit for recruiting guys with high character," Henry said. "You can see that character with how the guys have rallied to support Kenny.
"We're teammates for life, and it started with coach Olson recruiting us to Iowa."
Henry made that comment shortly before Arnold passed away, and I was reminded of it after learning that Olson was ailing.
I've done a lot of reminiscing and thinking back to what truly was a special time in Iowa athletics.
To think that at one time Lute Olson, Hayden Fry and Dan Gable were all coaching at Iowa in the late 1970s and early 1980s.
Call me a homer, but it's hard to think of a more accomplished coaching triumvirate from three different sports that coached at the same time at the same school.
Olson, Fry and Gable were only together at Iowa for four years from 1979-83, but just look at what they accomplished during that brief time.
The Iowa men's basketball team won a conference title and played in the Final Four, while the Iowa football team won a conference title for the time in 21 years and played in two bowl games, including the 1982 Rose Bowl.
The Iowa wrestling team was even more successful, winning four consecutive Big Ten titles and four consecutive national titles.
Gable without question is the greatest of all time in his sport, while Olson and Fry are ranked among the greatest in their sport.
All three of them lifted Iowa to another level, and two of them, Olson and Fry, had to rebuild before they could win.
C. Vivian Stringer also was hired to coach the Iowa women's basketball team in 1983, so she just missed making it four legends coaching at Iowa at the same time.
So again, my thoughts and prayers to Lute Olson, and to his family.
He touched so many lives, including the lives of Hawkeye fans who are forever grateful.