By Pat Harty
IOWA CITY, Iowa – The Iowa football team begins the second half of this COVID-19 shortened season on the road at Penn State, which is 0-4 for just the second time ever.
Penn State fans are frustrated, to say the least.
They also won't be in attendance on Saturday, which could work to Iowa's advantage because few things in college sports are more intimidating and distracting than a White Out at a packed Beaver Stadium.
Iowa coach Kirk Ferentz always praises his opponent, but he's correct in saying that Penn State is better than its record.
If Iowa struggles to mount a rushing attack and falls behind early, it could be a sad day in Happy Valley, even without fans.
"If you look at them statistically, they are a very impressive football team but for whatever reason have come up short," Kirk Ferentz said. "We know it's going to be a big challenge for us.
"It's been a decade since we have beaten Penn State or close to a decade. We know we have a big challenge on our hands as we look forward, so we'll do our best to get ready for it this week."
Iowa hasn't defeated Penn State since a 24-3 victory in 2010 at Kinnick Stadium. The Hawkeyes are 0-6 against Penn State since 2011, with the last three losses by five, six and two points.
The Nittany Lions have been hurt by injuries, and by poor play at quarterback where
senior Sean Clifford has struggled. He was replaced by sophomore Will Levis in the 30-23 loss at Nebraska last Saturday, and Levis nearly led a second-half comeback.
Ferentz is familiar with Levis after having offered him a scholarship early in the recruiting process.
"We actually had him in camp here," Ferentz said Levis. "We might have been the first Power Five offer that he had, I'm pretty sure I'm correct in saying that. He was interested and enamored until Penn State offered him. That was the end of that relationship; and I say that jokingly. He's a first-class young man and that was a delight to get to know a little bit.
"We have very high regard for him back before his senior year in high school, so it comes as no surprise to us that he's a about player and Clifford is a good football player, too. I don't know if they have made an announcement who is going to start. We fully expect Clifford to start. If not, they are both good players and they are both capable of running and throwing and that makes them tough to defend."
It's hard to see Iowa winning on Saturday if its running game struggles.
That would put more pressure on sophomore quarterback Spencer Petras, who will be making just his fifth career start on Saturday.
Petras needs the luxury of play action, but the only way to achieve that is by having Penn State's defense respect the Iowa running game.
The Nittany Lions might even load the box and force Petras to prove that he can beat them as a passer.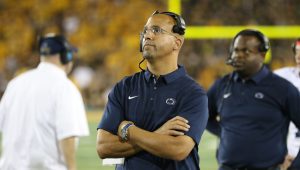 Penn State, like always, has plenty of talent at multiple positions because James Franklin has recruited at a high level.
The concern if you're Iowa is that at some point the Nittany Lions will figure things out and finally get in the win column.
But they'll have to do it without help from their fans, and against an Iowa defense that has only allowed seven points in each of the past two games.
Pat Harty's picks
Iowa 28, Penn State 20: Penn State fans might choose Ben Franklin over James Franklin as head coach right now, even though Ben Franklin has been dead since 1790.
Purdue 34, Minnesota 23: P.J. Fleck might want to consider using urine as a motivational tactic because the poop thing isn't working. The Gophers reportedly will also be without approximately 20 players due to COVID-19 health concerns.
Nebraska 30, Illinois 21: Reports of Scott Frost seen walking on water or bringing the dead back to life will start to surface in Lincoln after Nebraska wins two games in a row.
Ohio State 35, Indiana 21: Buckeye fans demand answers for the game being this close.
Wisconsin 20, Northwestern 17: Barry Alvarez briefly considers naming himself Wisconsin's interim head coach after Northwestern takes a 3-point lead early in the third quarter.
Michigan 28, Rutgers 21: Jim Harbaugh tries to carry himself off the field after this program-saving win.
Tyler Devine's picks
Iowa 27, Penn State 10: Either I'm a giant homer or I really don't believe in Penn State. Maybe a little of both.
Purdue 42, Minnesota 20: I've realized that I've run out of jokes about boats sinking.
Illinois 29, Nebraska 23: I still refuse to pick Nebraska to win a game.
Indiana 38, Ohio State 35: I'm probably going to regret this.
Wisconsin 23, Northwestern 21: The Badgers will probably have three players rush for over 100 yards. Being a quarterback at Wisconsin must be so boring.
Michigan 34, Rutgers 17: I never thought Jim Harbaugh could look more ridiculous until I saw him with his headset microphone behind his mask.