By Pat Harty
IOWA CITY, Iowa – With this being the midway point of the COVID-19 shortened regular season, it's time to give mid-term grades for the Iowa football team's three coordinators.
Iowa is 2-2 heading into Saturday's game at 0-4 Penn State, and riding a two-game winning streak with back-to-back victories over Minnesota and Michigan State in the last two games by a combined 70 points.
Iowa lost its first two games to Purdue and Northwestern by a combined five points, so the Hawkeyes are so close to being in the midst of a potentially special season.
A lot can change over the next four games, especially with the coronavirus still raging. But Iowa, fortunately and luckily, has made it half way through the eight-game regular season without having any games canceled.
The players, coaches and support staff all deserve credit for staying the course, and for staying diligent and pro-active in their response to a highly contagious virus.
It, of course, starts with Kirk Ferentz, but his three coordinators also play a pivotal role, and here is a breakdown of what all three have accomplished, or failed to accomplish, so far this season, along with a letter grade for their performance.
LeVar, Woods, special teams coordinator
The former three-year letterman at Iowa handles all phases of Iowa's special teams after having coached the tight ends for three seasons. And right now, Woods, a former NFL defensive end, is handling all of his responsibilities real well.
He took the 26-hour flight to Australia, in which he sat in coach, and in the middle seat, to recruit punter Tory Taylor, and now we know why as the 23-year Taylor has been a force, arguably Iowa's most valuable player to this point.
"Yeah, it was too long, too long to be honest with you, but it was well worth the trip," Woods said Thursday on a zoom conference. "I think one way was 26 hours to get over there. If you're counting actual hours. The longest flight was from San Francisco to Melbourne, and that was 15-16 hours in a middle seat in coach. It's a long way to be sitting still in one spot."
Taylor ranks second in the Big Ten and 13th in the country, averaging 45.8 yards per punt. The freshman has downed 13 of his 20 punts inside the 20, six inside the 10, and three inside the five. He has no touchbacks.
Taylor has eight punts of 50-plus yards, with a career-high 61 yarder against Michigan State in the third game.
Iowa also leads the country in punt defense, and only two of Taylor's 20 punts has been returned, for a minus-8 yards.
Iowa also has two of the country's top returners in junior walk-on Charlie Jones, who leads the Big Ten and ranks sixth in the country averaging 15.0 yards per punt return, and senior Ihmir Smith-Marsette, who leads the Big Ten, and ranks 25th nationally with a 24.5-yard kick return average.
Jones, who transferred from Buffalo, returned a punt 54 yards for a touchdown against Michigan State.
And last, but certainly not least is the only returning consensus All-American on the team in senior kicker Keith Duncan, along with his sidekick Caleb Shudak, who handles kickoffs.
Duncan is sort of down on himself right now after having missed his last two field-goal attempts, including one from 50 yards. But the North Carolina native has shown throughout his career a knack for making big kicks at pivotal moments.
"We've all seen him for a long time and seen his successes," Woods said of Duncan. "I think Keith is one of the ultimate competitors, both he and Caleb Shudak together I think are incredible competitors, and I think that's one of the things that helps set them apart and set Keith apart, as well.
"I think that's where the frustration may come in for him, when the results aren't desired, and I think for him it's more just about going back to the basics and going back to, hey, what works, what doesn't, taking inventory, seeing what did you think about this, are there technical issues or is it more just, hey, I happen to read the wind incorrectly on this place or hey, I didn't quite hit the ball the way I wanted to. I think Keith is in a good place. I feel good about where he's at, and I think we've all seen Keith and seen him in some of his finest moments, and again, he's a senior but he definitely has more room to grow, which is exciting."
Iowa doesn't really have a weakness on special teams right now. The coverage has been more than adequate and the contributions have come from both veteran and younger players.
Woods singled out senior running back Mekhi Sargent and junior running Ivory Kelly-Martin for their contributions on special teams.
"Some of those guys, just to highlight Ivory Kelly-Martin and Mekhi Sargent, two guys that are veteran running backs for us that have really put in the time and helped out on special teams and contributed to this football team," Woods said.
Grade: A-minus
Phil Parker, defensive coordinator
Even with all of the personnel losses from last season, including three starters on the defensive line, it probably should come as no surprise that Iowa still is playing defense at a high-level under Phil Parker.
Iowa is currently ranked second in the Big Ten in pass defense (201.5), third in total defense (314.3), third in scoring defense (14.8) and fourth in rush defense (112.8).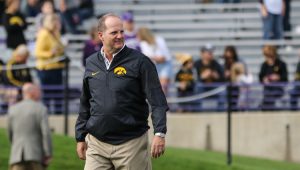 After allowing 24 and 21 points, respectively, against Purdue and Northwestern, Iowa has only allowed seven points in each of the past two games, including a meaningless touchdown by Minnesota in the closing seconds, and against mostly backups.
"Obviously, we weren't happy the last two weeks giving up that many points, either, with seven apiece," Parker said. "One was on the second teamers, but we expect them to be at a high standard, too."
Parker said he started to notice a change in tempo during practice following the loss to 21-20 loss to Northwestern in week two.
"You could tell the difference in the practice tempo and the energy that was coming out to practice," Parker said. "I think the last three weeks we've been practicing at a high level, and I feel very confident in that the guys are going to go out and play hard. Might not play as clean — we didn't play as clean in the first two games, but I think these guys are all set on going out and giving their best effort, and you see it in practice. You see it in meetings. To me that's part of the battle"
Junior defensive tackle Daviyon Nixon has been a disruptive force and is clearly a star on the rise, while junior safety Jack Koerner is tied for the Big Ten lead with three interceptions.
And speaking of interceptions, that's where Phil Parker really seems to thrive as a coach. The former All-Big Ten safety from Michigan State was known more for his bone-jarring hits, but his defenses also play with finesse and awareness, as evidenced by Iowa's success with making interceptions.
Iowa currently ranks second in the Big Ten with eight interceptions (Indiana, 11). Iowa also has 61 interceptions since 2017, the most in the country, and the Hawkeyes have at least one interception in 11 straight games. They have 16 total interceptions during that stretch.
Parker was asked on Thursday to explain Iowa's success with making interceptions.
"I think it has probably a couple different things," he said. "We're mainly a zone type of match-up team that we are in the back end for many reasons. I like to have more zone eyes than man eyes, and what I mean by that, a lot of people that played man-to-man, it's very hard to get interceptions when you're playing so much man-to-man, and the way we've done it has been in a lot of quarters, a lot of quarter match, opportunities of guys the way they prepare, they study, they understand the game, they understand the splits, they recognize formations. They understand tendencies.
"It develops from guys preparing, but they're preparing — some of the freshmen right now are preparing for their junior or senior year, and people don't understand — it's not like you just go out there and say, hey, this is my first year, I picked up all this information and gathered it and everybody has an opportunity to go out there and play."
Grade: B-plus
Brian Ferentz, offensive coordinator
After sputtering in the first two games, the Iowa offense has performed at a very high level in each of the past two games.
And most of the credit goes to the running game.
Iowa ranks second in the Big Ten with 11 rushing touchdowns, and sophomore Tyler Goodson has back-to-back multi-touchdown games and back-to-back 100-yard rushing games. The Georgia native rushed for 113 yards against Michigan State, and for a career-high 142 yards against Minnesota.
"We're pleased with the running game," Brian Ferentz said. "I feel like everything starts and ends with our ability to run the football and establish the run game. You look at the last two victories, we were certainly able to do that. You look at the games we lost, I thought we ran the ball pretty well at Purdue. Didn't run it quite as well against Northwestern and certainly that hurt us."

Perhaps the best thing Brian Ferentz did in each of the past two games is rely on his rushing attack to set the tone, and then he stuck with it.
Brian Ferentz's game plan was questioned after sophomore quarterback Spencer Petras, who was making his first career start, attempted 50 passes in the 24-20 loss at Purdue in the season opener.
It seems that Brian Ferentz gave up too early on the running game against Purdue, and that put too much of the burden on Petras to excel as a passer.
The last two games have been entirely different, though, as Brian Ferentz seems determined to use the run to set up the pass instead of the other way around.
And that fits more with Iowa's philosophy under his father, Kirk Ferentz, and with Iowa's personnel on offense.
Just because Iowa has four proven receivers doesn't mean that Petras is ready to throw 50 passes in a game.
Petras has 134 pass attempts in four games, the third most by any Big Ten quarterback. He entered the season with 11 career pass attempts.
Brian Ferentz seems to have learned his lesson, but what we will do if Iowa struggles to run early against Penn State?
What if Penn State loads the box and dares Petras to throw?
Will Brian Ferentz take the bait and abandon his running game?
Or will he strive for balance?
Brian Ferentz has shown before that he can devise a masterful game plan. He was the architect of Iowa's 55-24 drubbing of Ohio State in 2017, and he kept the University of Southern California's defense off balance during the 49-24 victory in the 2019 Holiday Bowl.
He has plenty of weapons on offense, and a veteran offensive line to protect Petras, whose performance has been shaky at times.
"As far as managing the game or calling the game, I think it's different because I'd like to hope that I'm getting better at it or getting a better feel for it," Brian Ferentz said. "One thing that we've talked about a lot in the off-season and one thing that I've been very pleased with through the first four weeks is just the tempo of which we're playing. We're not a tempo outfit. We're not a hurry-up outfit. We like to huddle, we like to change personnel, but that doesn't mean we have to play slow, and we're not trying to slog through the game.
"We want to make sure we're getting snaps and getting plays run and trying to push that tempo in and out of the huddle, changing personnel, getting people on and off the field and still trying to put pressure on the defense in that regard."
And while Petras has struggled at times as a passer, he has excelled in other areas, according to Brian Ferentz.
"I've actually been very pleased with how Spencer has managed the huddle, gotten us in and out of that thing and gotten the play called and gotten us to the line of scrimmage in a timely fashion," Brian Ferentz said.
Grade: C