By Pat Harty
IOWA CITY, Iowa – The most anticipated Iowa men's basketball season in decades, a season that for a while looked as if it might not happen, is finally about to start.
The longest offseason in program history will end at 3 p.m. on Wednesday when Iowa, ranked fifth in the Associated Press preseason poll, faces North Carolina Central at Carver-Hawkeye Arena.
Iowa's highest preseason ranking in 65 years has caused expectations to soar and fans understandably want to embrace this team and share in its success, even if they can't watch in person due to COVID-19 health concerns.
In addition to the high ranking, Iowa has the preseason favorite for National Player of the Year in senior center Luka Garza, and a healthy Jordan Bohannon, who is poised to become the Big Ten's all-time leader in 3-point field goals.
The nonconference schedule features games against Iowa State, Gonzaga and North Carolina, while the Big Ten schedule will be a 20-game grind.
At least, that's the hope and the plan, but with the constant threat and uncertainty caused by the COVID-19 global pandemic, there is no guarantee the season will make it from start to finish, or be played without games being canceled.
"I'm always one to speak my mind freely, but I think it's a little premature to start the season when it is," Bohannon said. "But I think the Big Ten and the University of Iowa have done everything possible for us to run smoothly.
"I wish every university in the country would do daily testing like we do because it really changes the mindset of contact tracing and everything that goes around the coronavirus to be able to run a full season. There's a lot of interchangeable parts that come into play. We have low-majors and mid-majors coming in that just don't have the money to fund daily testing."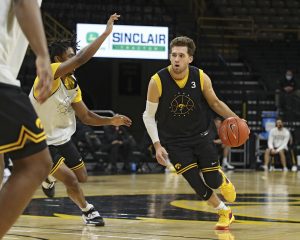 Wednesday's season opener appeared to be at risk of being cancelled when North Carolina Central, the defending MEAC champion, had to pause workouts after having a positive COVID-19 test result.
However, the team has arrived in Iowa City and was expected to return to practice on Monday.
So it's game on, assuming everybody associated with both teams tests negative, and a chance for Garza and his cohorts to start living up to the enormous hype.
The 6-foot-11 Garza will be a focal point of every defense after what he accomplished last season as a consensus All-America selection and Big Ten Player of the Year.
But Garza is hardly a solo act.
Iowa returns a large percentage of its production: scoring (81%), rebounding (76%), assists (77%), steals (83%), and blocks (67%). Iowa is also one of eight schools from Power 5 conferences to have at least 65 percent production return from the previous season.
"It'll be interesting to see, especially when teams start putting pressure on me and I'm able to find some of our open shooters," Garza said. "It's going to be interesting to see how they adjust, whether they continue to double-and-triple when we have more shooters on the outside that are going to be able to stretch the floor.
"So it's going to be interesting and I'm ready for anything and have pretty much seen any defense that you can see, and I've definitely learned to adapt to anything in games. So I'm excited just to get out there as a competitor and win basketball games."
Bohannon, who only appeared in 10 games last season, finally is healthy after having surgery on both hips, and after having a nasty case of COVID-19 in the summer.
He gives Iowa one of the top clutch shooters in program history.
"I feel unbelievable," Bohannon said. "I'm so happy for the kind of work that I've put forward these last six, seven months. It's put me in this position to be ready from day one, being a year, and year-and-a-half out from both of my hip surgeries. It's unbelievable, kind of the path that I took to get here. But I'm happy with the work I put forward to finally be here."
And while expectations are as high as they've been in years, reaching this point hasn't come without struggle.
It's easy to forget that Iowa finished 14-19 overall and 4-14 in the Big Ten in 2017-18 when Bohannon was a sophomore and Garza a freshman.
Bohannon hasn't forgotten it, however.
"The preseason rankings is kind of a testament to what we've put together these last couple of years and on team we've kind of built on year by year," Bohannon said. "I dealt with the struggles my sophomore year, and Luka was there, too, and a lot of the other guys, how much we struggled.
"And then junior year was a whole different story and I think kept building year by year based off that adversity we had. So I think that was important for us to kind of feel like what's it's like to lose. It's not a good feeling and we don't want feel that feeling ever again."
Iowa bounced back after the losing season to finish 23-12 during the 2018-19 campaign, including a victory over Cincinnati in the first round of the NCAA Tournament.
Iowa was also poised to make the NCAA Tournament last season with a 20-11 record when the postseason was canceled due to COVID-19 outbreak.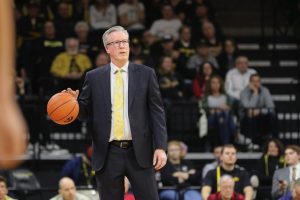 Fran McCaffery took over a program that was in shambles in 2010 after three consecutive losing seasons, and after multiple player defections.
And now a decade later, he has what many feel is the best team in the Big Ten on paper, and a national contender.
McCaffery wants his players to embrace the expectations and use it as motivation.
"At the end of the day, that's what they signed up for," McCaffery said. "You come to the Big Ten, you want to take on the big boys. We're scheduling the No. 1 ranked team in the country (Gonzaga) preseason, and we're going to play them on CBS. That's why you come to Iowa, because you want that competition, and you want that challenge.
"I think, like I said earlier, you embrace it and you enjoy it, you don't run from it."
Iowa vs. North Carolina Central
When: 3 p.m., Wednesday
Where: Carver-Hawkeye Arena
TV: Big Ten Network
Radio: Hawkeye Radio Network
Key stat: Iowa has won nine consecutive season openers dating back to the 2011-12 season.