By Pat Harty
IOWA CITY, Iowa – Tyler Linderbaum had just committed to the Iowa football team on May 1, 2017 when I called Kevin Miller for comment.
It was the spring of Linderbaum's junior year at Solon High School, and Miller was understandably proud and excited to have yet another Solon Spartan heading to Iowa.
Miller was the Solon football coach at the time, and like any coach when one of his players makes a verbal commitment, Miller laid the praise on thick.
Miller did the same thing when former Solon stars James Morris, Marshall Koehn and Jacob Coons all committed to Iowa.
But in Linderbaum's case, Miller made a prediction that sort of caught me by surprise with its boldness.
He said with conviction, and on the record, that Linderbaum would be a star at whatever position he played in college.
Well, it is three years later and Linderbaum is considered one of the top centers in the Big Ten, and the nation.
So I reached out to Miller on Tuesday to revisit our conversation from when Linderbaum committed to Iowa.
I asked why he was so confident that Linderbaum would be a star at Iowa and Miller gave a very detailed explanation.
"I've had the good fortune to coach a lot of great players, and obviously, we've had a lot of great players," Miller said. "There are so many things that encompasses a great player, and he checks all the boxes when it comes to the physical skill set. To begin with, one, he's strong. He's athletic. He has great balance, great coordination, quickness, I mean just from a physical standpoint he has all those intangibles that you're looking for to be great football player.
"And then to boot, you add the great work ethic, the toughness, those are to me the intangibles that are hard to coach. Either you're tough, you have that work ethic, you have that competitive nature that is just unmatched, honestly."
Miller was just getting started.
"The thing that separates him from most players I've ever worked with, and he ranks up there as a player that was just willing to do whatever it took to be successful," Miller said. "The way he prepared, whether it be in the weight room, whether it be film study, he just was willing to do whatever it took to be successful.
"I can probably count on one hand the number of plays he took off. That's the truth. I mean he practiced that way. Everything he did he gave maximum effort, everything. It wasn't just when it was convenient he could flip that switch. The reason why he performs as he does is because of how he practices and how he prepares in everything. There just aren't that many weaknesses. I really can't tell you something that he doesn't possess that will hinder him at performing at the highest level."
Linderbaum is part of an Iowa offensive line that has been the driving force behind the team's current three-game winning streak. Iowa will try to make it four wins in a row, and six wins in a row against Nebraska, when the teams meet on Friday at Kinnick Stadium.
Linderbaum came to Iowa in 2018 as a three-star defensive tackle recruit, and he played defensive tackle throughout his true freshman season until switching to center during preparation for the Outback Bowl against Mississippi State.
The position switch hardly came as a surprise to Miller because he was convinced that Linderbaum had all the skills and intangibles to be a great center.
Miller on Tuesday brought up a conversation that he had with James Morris, who also played for Miller at Solon and was a star linebacker for Iowa.
It was the summer before Linderbaum's senior season in 2017 and Morris was volunteering his time and helping with workouts at his alma mater.
"When (Tyler) was a senior I had James Morris kind of working with our offensive line in the summer just to kind of work on some of our zone schemes," Miller said. "And one day after one of those summer sessions, James and I were having a discussion and he said, 'coach, I'm telling you what, if he plays center he can play in the NFL, I have no doubt about it.
"He goes, 'I've seen enough football and I went against James Ferentz and a number of other all-Big Ten centers, and he's got what it takes to play center and to be highly successful at Iowa and beyond." He's a natural born center."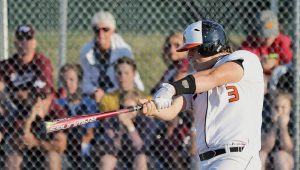 Linderbaum was a multi-sport star in high school, who even played second base a few times despite his size. He earned four letters in baseball and three in wrestling and track.
"He's the ultimate competitor," said Miller, who retired as the Solon football coach after the 2018 season. "I don't care if it's checkers, ping pong, whatever, he wants to win. He just loves to compete and the one thing I also want to mention is he's so humble.
"He understands football is something that he does, it doesn't define who he is. He's one of the most humble down-to-earth, not an arrogant guy. He doesn't allow football or his success to go to his head. He deflects a lot of that."
Iowa offensive coordinator Brian Ferentz is now seeing on a daily basis what Miller saw when Linderbaum was in high school.
"He sets that tempo right from the start, and when you're talking about Tyler, yes, athletic, strong, has all those measurables that you're looking for, but the level he's competing at, his desire to compete and to line up and beat the person across from him, it's as high as I've been around," Brian Ferentz said. "He's a pleasure to coach. He's a pleasure to be around. If we can steal some more guys like that from the defense, we'd certainly love to do it. Guys like him are few and far between."
The 6-foot-3, 289-pound Linderbaum is playing at such a high level that he is now being mentioned as a possible early entry in the 2021 NFL draft as a third-year sophomore who is just 20 years old.
Linderbaum held a zoom conference with the media on Tuesday and was asked about the NFL Draft.
"I really haven't put much thought into it," he said. "My focus is on this season. To me, I have a lot of improvement that I still need to do, and I'm just focused on that, what I need to get better at, because I see a lot of things I can get better at. Right now, I'm just focused on the season and the game ahead of us."
Linderbaum told the media that he recently switched his major to elementary education and that he would like to be a teacher, partly because teaching runs in his family.
"I want to be a teacher in the future," Linderbaum said. "It was enterprise leadership, but not anymore. My whole family – my dad's side of the family – is a lot of teachers. All of his sisters, his parents were in the education program.
"It's just something that I want to do. I want to be with kids, work with them. And I also want to get into high school coaching, all that stuff."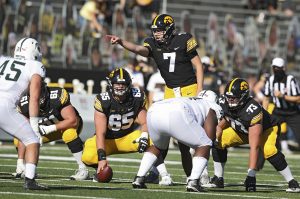 Linderbaum was just a few months past his 18th birthday when he joined the Iowa program as a true freshman. He was young for his grade, and Miller believes that will benefit Linderbaum in the future.
"I think that's why he got a tremendous upside, yet. I think his best football is still ahead of him," Miller said.
Miller and Linderbaum were golfing together this summer and they had what Miller described as a good conversation about Linderbaum's future. And not once, did Linderbaum mention the NFL.
"We talked about it before the season if you have a great season, what are you thinking?" Miller said. "And he's like, I don't care about that. I'm not focused on that. I'm focused on this season, my first opponent.
"And that's just how he operates. When that time comes, he'll cross that bridge. But as of now, he's just focused on Nebraska."
Miller credits Linderbaum's upbringing for making him the person he is today, on and off the field.
"His value system is really what separates him," Miller said. "He's never forgotten who he is and where's he's come from. And that says a lot about his parents."