By Pat Harty
IOWA CITY, Iowa – Luka Garza is proof that hard work, dedication and talent can make scoring points look incredibly easy.
Iowa's 6-foot-11 All-America senior center was virtually unstoppable against an overmatched Southern University squad on Friday.
Garza scored 36 points in the first half on 12-of-12 shooting from the field, and finished with 41 points overall in 29 minutes of playing time, as fifth-ranked Iowa cruised to a 103-73 victory at Carver-Hawkeye Arena.
His 41 points is a Carver-Hawkeye Arena record for an Iowa player, and Garza joins John Johnson as the only Iowa players with at least two 40-point games.
Garza scored 44 points during a loss at Michigan last season.
Garza credited his teammates for putting him in favorable positions to make baskets. He only missed one of his 15 field-goal attempts.
"I think our team, like I've said many times, is one of the most unselfish groups I've ever been a part of," Garza said. "No one is worried about anything except for scoring the basketball and winning the game.
"It's just the flow of the game. I didn't say anything to anybody, I think they were just finding me in my spots and I was open and I was able to get the ball in a position to score."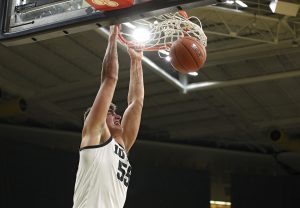 Iowa coach Fran McCaffery has witnessed lots of great scoring performances during his career as a player, and as a coach, including what Garza did last season.
But what Garza accomplished in the first half was extra special.
"I've haven't had too many guys get 36 in a half," Fran McCaffery said. ".I've had guys get on rolls over the years. Certainly, his performance at Michigan last year was like that, he had a few like that last year. But that's a big number.
"Southern doesn't) have a lot of size. They like to play a lot of smaller guys and go off the dribble. Sean (Woods) rotates a lot of guys. So, kudos to our guys to recognize he had it going and really load him up."
Garza rose to stardom last season as a junior when he led the Big Ten in scoring and was named the conference's Player of the Year.
He declared for the NBA Draft, but ultimately decided to return for his senior season.
Garza's presence in the middle, along with a deep and talented supporting cast, has caused expectations to soar, and his dominance on Friday will only add to the hype.
Garza is known for his work ethic, and for his unwavering desire to reach his full potential as a basketball player.
He and his father, Frank Garza, have worked together for years on basketball skills and on conditioning, and now all that hard work is paying huge dividends.
Garza was the preseason favorite for National Player of the Year, and he certainly helped his cause with Friday's record-breaking performance.
"He's getting the job done," junior guard Joe Wieskamp said of Garza. "He missed one shot all game. He's a terrific player, and it's going to be like that all season long."
Iowa improved to 2-0 with Friday's victory and will face Western Illinois in its next game on Thursday at Carver-Hawkeye Arena.
The competition will then get much tougher when Iowa faces North Carolina on Dec. 8 in the Big Ten/ACC Challenge at Carver-Hawkeye Arena.