By Pat Harty
IOWA CITY, Iowa – Here are 10 observations/opinions following a Black Friday that was full of Hawkeye sports.
Luka Garza has reached a level of performance that now has me willing to at least consider that he might surpass Ronnie Lester as the greatest player in the history of the Iowa men's basketball program.
And that truly is saying a lot because Ronnie Lester is my favorite Hawkeye of all time in any sport.
A knee injury kept Lester from reaching his full potential in the NBA, but by the time Lester suffered the injury as a senior at Iowa, he already in my opinion was the greatest player in program history. Lester was a dynamic point guard, who when healthy, could get to the basket with ease, and from baseline to baseline faster than any player I've ever seen.
Garza, as a 6-foot-11 center, is the polar opposite of Lester as a player, but what they share is the ability to dominate a game in their own way.
Garza was virtually unstoppable against Southern University on Friday, scoring 41 points, including 36 in the first half, on 14-of-15 shooting from the field. He joins John Johnson as the only Iowa players to score at least 40 points in two games.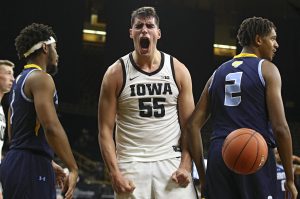 Garza scored 44 points in a loss at Michigan last season.
What Garza still has to do in order to match, or even surpass Lester, is have team success.
Lester led Iowa to a share of its last Big Ten regular-season title as a junior in 1979, and was a driving force on Iowa's 1980 Final Four team despite the knee injury.
Lester checked all of the boxes as a Hawkeye, and so, too, will Garza if he leads fifth-ranked Iowa to a special season.
2. Maybe Daviyon Nixon knew his rise to stardom would for sure happen at Iowa, and that's why he always seems to be in a good mood and smiling.
From the first time I met Nixon as a Hawkeye, he has been friendly and upbeat, and smiling from ear to ear.
It's as if he knew that he was on the verge of becoming a star, and that is exactly what is happening right now.
Nixon had yet another solid performance in Friday's 26-20 victory over Nebraska, making eight tackles, including three for losses and one sack.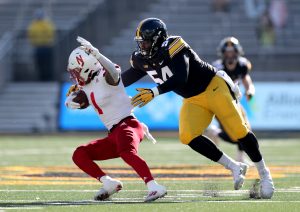 If there is another Big Ten defensive lineman who is playing better than Nixon, could someone please point him out because I haven't seen one. Nixon has an incredible blend of power, speed and finesse and he uses all of those gifts to be disruptive in the trenches.
My advice to Iowa fans is enjoy him while you can because the NFL will soon be calling with lots of money, and more reasons for Nixon to keeping smiling.
3. Scott Frost has shown in 2 1/2 seasons as the Nebraska football coach that he's good at losing, but is a bad loser.
The latest example was Friday's loss to Iowa, which lowered Frost's record to 0-3 against the Hawkeye and 10-19 overall as the Nebraska coach.
Instead of throwing his players under the bus as he did after the 41-23 loss to Illinois a week six days earlier, Frost blamed the sound of clapping from the Iowa sideline for why his center struggled with snaps in the shotgun formation.
Frost said there was clapping from some of the Iowa coaches, and that threw his center off.
His comments were petty, and it was just another case of Frost whining and deflecting.
Kirk Ferentz then seized the narrative when told about Frost's accusations. It was a side of the usually stoic Kirk Ferentz that rarely comes out, but he obviously resented Frost's accusation, and deservedly so, because what Frost said was ridiculous.
"We should just go home right now," Ferentz said near the end of his rant. "What are we talking about? It's football, right? It's football. Are they okay with how I dressed today? Should I be changing my pants, different shirt? What are we talking about?
"I'm sorry. I'm distracted right now, totally distracted."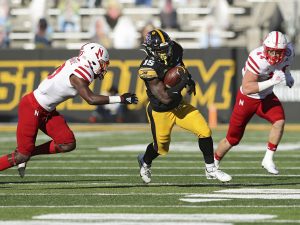 4. Iowa offensive coordinator Brian Ferentz deserves praise for sticking with his running game on Friday, and for trusting that Tyler Goodson could handle a heavy workload, which in this case was 30 carries for 111 hard-earned yards.
Goodson only averaged 3.7 yards per carry, and his longest run covered just 13 yards. But sometimes, that's Big Ten football, grinding and pounding and scrapping for every yard you can get.
Goodson, a sophomore from Suwanee, Ga., helped Iowa control tempo and take time off the clock in the fourth quarter.
He also made things easier for sophomore quarterback Spencer Petras, who struggled for most of Friday's game with both accuracy and decision making.
5. I tweeted on Friday that the Iowa-Nebraska football rivalry is a bigger disappointment and letdown than the 1980s so-called super-group, Asia.
It takes more than two fans bases that despise each other, a petulant head coach; a traveling trophy with a noble cause, and borders that touch to make a good rivalry.
Iowa has won the last six games against Nebraska, so where is the so-called rivalry?
The last three games have been close, but being close doesn't make for a rivalry.
One reason why Iowa has won six in a row is because Nebraska isn't very good, and hasn't been very good for a while.
Frost was considered the savior when he returned to coach his alma mater. But so far, he hasn't even been average.
Iowa also doesn't have enough history with Nebraska to call it a rivalry. The teams went from 1947 to 1978 without facing each other
So to say that the Iowa-Nebraska football rivalry is on the rise just seems inaccurate and forced.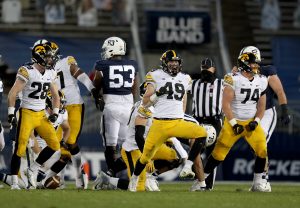 6. Nick Niemann is quietly having a solid senior season at linebacker for Iowa, as he showed in Friday's victory over Nebraska with a team-high 12 tackles.
Niemann, who is the son of Iowa assistant coach Jay Niemann, and the younger brother of former Iowa linebacker and current Kansas City Chief Ben Niemann, is more steady than spectacular, and more substance than style.
But more than anything Nick Niemann is effective.
He rarely gets out of position, and is always fundamentally sound with his technique.
Niemann leads Iowa with 61 tackles in six games.
Linebacker was a concern heading into the season due to attrition, but Niemann has lifted his game to a new level, while providing much-needed senior leadership on and off the field.
7. Some of the greatest individual stories, as Kirk Ferentz likes to call them, have started on special teams at Iowa.
That's where players often make their first impact as a Hawkeye under Kirk Ferentz, including sophomore defensive back Terry Roberts.
The Erie, Pa., native has been a force on special teams since the start of last season.
Roberts has a knack for being around the ball and that helped him recover a fumble in the second half against Nebraska on Friday, and earn high praise from his head coach.
"As you know historically we've had a lot of those good stories of guys that cut their teeth, get their feet wet playing special teams," Kirk Ferentz said. "It's so, so important, especially when you have a guy who is a real high-energy player a guy that brings energy. It spreads to other guys.
"Terry by far, he's been extraordinary this year. Then the rest of the story is we kind of knew it was coming because we see him in practice. He's doing a pretty good job as a player, too, as a cornerback.
"Going back to pre-season, he was really humming on special teams. You could tell it was important to him. He was committed to it. Boy, he plays with a lot of energy and toughness out there. It elevates the whole group. I think we all really appreciate what he's doing. He takes a lot of pride in it."
8. The first time I saw Jack Campbell compete in a sport was in basketball during his junior year at Cedar Falls High School.
His competitiveness stood out immediately.
Campbell wasn't the best player on the court that night, but you could see why he had so much potential as a linebacker in football, with the way he moved from side to side, with his toughness, and with his big frame.
Campbell now carries 243 pounds on a 6-foot-5 frame, and is making a big impact at linebacker for the Hawkeyes as a sophomore. He finished with eight tackles, including two for losses in the victory over Nebraska.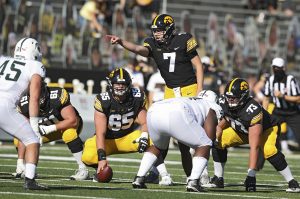 9. In no way am I suggesting that Iowa should make a quarterback change during a four-game winning streak.
But third-year sophomore quarterback Spencer Petras has to get better.
He has to make better throws, better decisions, better reads and better progressions to show that he is improving.
Petras flashed at times against Nebraska. But he had too many passes in which his receiver had to work too hard to make a catch. He was too high on some passes, too low on others, and he also threw behind receivers on crossing routes, which has been an ongoing problem.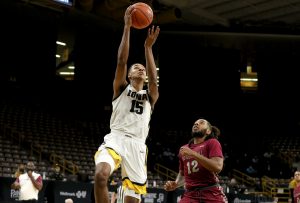 10. Let's end this column the way it started by talking about Hawkeye hoops, or more specifically, about the quick starts by freshmen forwards Patrick McCaffery and Keegan Murray.
They have combined to score 23 and 21 points, respectively, in the first two games, and have shown that they can help an already deep and experienced Iowa team.
Patrick McCaffery is 6-9 small forward whose number one strength is his ability to score in a variety of ways, near and away from the basketball. The son of Iowa coach Fran McCaffery has struggled to gain weight due to lingering heath issues, but Patrick now weighs over 200 pounds and seems ready to handle the physical play in the Big Ten.
Keegan Murray is the twin brother of Iowa teammate Kris Murray, and the son of former Iowa basketball player Kenyon Murray.
Keegan is also a versatile 6-8 forward who takes great pride in his rebounding and defense, and that should earn him playing time.