By Pat Harty
IOWA CITY, Iowa – It was the summer of 1991 and I had just started working for the Iowa City Press-Citizen when I first heard of Kenyon Murray.
He at the time was a high school basketball star from Battle Creek, Mich., and he had a Who's Who list of schools recruiting him, including the home-state Michigan Wolverines, Kentucky and UCLA.
But I also heard that he liked Iowa, and that Iowa had a legitimate chance to sign him.
Well, to make long story short, Kenyon Murray did ultimately sign with Iowa where he had a productive career over four seasons from 1992-96 as a small forward who excelled on defense.
I still remember writing his commitment story, and the huge headline that accompanied it in the newspaper.
That memory flashed before on Sunday as I watched Murray's twin sons, Keegan and Kris, play for the Hawkeyes.
It made me feel old seeing Kenyon Murray's twin sons playing for Iowa, but it also made me appreciate the influence of family and how much a choice for college can impact the rest of your life.
Kenyon Murray's decision to attend Iowa was the start of a relationship with the men's basketball program, with the university and with the state of Iowa that is as strong now as it's ever been.
Most kids never get the chance to play big-time college basketball because they're not good enough.
That's what makes Kenyon Murray's situation so unique.
He not only played big-time college basketball, but now his twins sons are playing it at his alma mater, and Kenyon and his wife live just up the road in Cedar Rapids, so it's easy for them to share in the experience, even during a global pandemic.
I saw Kenyon walking to Carver-Hawkeye Arena before Sunday's game and we waved to each other from the parking lot.
I then watched his son, Keegan, a talented 6-foot-8 freshman forward, stuff the state sheet during Iowa's 106-53 victory over Northern Illinois.
In addition to making two 3-point baskets and scoring 10 points, Keegan Murray also had five rebounds, three blocks, two assists and two steals.
The steals would certainly make his father proud because that it where Kenyon Murray really stood out as a Hawkeye, twice leading the team in steals.
Keegan Murray talked with the media on a zoom conference after Sunday's victory, and he made the game of basketball sound so simple in that he took what a defense, which was designed to contain Luka Garza, would give him.
"I just felt comfortable," Keegan Murray said. "The two threes, they were doubling Luka so I just tried to be ready to shoot on both of those.
"And then just being active on both ends of the court is just something I have to be day in and day out and that translated into blocks and steals."
Kenyon Murray used to say almost the exact same thing about being active day in and day out on the court, and using that activity to impact the game, especially on defense.
The 3-point shot wasn't a big part of Kenyon Murray's game, and he's three inches shorter than his twin sons. But Kenyon probably had the edge in quickness and nobody ever outhustled him.
The current Iowa team is unique, but not just because it's ranked third nationally and led by the preseason favorite for National Player of the Year in the 6-11 Garza.
It's also unique because of the roster makeup, which in addition to the Murray twins, has brothers Connor and Patrick McCaffery, who are the sons of Iowa head coach Fran McCaffery, and senior point guard Jordan Bohannon, who is the son of former Iowa quarterback Gordy Bohannon.
That's a lot of family legacy for one roster, and with family comes an unbreakable bond.
Little did Kenyon Murray know that when he picked Iowa, he was starting a relationship that would last well beyond his playing days.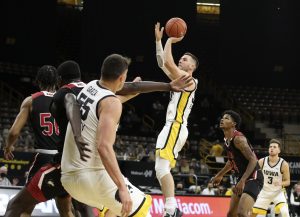 It's the same for the McCaffery brothers since their father decided to take the Iowa job in 2010. Fran's decision to coach the Hawkeyes paved the way for his sons to follow.
All it takes sometimes is one decision to change the course of several lives.
Kris Murray is named after former Iowa basketball player Chris Street, who was killed in an car accident midway through the 1992-93 season.
Kenyon Murray was a freshman on that team and Street was like a big brother to him.
The look of devastation on Kenyon Murray's face during Street's funeral is something I'll never forget because it nearly brought me to tears.
Kenyon Murray will never get over Street's death, but he and his twin sons are helping to carry on Street's legacy by representing the Hawkeyes.
And to think, it all started nearly 30 years ago when Kenyon Murray made his choice for college.