By Pat Harty
IOWA CITY, Iowa – Life brings few guarantees besides death, taxes and the burrito lift, but Sunday's matchup at Carver-Hawkeye Arena was about as close as it gets.
The third-ranked Iowa men's basketball team faced winless and vastly overmatched Northern Illinois and the game played out as you would expect.
Senior center Luka Garza was unstoppable on offense for stretches, his supporting cast made a bunch of 3-point baskets and the Huskies struggled to make shots.
The end result was a 106-53  Hawkeye victory and now the stage is set for this coming Saturday's much-anticipated game against top-ranked Gonzaga at the Pentagon in Sioux Falls, S.D.
Gonzaga had to pause all basketball-related activities through Dec. 14 due to COVID-19 health concerns, causing four games to be canceled.
The Gonzaga players should be well rested when they resume practicing on Monday, but will they be rusty from so much inactivity?
Gonzaga has only played three games so far this season, while Iowa improved to 6-0 with Sunday's rout.
"I've been looking forward to it ever since I heard we were playing them, said Iowa junior guard Joe Wieskamp, who scored 20 points in Sunday's game.  "I think our whole team has. We've been focused one game at a time, but now this game is here. We're going to lock in to that scouting report this week and get ready for that game on Saturday."
Iowa hasn't really been tested much this season with exception to the 93-80 victory over North Carolina this past Tuesday.
It was thought that Iowa State might pose a threat, but Garza and his cohorts had little trouble with their instate rival, winning 105-77 this past Friday at Carver-Hawkeye Arena.
The Northern Illinois game, on the other hand, had mismatch written all over it and that's what it proved to be.
Iowa probably could've scored 150 points if Fran McCaffery had left his starters in the game and poured it on.
But there is some mercy in sports as McCaffery went deep into his bench in the first half before emptying it in the second half.
McCaffery was able to experiment with different lineups and matchups in Sunday's game, including having freshman point guard Ahron Ulis play with the starters in the first half.
Freshman forward Keegan Murray also had another strong performance off the bench, as did redshirt freshman forward Patrick McCaffery, who is Fran McCaffery's son.
Keegan Murray finished with 10 points, five rebounds, three blocks, two steals and two assists, while Patrick McCaffery finished with 14 points and four rebounds.
And while Sunday's game was pretty much a guaranteed win for Iowa, the circumstances will be much different next Saturday.
Garza and his cohorts will have a chance to make a huge statement, assuming the game is played.
The 6-foot-8 Keegan Murray is the son of former Iowa basketball player Kenyon Murray, and the twin brother of Iowa teammate Kris Murray.
Keegan Murray brings energy and versatility off the bench and he gives Fran McCaffery another piece to a talented puzzle.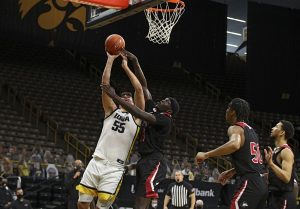 Garza led Iowa with 23 points in Sunday's game, making 8-of-10 shots from the field, while only playing 20 minutes. Last season's Big Ten Player of the Year has combined to score 57 points in the last two games in just 37 minutes of playing time.
Garza scored 34 points against Iowa State, including 25 in the second half, while only playing 17 minutes due partly to foul trouble.
Senior guard Jordan Bohannon only took five shots against Northern Illinois and finished with six points, while sophomore guard C.J. Fredrick attempted three shots and finished with four points.
That was in contrast to the victory over North Carolina when Bohannon and Fredrick led Iowa in scoring with 24 and 21 points, respectively. They also combined with Joe Wieskamp to make all 17 of Iowa's 3-point baskets against North Carolina.
Iowa didn't need Bohannon or Fredrick to score much in Sunday's game, but that is likely to change against Gonzaga.
Fran McCaffery wasn't pleased with his his team started Sunday's game.
"I didn't think we played defense in the first half the way we need to," he said. "We ratcheted up and our defense was better. We created some offense with our defense. Our press was really good. Our half court man was really good. Our half court zone was really active. I really wanted them to lock in defensively in our man-to-man and defend our stuff.
"You've got to play the possession. And at the beginning we didn't really do that as well as we needed to, but we did it. At the beginning of the second half, we created the separation that we needed. It enabled us to get some quality minutes for some of our younger guys, who performed incredibly well. And now it gets a lot tougher."
Fran McCaffery won his 200th game as the Iowa head coach on Sunday. And if he he can pick up win No. 201 next Saturday, his team could be sitting on top of the polls.
In other words, the fun is just starting with this Iowa team.
But as McCaffery said, it now gets a lot tougher.