By Pat Harty
IOWA CITY, Iowa – The year 2021 couldn't have gotten here fast enough.
And now that it's here, I decided to slip into a trance and make some predictions about Hawkeye sports over the next 12 months.
I came up with a dozen.
Why a dozen?
Why not.
There is is no unwritten rule that says every list should have either five or 10 topics.
Most of these predictions are pretty bold and optimistic, but none of them seem unreasonable.
There is an incredible amount of individual star power within the Iowa athletic department right now, and I was reminded of that as I made my predictions, starting with what I believe is mostly likely to happen.
Maybe I am a Hawkeye homer, but a strong case could be made for each of the predictions based solely on statistics, previous success and common sense.
Spencer Lee will win his third individual national title at 125 pounds and finish undefeated: You never say never in sports, especially at this elite level, but Spencer Lee is about as close as it gets to being a sure thing.
The global pandemic was the only thing that could've stopped him from almost certainly winning a third consecutive national title at 125 pounds last March.
Lee finished 18-0 and outscored his opponents by a whopping 234-18 margin. He scored bonus points in 16 of 18 matches and led the team with nine technical falls.
He should be just as dominant this season, if not more dominant, because he only seems to get better.
2. The Iowa wrestling team will win its first national team title since 2010, and will crown three national champions:
Iowa was considered a lock to win it all last season, and a bulk of the roster returns, led by Spencer Lee at 125 pounds, senior Alex Marinelli at 165 pounds and fifth-year senior Michael Kemerer at 174 pounds.
All three of them could realistically win individual national titles.
Missouri transfer Jaydin Eierman also finished third nationally at 141 pounds in 2019, so he gives Iowa another serious national contender.
Penn State has built a dynasty over the past decade, but Iowa looks better on paper right now, and was better on the mat last season.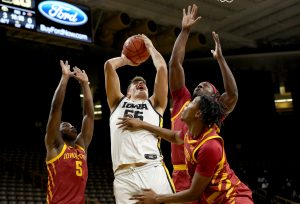 3. Luka Garza will be named the consensus National Player of the Year, the Big Ten Player of the Year for the second consecutive season and will surpass Roy Marble to become Iowa's all-time leading scorer.
That is actually three bold predictions in one, but none are far-fetched. Garza was named the National Player of the Year last season by six outlets, and his closest competition for Big Ten Player of the Year will likely be Illinois guard Ayo Dosunmu, but that's about it.
As for Marble's record of 2,116 career points, which has stood since 1989, Garza needs 256 points to surpass it, and barring any COVID-19 disruptions or cancellations, or an injury, Garza still has 16 conference games to play, along with the postseason.
He is currently averaging 27.5 points per game, so simple arithmetic says that Garza should score at least another 450 points this season. That would easily put him over 2,200 career points.
4. Caitlyn Clark will be named Big Ten Player and Big Ten Freshman of the Year, and will lead the conference in scoring.
She already has been named Big Ten Freshman of the Week five times, and she currently leads the conference in scoring (26.4) and assists (6.5) for a team that is 7-1 overall and 3-1 in the Big Ten.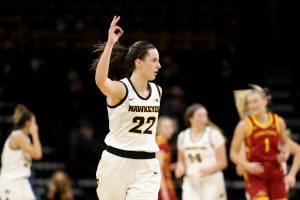 Clark is a freshman in grade only. The former West Des Moines Dowling Catholic star plays with moxie, and with the poise of a veteran, and if Iowa stays in the Big Ten title hunt, she should benefit from an individual standpoint.
5. Tyler Linderbaum will be a consensus All-America selection and the first center selected in the 2022 NFL Draft: This is yet another bold prediction, but hardly a reach since Linderbaum made second-team All-America this season as a third-year sophomore.
The Solon native has made incredible progress since switching as a true freshman from defensive tackle to center during preparation for the 2018 Outback Bowl. He is fundamentally sound, tough and plays with a motor.
In other words, he is the perfect center.
6. The Iowa men's basketball team will advance to the NCAA Sweet 16 for the first time since 1999: I couldn't convince myself to pick Iowa to win the Big Ten regular-season title because it's such a grind over 20 games.
But it's easy to picture Iowa winning at least two games in the NCAA Tournament because it has so many quality shooters and experience, to go along with Garza, of course.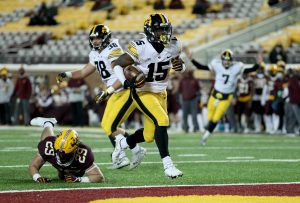 7. Tyler Goodson will rush for over 1,000 yards and average at least 5.0 yards per carry: This is hardly going out on a limb, considering he rushed for 762 yards and averaged 5.3 yards per attempt in eight game this season.
Assuming Iowa plays close to a full schedule next season, and assuming Goodson stays healthy, surpassing 1,000 rushing yards should be well within his reach.
8. Keegan Murray will make the Big Ten All-Freshman team: The son of former Iowa basketball player Kenyon Murray has been a pleasant surprise, although, Keegan probably isn't surprised by his solid all-around play this season.
A 6-foot-8 forward, Keegan Murray has played with poise and with confidence throughout the season. He can score inside and out, and he excels on defense.
He stuffed the stat sheet against Rutgers, finishing with 14 points, nine rebounds three blocks and three assists during the 77-75 victory this past Saturday in Piscataway, N.J.
9. The Iowa baseball team will qualify for the NCAA Tournament and will finish no lower than third in the conference standings: It has reached the point under head coach Rick Heller where Iowa is expected to finish in the upper division of the conference.
Last year's team was off to a sizzling 10-5 start against quality competition, and was performing well in all phases of the game, when the season was canceled due to the COVID-19 global pandemic.
Most of the players are back, and with the stability provided by Heller and his assistants, Iowa is built to win big this coming season.
10 . Jack Campbell will lead the Iowa football team in tackles and make first-team All-Big Ten: The Cedar Falls native showed flashes of brilliance this season, and should only get better with more playing time.
Iowa has to replace All-Big Ten linebacker Nick Niemann, and look for Campbell to fill that void. Campbell, along with Seth Benson and Djimon Colbert would give Iowa a solid nucleus at linebacker, assuming Colbert returns after having opted out of last season due to COVID-19 health concerns.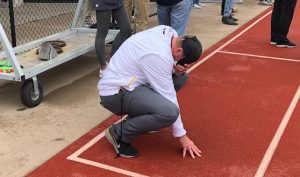 11. The Iowa men's track team will win the Big Ten outdoor championship: Both the men's and women's programs are thriving under Joey Woody's leadership, and competing for a conference title is now the expectation.
The Iowa men won the 2019 Big Ten Outdoor title, and the current roster is stacked with quality performers.
12. Fans will be allowed back into sporting events, starting in the spring, and by the start of the 2021 football season, Kinnick Stadium will be close to being full, although, with many fans still wearing masks: This is assuming that vaccines will be available to most of the population by the spring.
I was asked on Twitter if Iowa will require a vaccination record of note from a doctor in order to gain access to Kinnick Stadium. And while I hadn't given it any thought, it's a fair and interesting question.