By Pat Harty
IOWA CITY, Iowa – Keegan Murray was a junior at Cedar Rapids Prairie when I first saw him play in the winter of 2018.
It was against Muscatine High School, which was led by star senior Joe Wieskamp, and the game was at Muscatine.
Wieskamp already had signed a letter of intent with Iowa, and was without question the most celebrated high school player in the state at the time, and deservedly so.
Wieskamp was a spectacular talent as a 6-foot-6 shooting guard/small forward, and I remember that he scored a bunch of points that night.
But Prairie won the game, and Keegan Murray and his twin brother Kris Murray were a big reason why Prairie had prevailed.
I remember talking to their father, former Iowa basketball player Kenyon Murray, immediately after the game, and while he was proud of his twin sons and thrilled with the victory, Kenyon didn't seem overly surprised that they had risen to the occasion.
Kenyon Murray didn't make any bold statements, or say I told you so after the game, he just showed a quiet confidence.
Neither of his sons were being recruited by major Division I programs at the time, but you could just tell that Kenyon Murray knew that would change some day.
It took maybe longer than what Kenyon had hoped or expected as Keegan and Kris Murray both graduated from Prairie and then spent one year at a prep school in Florida with the hope of gaining more interest from Division I coaches.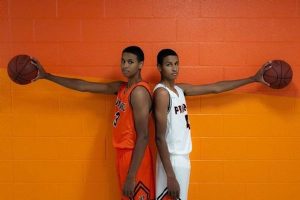 The plan worked as Iowa coach Fran McCaffery offered them both a scholarship after seeing them develop in prep school, and now Keegan Murray and Kris Murray are freshmen at Iowa and teammates with Wieskamp, who is a junior and a three-year starter for the Hawkeyes.
The first hint that Keegan Murray, a 6-8 forward, might play a key role this season came at media day when Fran McCaffery mentioned him as one of the newcomers who was ready to contribute, especially as a rebounder and as a defender.
Keegan Murray has since lived up the hype and is now becoming on the top freshman in the Big Ten. He is averaging 6.5 points and 4.3 rebounds per game heading into Thursday's game at Maryland, and he also leads fifth-ranked Iowa with 15 steals and is second on the team with 13 blocks.
Should Keegan Murray go on to lead Iowa in steals this season, he and his father would have the rare distinction of having both done it.
Kenyon Murray led Iowa in steals for two seasons in 1993 and 1994.
Keegan Murray had a zoom conference with the media on Tuesday and I asked him if he was surprised at all by his quick start as a Hawkeye, especially in regard to offense.
"I'm just picking my opportunities when they come," Keegan Murray said. "Whether that's getting a loose ball or getting an easy bucket, making an open shot, I've just been really trying to establish myself by making open shots, by getting easy layups, easy dunks, and just being efficient on the court.
"I think towards the beginning of the season I became more efficient in practice and I think that's translated into our games."
That seemed to be Keegan Murray's humble way of saying that he isn't surprised by his early success.
He has played with poise and confidence throughout the season, a versatile and active defender, who also has also made some big plays on offense, where he is shooting 54.3 percent from the field, including 44.4 percent from 3-point range.
Keegan Murray is coming off arguably his best game as a Hawkeye against Rutgers in which he stuffed the stat sheet with 14 points, nine rebounds, three blocks and three steals during a 77-75 victory this past Saturday in Piscataway, N.J.
Keegan is trying to take advantage of defenses that are designed to contain Iowa All-America senior center Luka Garza.
Keegan was asked Tuesday if he feels that opponents are now adjusting to his game after having scouted him.
"They really focus on Luka, so I think that just means being active, there's really no scout on me," Keegan Murray said. "I think just me playing my own game, hustling and getting the ball to Luka, and getting the ball to our shooters, has really helped me create different opportunities for myself that can't really scout."
Keegan Murray plays the game much the way his father used to play, but Keegan probably has more upside on offense due to his shooting ability.
When I watch Keegan Murray play, I see parts of his father's game, but I also see similarities to former Iowa forwards Nicholas Baer, Ryan Bowen and Aaron White.
I'm not suggesting that Keegan is at their level, or that he will achieve their level of success, but he seems to have that kind of potential, along with the right work ethic and perspective.
Keegan Murray credits his father for giving him and his twin brother sound advice upon entering college.
"He's been really good," Keegan Murray said of his father. "He's just been keeping me confident and just letting me do my own thing really. Just letting me and my brother become adults and figure things ourselves because he wants us to be men.
"He wants us to be really good people on and off the court, and I just think that he's done a really good job of just letting us do our own thing and keeping in touch and encouraging us the right way."
Keegan Murray and Kris Murray are among five true freshmen on the Iowa roster. And three of the freshmen, point guard Ahron Ulis, shooting guard Tony Perkins and Keegan Murray, all played key roles in the victory over Rutgers.
Keegan Murray said the freshmen class, which also includes 6-11 center Josh Ugundele, has benefitted from scrimmaging against the veteran players during practice, and by holding their own.
Keegan thinks those practice sessions are now paying off in real games.
"I think that's something that's really been evident in practice early in the year when we played it was usually us freshmen playing against the rest of the guys," Kegan Murray said. ".And we'd keep pace with them and we'd really be competitive with them in our scrimmages and in our practices. And I think that really helped us five become more mature on the court. And that really occurred in the Rutgers game when they put in tony and Ahron."
Garza noticed right away in practice that Keegan Murray was not a typical freshman.
"The moment he stepped onto campus you could tell he's not a freshman," Garza said. "He's so confident on the court. I was just talking to him and he wasn't nervous. It's not surprising at all. We're very lucky to have a guy like him on the roster."
The Murray twins are proof of what can happen if you're patient, persistent and focused on a specific goal.
They both were determined to play at the Division I level, and the fact that it's happening at their father's alma mater, and close to their home in Cedar Rapids, makes it that much better.
Keegan and Kris both have come a long way since that night in Muscatine when I first saw them play.
And while Kris Murray hasn't played as big a role this season, his day will come. Kris Murray also stands about 6-8 and is a talented shooter.
But Iowa has multiple shooters right now who are veterans.
Keegan Murray has cracked the rotation because of his versatility, and because he does so many of the little things that often contribute to victories.
It was the same that night in 2018 when he played at Muscatine.
You could just tell that Keegan Murray had a chance to be a special, and now we're seeing it happen almost three years later.