By Pat Harty
IOWA CITY, Iowa – Almost another year has passed without Chris Street.
It has been almost 28 years since he was killed in an automobile accident on Jan. 19, 1993 on the outskirts of Iowa City.
And yet, in some ways, it feels like yesterday when I started hearing disturbing rumors about who might have been involved in a deadly accident just down the road from the Iowa City Press-Citizen where I was working at the time.
Rumor soon turned to fact, and after having nearly hyperventilated from the magnitude of the tragedy, I climbed into my car and drove to the North Dodge Athletic Club parking lot, which was near the accident scene.
I then climbed up a frozen embankment and got as close as I could to the accident scene without being intrusive.
I remember feeling numb, partly because it was bitterly cold that night. But also because it was my first year on the Iowa beat, and I was suddenly covering one of the biggest and most tragic stories in the history of Iowa athletics.
I also remember being one of the few members of the media at the accident scene. This tragedy was unfolding right before my eyes, and it was shocking, surreal and scary in some ways because death is scary.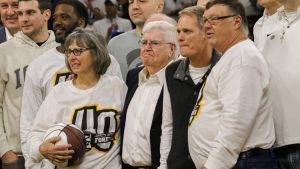 I still can see the frozen breath from emergency workers and the flashing lights from emergency vehicles, and the look of devastation on Tom Davis' face as he walked back to a vehicle after having just been told that Street was dead.
Just three days earlier I had watched from press row as the 6-foot-8 Street gave Duke everything it could handle in Cameron Indoor Stadium.
Street seemed to feed off the energy from the Duke student section, and even in defeat, there was reason to be optimistic about Iowa's potential.
Acie Earl was one of the top centers in the country, Val Barnes was a deadly 3-point shooter and Street was an emerging star, a team leader and a fan favorite.
Street epitomized what it meant to be a Hawkeye as he grew up in Iowa and dreamed of being an Iowa basketball player.
Street was a multi-sport star at Indianola High School, but basketball was his first love, and Iowa was his dream school.
Street was living his dream when his life was tragically taken away midway through his junior season.
All of those things flashed in my mind after I returned to the office and started to describe to my colleagues what I had just seen.
I couldn't get over the fact that Street was gone, and that it happened just down the road.
Iowa's season was only about half over, so I didn't have time to really get to know Street.
I remember working through the night, but then still not being able to sleep because my mind was racing, and because I was dealing with overwhelming sadness.
Street's death made me realize how precious, and how vulnerable life is, and every year around this time, I just feel a need to share my feelings about Street's legacy, and how his death has touched my life.
I could've waited until next Tuesday, which is Jan. 19, to pay my respects to Street's legacy.
But I sat down at my computer and just started writing and didn't stop until I was finished with this column.
And then I figured why wait?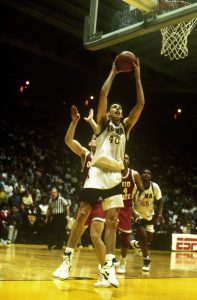 Street's death, and the painful memories from that night will be etched in my mind forever, partly because the circumstances brought me so close to the tragedy.
I always think about Chris Street this time of year, as I'm sure many Hawkeye fans do.
I think about how great the rest of his life could've been, and about how his teammates and coaches overcame the grief and devastation to finish 23-9 overall, including a victory in the NCAA Tournament.
Iowa's back-to-back victories over Michigan State and Michigan's Fab Five in the first two games after Street's death are the two greatest sporting events I've ever covered because they stood for so much more than just sports.
The amount of courage and resolve that the Iowa players and coaches showed during those dark moments was extraordinary and inspiring.
Tom Davis became so much more than a head coach in the wake of Street's death.
He was a stabilizing force, and a source of strength for his players, and for his assistant coaches.
Street's parents, Patty and Mike, still are very close to the Iowa program, and to the current players and coaches. They attend many of the home games and it makes me feel good to see them smile and cheer.
Iowa guard Jordan Bohannon intentionally missed a free throw while his team was protecting a late lead against Northwestern in 2018 because it would've been his 35th consecutive made free throw and that would have surpassed Street's school record of 34 consecutive makes, which he held at the time of his death.
"That's not my record to have," Bohannon said after game. "That record deserves to stay in his name."
Iowa freshman forward Kris Murray, who is the son of former Iowa basketball player Kenyon Murray, is named after Chris Street.
Kenyon Murray was a freshman when Chris Street was killed and I still remember the look of devastation and despair on Kenyon's face during Street's funeral.
Street was more that just a teammate to Kenyon Murray. He was a mentor, and almost like a brotherly figure.
As I'm sure Kenyon Murray so often says, especially this time of year, rest in piece, Chris Street.