By Pat Harty
IOWA CITY, Iowa – Luka Garza was on his official visit to Iowa as a high school senior, and as part of his visit, he played pick-up games with some of his future teammates.
Nicholas Baer remembers it well, games of two-on-two and three-on-three in which he was tasked with trying to guard the 6-foot-11 Garza.
"He was kicking my tail to be honest with you," Baer said Friday. "He was just hard to guard. I knew from then that he was going to be special.
"And I think, obviously, he's blossomed and developed since his freshman year quite a bit."
The big kid who dominated Baer in those pickup games nearly four years ago is now poised to become Iowa's all-time leading scorer and is the favorite to win National Player of the Year honors.
Garza has developed into an unstoppable force on offense, while his team has steadily improved, and is currently ranked fifth in the Associated Press poll heading into Sunday's game at Northwestern.
Baer is now part of the team again after having recently been hired by Fran McCaffery as a graduate assistant. The former Big Ten Sixth Man of the Year was known for his versatility, and for his work ethic as a Hawkeye, so Baer knows a good work ethic when he sees it, and he definitely sees it with Garza.
Garza's work ethic is almost as legendary as his offensive dominance.
"His work ethic, I think that's unparalleled, and that's something that will always continue to benefit him now, and in the future," Baer said.
With Garza, Iowa has the luxury of having its best player also be its hardest worker.
It isn't that the other players don't work hard, but Garza's work ethic borders on obsession.
The Washington D.C. native is on a mission to reach his full potential as a basketball player, and to eventually play at the highest level.
"I think it's important because I think it sets the standard," Baer said of Garza's work ethic. "In Luka's position as a national player of the year candidate, and he's also the hardest worker. So I think that sets the tone for the whole team and they're all able to reach that standard as well.
"So I think it's really important."
Baer joined the Iowa program as a walk-on and then blossomed into a 6-7 forward who impacted games in a variety of ways.
Iowa freshman forward Keegan Murray has drawn comparisons to Baer with his play so far this season, but Baer thinks the comparison is not entirely accurate.
"The thing that stands out to me is he has a great feel for the game," Baer said of the 6-8 Murray, who is the son of former Iowa basketball player Kenyon Murray, and the twin brother of Iowa teammate Kris Murray. "He's always in the right spot. And, obviously, he's playing with great energy and great hustle, and that's part of his role on the team.
"But one thing I will say about our comparison, though, is that his ceiling is so much higher than mine, just with his athleticism, that will open up so many more doors with him.
"And it's been great getting to know him and trying to help point out a couple things. But to be honest with you, he's been picking up things pretty easily on his own. So I'm really excited to see his role on this team and see him have some continued success."
Baer is also excited to be reunited with Fran McCaffery. They have developed a close relationship that started with McCaffery giving Baer a chance to play at the Big Ten level.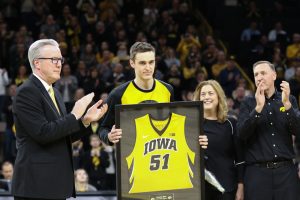 McCaffery's faith in Baer was rewarded as Baer developed into a key player for the Hawkeyes, and was a fan favorite.
Baer, who is from Bettendorf, is currently working towards his master's degree and he might get into coaching or into athletic administration.
But for now, he just looks forward to learning under McCaffery, who faced a major rebuilding job when he was hired at Iowa in 2010.
Baer has high praise for how McCaffery handles the peaks and valleys that occur during the course of a season.
"Something that really comforting as obviously a player, but also just as the leader of our program is he understands what goes into a season," Baer said of Fran McCaffery. "And how it's a long season and not dictated by one game here or there.
"I think his approach of one game at a time has been really beneficial for us, especially this season, but also to my career as well."
Baer also has reunited with his younger brother Michael Baer, who is walk-on forward for the Hawkeyes.
Michael Baer doesn't play nearly as much as Nicholas Baer did as a Hawkeye. But Nicholas admires his younger brother for being unselfish and for putting the team first.
"I think it takes a lot of character," Nicholas Baer said of his brother's role on the team. "I have a lot of respect for what he does."