By Pat Harty
IOWA CITY, Iowa – This game had so many warning signs of an upset.
Fourth-ranked Iowa lost starting guard C.J. Fredrick for the entire second half due to a lower leg injury.
Senior point guard Jordan Bohannon was held scoreless and struggled just to get open looks.
And, of course, there were hardly any fans in Carver-Hawkeye Arena due to the global pandemic, so Iowa didn't have the usual boost from home-court advantage.
Indiana took advantage of all of those things and pulled off the upset, winning 81-69 on Thursday.
The loss snapped Iowa's five-game winning streak and was a reminder that the conference schedule, even with games being postponed, is a grind that shows no mercy.
With Thursday's loss, Iowa (12-3, 6-2 Big Ten) also fell out of a tie with Michigan for first place in the Big Ten.
Iowa has a target on its back as a top-five team, and Indiana was clearly motivated by its underdog status.
The Hawkeyes led 37-31 at halftime despite Bohannon and Fredrick both being held scoreless. Bohannon only took three shots in the first half, while Fredrick took two shots.
Fredrick appeared to be struggling with some type of injury in the first half. It's uncertain how much time he will miss based on what Fran McCaffery said after Tuesday's game.
Freshman forward Keegan Murray started for Fredrick in the second half.
"It seemed like it was going to be okay, but he was not himself," Fran McCaffery said of the 6-foot-3 Fredrick. "I think you could tell that. So he's got a lower leg injury that he's going to have to take some time to get better with."
Iowa announced at halftime that Fredrick would not play in the second half due to a lower leg injury.
And with the lead being just six points at the break, there was reason for concern because Indiana only made 11-of-28 field-goal attempts in the first half, and yet, still was in striking distance.
Iowa let the Hoosiers hang around and ultimately paid a heavy price, which was its first loss at home this season and just its third loss at Carver-Hawkeye since the start of last season.
Senior center Luka Garza led Iowa with 28 points, while junior Joe Wieskamp scored 16, including 15 in the first half. However, they were the only Iowa players to score in double figures, while Indiana (9-6, 4-4) had four players in double figures.
"I think we have to understand a little bit better what this league is and the quality of the teams that are coming in here that we're going to face on the road," said Iowa coach Fran McCaffery. "I thought up until now we did a pretty good job of that. I thought they were tougher than we were tonight, I thought. And that's disappointing. Our execution wasn't sharp.
"As I said before, we became a little too reliant on Luka. And, I mean, he gets 28. But we really I think became too reliant on him."
Bohannon had been on fire recently from 3-point range, but he missed all eight of his shots from behind the arc in Tuesday's game.
"They did what everybody does," Fran McCaffery said of Indiana's defense against Bohannon. "They got up in his face and they chased him around and he had a couple in and outs early and just never really got comfortable."
Wieskamp made no excuses after Thursday's loss. He said still has a lot to prove despite all of the hype and high expectations.
"I think we just need to look in the mirror and not focus on all the hype surrounding our team," Wieskamp said. "Obviously, there's a lot of buzz around our team and people are telling us how good we are, but at the end of the day we have to go out there and prove it. We're only halfway through the season, if that, and we have a lot left to prove if we want to be where we want to be.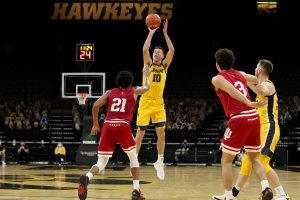 Iowa was scheduled to play Nebraska in its next game on Sunday at Carver-Hawkeye Arena, but the Cornhuskers had to postpone due COVID-19 health concerns.
Two of Iowa's last three games, both of which were to be played at Carver-Hawkeye Arena, have been postponed due to COVID-19 health concerns, the other being last Thursday's game against Michigan State. The Spartans had to postpone after reportedly having at least three positive COVID-19 cases.
So just to play on Thursday, even with hardly any fans in the arena, was a victory for both teams.
But the game itself proved costly for the Hawkeyes, while Indiana sent a message.
The Hoosiers could've wilted under the pressure after falling behind, but they just kept competing and were rewarded for their perseverance by getting one of the biggest wins during the Archie Miller coaching era.
"I think as a team we've got to do a better job communicating," Garza said. "We can't have two guys on one at any point and I think that's what killed us. We were just a day late and a dollar short on a lot of things."
Iowa now has a week to prepare for its next game against Illinois on Jan 29 in Champaign, Ill.
Illinois was considered one of the top teams in the conference heading into the season, and still could live up to the hype. But so far, the Fighting Illini have struggled with consistency, whereas Iowa had been on a roll until Tuesday's loss.
Fran McCaffery blamed Tuesday's loss partly on poor defense, and he also said Indiana played harder.
"To beat good teams you have to play better defense than that," Fran McCaffery said. "I think you can talk about a lot of things, but it starts with that. They were able to move the ball, give them credit. They executed and they moved it, they shared it. I thought they played harder, and we still had a shot. So we did not play well, we got outplayed, and that happens.
"And you're right, you got to learn from it. You don't want to let it linger. I'm not in there blaming individuals. You didn't do this and you should have done that and, it's we and us. We didn't execute and didn't complete the game plan, didn't fight hard enough tonight."