By Pat Harty
IOWA CITY, Iowa – Bruce King still was adjusting to the drastic change in time zones when he had a strenuous workout late in the evening on July, 27 1986 in his hometown of Dayton, Ohio.
King was staying at his parents' home in Dayton after having returned from playing professional basketball in the Philippines. He chose to work out at night because his body was used to being active during that time from his days in the Philippines.
It also was a good way to avoid the heat and humidity that is common in Dayton in late July.
After running several miles, the former Iowa basketball star told his parents that he was going down to the basement to lift weights.
The next morning, King's parents found him dead in the basement at the age of just 30, and slightly more than nine years after he had last played in a game for the Iowa men's basketball team.
It was later determined that King had died of an irregular heartbeat, according to the Montgomery County coroner's office in Ohio.
He also died alone, so it's uncertain how King spent his final hours.
But his memory lives on with those who knew him best.
"There are things that remind me of him almost daily," said Archie Mays, who competed against King in high school in Dayton before becoming his teammate, roommate and close friend at Iowa. "He was like a family member."
A great performance, and a nickname
Unlike his death, how King lived his life is hardly a mystery.
Some of King's greatest moments were as an Iowa basketball player, and I happened to witness one of those moments against Drake on Dec. 4, 1976 at Veterans Memorial Auditorium in Des Moines.
I was sitting near courtside, probably because my mother worked at Drake at the time, and I saw up close as the 6-foot-8 King shredded the Drake defense with an assortment of post moves, and with a jump shot in which he elevated high above his defender.
His nickname "Sky" made a lot of sense after having watched him soar that night.
King scored 26 points, grabbed 16 rebounds and blocked one shot during Iowa's 86-71 victory while playing 37 minutes.
"He was a deadly weapon, Bruce was," Mays said.
King was clearly the best player on the court that night, and the memory of that game has stuck with me for nearly 45 years.
It's part of the reason I decided to write about King all these years later.
Luka Garza also deserves some credit.
His rise to stardom as the current Iowa center has caused me to research other great Hawkeye post players, and by doing that research, I was reminded about the greatness of Bruce "Sky" King, and sadly, also reminded about his early death.
With King dying so young, and so long ago, it's easy to forget just how good he was as a Hawkeye.
King helped lay the foundation under Lute Olson in the mid-1970s. He was recruited to Iowa by Dick Schultz, but played three seasons under Olson.
King finished his career with 1,361 points and averaged 21.0 points and 13.3 rebounds per game as a senior in the 1976-77 season. King also averaged 18.6 points and 10.0 rebounds per game as a junior.
Mays and King became close friends during the recruiting process in high school. They took recruiting trips together and they both fell in love with Iowa, partly because there already was a group of Ohio natives attending Iowa and having a positive experience as student-athletes.
"They treated us so nicely," Mays said of the Hawkeye student-athletes from Ohio. "It was just incredible how they treated us."
King already had his nickname when he and Mays became friends in high school. Mays isn't sure how it came to be.
"I don't know who gave it to him," Mays said. "But I had to get used to it. I grew up in a family without nicknames, and he had it when we were traveling.
"He may have given it to himself. I don't know."
King's former Iowa teammate and fellow Ohio native John "Bo" Hairston also doesn't know how the nickname came to be, but for King to have a nickname certainly fit his personality.
"He was a big believer in himself and that's how he became as good as he became," said Hairston, who is retired and lives in Cedar Rapids. "He had no shortage of confidence. I know that. And to be a great player, you have to be overly confident. You have to have an ego that you don't necessarily share with the general public. Because you have to have that in order to become what he became."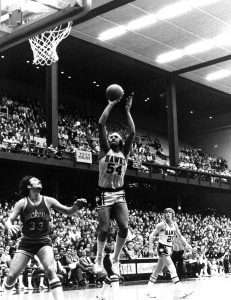 A tragedy overlooked
King's death at such a young age is one of several tragedies that have rocked the Iowa men's basketball program.
Bucky O'Connor was killed in a car accident during the peak of his Iowa coaching career in 1958, while Chris Street was killed in a car accident midway through his junior season at Iowa in 1993.
Both of those tragedies devastated the Hawkeye community and will be etched in the minds of Hawkeye fans forever, while King's death has sort of been overlooked, or forgotten.
"It's forgotten because he was gone for nine years," said former Iowa basketball player Mike Gatens, who was King's roommate for two seasons on the road in college. "Chris was still here. Bucky O'Connor was still our coach. And that's the only reason.
"I don't think Bruce has ever been, I don't want to sound mean or anything, but the accolades, the remembrance, given his due. Bruce King was really good, and at a time when coach Olson was building that program."
Gatens was planning the first ever farm scholarship game to raise money for farms kids when learned about King's death. King had planned to participate in the fundraiser, and Gatens was eager to see his friend and former teammate when he heard the horrible news.
"He was going to come," Gatens said. "Word of his death spread pretty quickly. I was devastated."
Mays was pleased to learn that a story was being written about King all these years later because Mays agrees with Gatens that King deserves more recognition.
"It was totally tragic for me," Mays said of King's death. "I was devastated. I'm still devastated. I'm just so happy that somebody has awakened such as yourself to recognize the fact that Bruce was as good as he was, and I always wondered why Iowa did not give him more (recognition)."
Mays moved to Los Angeles in 1985 after having graduated from medical school to begin his career as an orthopedic surgeon. He has lived in or around Los Angeles and practiced medicine ever since, and currently lives in Long Beach with his wife.
And while Mays is happy with the career he chose, it didn't come without sacrifice and without having to endure some horrible moments.
One of the worst moments, a moment that still angers Mays to this day, was when he was told that he couldn't attend King's funeral.
"I was engaged in my orthopedic residency at Los Angeles County Hospital and I wanted to go to the funeral and was prohibited from doing that," Mays said. "My assistant chief of orthopedics said, you know, you're going to have friends that die all the time. You just can't leave and go to funerals.
"I still have bitterness about it. I won't name his name. He said if you leave and go to the funeral I can't guarantee you'll still have a spot. The orthopedic residency was the most brutal experience I ever had in my life."
King was a pillar of strength during his Iowa playing days, so for him to have passed away at such a young age was stunning and hard for some to comprehend.
"He had never been ill," Mays said. "He would occasionally catch the flu. But I never knew him to be sick ever."
Mays had witnessed in high school a 16-year old friend pass away from an unknown heart condition as they were walking together, so Mays knew that anything was possible.
"It does happen, even to young people," Mays said.
King's death happened barely one month after Boston Celtics 1986 first-round draft pick Len Bias died of a cocaine overdose on June 19, 1986, so it was only natural at the time to wonder about drugs, even though King had no history of using drugs.
"That's right after Len Bias died and my immediate thought, and I think other people's immediate thoughts went to was it drug related," Hairston said. "But it had nothing to do with that."
The autopsy revealed that King died from cardiac arrest caused by an irregular heartbeat, and there were no drugs in his system.
Soul mates
Some of Gatens' favorite memories about Bruce "Sky" King took place on the many road trips in which they were roommates. They didn't have much in common, besides a love for basketball, with Gatens having grown up in Iowa City, and mostly around white people.
But once Gatens and King started talking and figuring ways to pass the time leading up to the start of road games, Gatens realized they had more in common than previously thought.
"He was just a great guy, a lot of fun," Gatens said of King.
King actually introduced Gatens to a whole new world, a world with stylish clothes and with the channel turned to the iconic television show, Soul Train that aired from 1971 to 2006.
Soul Train primarily featured performances by rhythm and blues, soul, dance and pop artists.
"It was really cool to be with one of your black teammates and learn something about them," Gatens said. "I'll tell you one thing, there was no Bandstand being played on Saturday afternoon. It was Soul Train, and I loved it. He got me into Soul Train. And he got me into a little bit of their fashion and he got me into Soul Train."
King was known as a flashy dresser in college, sort of Iowa's version of former NBA great Walt Frazier, according to Gatens.
King lived up to that reputation when he attended Gatens' wedding in 1976 in Charles City.
"Here's a funny thing; I'd buy clothes off of him," Gatens said. "He was styling. He came to our wedding in Charles City and there aren't many black people in Charles City, so he comes to our wedding in 1976 and he was just dude-ed up.
"I would buy boots that zipped up the side. He'd bring them back and wear them, or I'd buy them brand new from him. Stylish boots. He was the style man of our team. He kind of reminded me of a Walt Frazier type."
Gatens credits Lute Olson for having the black and white players room to together for road games at a time when that wasn't common. It helped to build team chemistry, and helped to break down racial barriers.
"I think coach Olson had a lot of white guys and black guys room together," Gatens said. "It was in the 70s. I think he did it on purpose. We weren't rooming together in apartments. But on the road, it was really cool to be with one of your black teammates and learn something about them."
Exceeding expectations
Dick Kuchen was an Iowa assistant coach when King joined the team as a freshman in 1973. King didn't play much as a freshman, but Kuchen saw King's upside.
"I was there and I worked with him on the floor and you could see the potential in him," Kuchen said. "He didn't get a lot of minutes in that first year. So then Lute comes in and we're a little thin because we had graduated some kids, and then all the sudden Bruce is thrown in a situation where he's playing a majority of the ball game.
"And he really took off from there."
Kuchen left Iowa after King's freshman season in 1974 to coach under close friend Digger Phelps at Notre Dame. Kuchen said the decision to leave Iowa was one of the hardest decisions he ever made as a coach because he enjoyed Iowa City and was convinced that Olson was on the verge of doing some special with the Iowa program.
Kuchen would go on to become the head coach at California-Berkeley from 1978-85 and at Yale from 1986-99.
And though he appreciated King's potential, Kuchen didn't expect King to ascend to stardom.
"I don't think anybody could see this coming," Kuchen said. "Did I think he could be a really solid player and was going to get a lot of minutes?  The answer would be yes because he was a big kid and he was a hard worker and he had all those attributes that blended in well with what Lute was looking for. "
As for King's nickname, Kuchen also isn't sure where it came from, but it certainly fit.
"If you look at old photos, he could elevate and his body type was he had legs that were really, really long, and long arms" Kuchen said. "I don't know why Sky came around. But I'm sure it had something to do with he could get up off the ground."
Defining a legacy
King started for three seasons at Iowa, and after a tough sophomore season in which Iowa finished 10-16 overall and 7-11 in the Big Ten, he played a starring role for teams that finished 19-10 and 20-7, respectively.
But even with 19 and 20 wins, Iowa didn't make the NCAA Tournament in either season.
Mays thinks the lack of postseason success, along with King having died nearly a decade after having left Iowa has unfairly hurt King's legacy.
"His having left Iowa created that gap of obscurity," Mays said. "We had a couple of good teams under Lute Olson, but they weren't maybe big enough to have gained him that recognition."
King also played at a time when the Big Ten was loaded, especially at the top.
In 1976, which was King's junior season, Indiana defeated Michigan in the national tile game to cap an undefeated season season.
Indiana was a giant back then under an emerging coaching star named Bob Knight, and the Hoosiers had their way with Iowa, winning five of the six games during King's three seasons.
There is one game that Mays remembers Iowa being outplayed by the top-ranked Hoosiers in Bloomington and struggling on offense to where as a guard Mays just started giving King the ball because that was about the only thing that worked.
"Probably one of the most reliable players I've ever played with," Mays said of King. "I remember when we went down to Indiana the same week that they got their number one ranking, they beat us real badly. We couldn't buy a bucket no matter what we did, and I had the ball on several occasions on the wing and really didn't know what to do. And I would throw it down to Bruce and he would get the bucket."
Hairston admired the way in which King worked on a daily basis to get better.
"He didn't have instant success as a freshman, but he worked hard at it," Hairston said. "He became a tremendous player. He made himself a tremendous player."
King also was undersized for a center, but that didn't stop him from being a dominant rebounder.
"He had tremendous jumping ability and a great shooting touch," Hairston said. "He loved to play the game and he had great disposition on his outlook to life."
King was selected in the fourth round of the 1977 NBA Draft by the Detroit Pistons, and with the 80th pick overall, but he didn't make the roster as a rookie and never played in the league.
He instead carved out a nice career overseas, and was working out during the offseason in order to stay in shape when he died in his parents' basement.
King accomplished a lot in a short time, and has one of the most famous nicknames in the history of Hawkeye sports.
"He was just a great guy, and still I miss him," Gatens said.
Bruce "Sky" King deserves to be remembered and respected by Hawkeye fans for how he played, and for how he lived.
He died way too soon, but let's make sure that his legacy lives on forever.