By Pat Harty
IOWA CITY, Iowa – The only real drama or concern during Thursday's game between No. 5 Iowa and Nebraska was when C.J. Fredrick crashed to floor and then limped off the court late in the first half.
With Iowa's sophomore guard having been hampered by a lower leg injury for much of the season, it was easy to fear the worst.
But then Fredrick returned to the Iowa bench barely a minute later, much to relief of his teammates and coaches.
Fredrick spent the rest of the first half watching from the bench, but at that point, Iowa was having its way with the overmatched Cornhuskers.
Iowa said on Twitter at halftime that Fredrick was questionable for the second half due to a lower right leg injury.
It seemed pretty obvious at that point that Fredrick's night was over because why risk it?
Iowa dominated Thursday's game from start to finish and cruised to a 102-64 victory at Carver-Hawkeye Arena.
Fredrick didn't play in the second half, but it hardly mattered because Nebraska never mounted a serious rally as Iowa won for sixth time in its last seven games and improved to 19-7 overall and 13-6 in the Big Ten.
Iowa coach Fran McCaffery said after the game that Fredrick's leg was sore, but the fact that Fredrick returned to the bench for the second half and wasn't using crutches or noticeably limping could be an encouraging sign.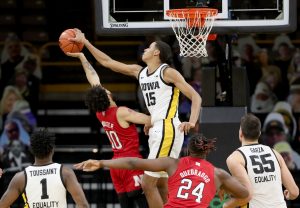 The only real drama in the second half was how many 3-point baskets would senior point guard Jordan Bohannon end up making?
The answer was eight, but it could've been more as Iowa coach Fran McCaffery sat his starters for the final 12 minutes of the game.
"Any time you have a player make eight threes in a game it's probably going to be a good thing for everybody," said Iowa coach Fran McCaffery. "I thought he was tremendous moving the ball defensively, and then taking shots when he was open and really moving well without the ball."
Iowa came out firing from 3-point range and was on pace at halftime to shoot 48 treys, making 9-of-24 attempts in the first half.
Bohannon led Iowa in scoring in the first half with 15 points, all of which came on five 3-point baskets. The Marion native finished with 26 points and made 8-of-13 shots from 3-point range.
Just prior to tip-off Bohannon was honored for becoming Iowa's all-time assists leader, and then he showcased his real strength during the game, which is making 3-pointers.
"I think that's what makes our break so special is my ability to change sides of the floor and look for my shot," Bohannon said. "It opens up the floor to all our other shooters. The defenders have to come out far on me and I'm able to penetrate in transition, draw a couple guys and kick it out to (Joe) Wieskamp or C.J. Rotating back around and being able to find Luka in the post. My ability to shoot creates so much opportunity."
Nebraska, on the other hand, only made 4-of-16 shots from 3-point range in the first half and trailed 48-26 at halftime.
The drama had pretty much been sucked from this game by halftime.
Freshman forward Keegan Murray started for Fredrick in the second half and made a breakaway dunk to give Iowa a 66-36 lead with 13 minutes, 31 seconds left to play.
Fran McCaffery then emptied his bench down the stretch.
Freshman forward Patrick McCaffery, who is Fran McCaffery's son, took advantage of the extended minutes by scoring 19 points.
And he might have scored all those points despite having an upset stomach as Patrick McCaffery threw up in a trash can near the Iowa bench after being removed from the game.
He seemed fine, though, and spent the final minutes cheering from the bench with a towel wrapped around his neck.
"Stuff like that has been happening to me ever since high school," said Patrick McCaffery, who had a malignant tumor removed from his thyroid in 2014. "It kind of overwhelms me for a second. In high school I used to go throw up and I wouldn't even sit back down, I would just walk back into the game.
"Tonight, obviously, I didn't have to do that. It's just something I've always had to deal with. It happens in practice, stuff like that, too. It's just something we're working around and trying to figure out."
Iowa will close out the regular-season against Wisconsin on Sunday at Carver-Hawkeye Arena. A victory would secure a fourth-place finish and earn Iowa a double bye in the Big Ten Tournament.
Iowa's senior class, which includes Bohannon and All-America center Luka Garza, will be honored before Sunday's game.
And speaking of Garza, he was pretty ordinary by his standards, scoring just 14 points on 5-of-8 shooting from the field.
But that was more than enough points, and being able to rest Garza for an extended period at this point in the season is a luxury.
Garza also was honored just prior to tip-off for becoming Iowa's all-time leading scorer, and now he and Bohannon have just one game left to play at Carver-Hawkeye Arena.