By Pat Harty
The Iowa men's basketball team, for just the second time with Luka Garza and Jordan Bohannon on the roster, has won an NCAA Tournament game.
Iowa did what a No. 2 seed is supposed to do against a No. 15 seed by winning convincingly in the first round on Saturday in Indianapolis.
The game was close for a while in the first half, but Iowa started to build a lead late in the first half and then cruised to an 86-74 victory.
Iowa's 86 points are the most scored by a Hawkeye team in an NCAA Men's Tournament game since netting 98 points versus Texas in the 1992 NCAA Tournament First Round.
Garza did his usual thing when not sitting on the bench in foul trouble, finishing with 24 points.
Bohannon was on fire from 3-point range, making three in Saturday's game.
Keegan Murray, Joe Toussaint, Patrick McCaffery and Tony Perkins all made an impact off the bench, and the Antelopes just didn't have an answer.
Iowa improved to 22-8 on the season and will face Oregon in the second round on Monday.
The Ducks advanced without playing in the first round as its opponent, Virginia Commonwealth, had to cancel due to COVID-19 health concerns.
The news about Virginia Commonwealth broke midway through the first half of Iowa's game of Saturday.
"You got to expect the unexpected, especially during this year with everything that's going on," Garza said. "You've just got to be able to adjust and just attack it.
"So we're excited for the opportunity to play Oregon. It's too bad for VCU, but I'm glad to that we moved on we're going to play for a sweet 16."
Iowa is now just one victory from going where no Iowa team has gone since 1999, which is the Sweet 16.
Garza wasn't even three months old when Iowa last played in the Sweet 16 against Connecticut.
The Sweet 16 drought has withstood the test of time, but now a veteran Iowa squad, led by the most decorated player in program history, is in position to end the misery and frustration.
Now it's just a matter of doing it.
The 2-15 matchup has been unusually competitive in this tournament, with Ohio State having lost to Oral Roberts 75-72 on Friday.
Two-seeds had a 132-8 record against No. 15 seeds heading into this year's NCAA Tournament, but there is always uncertainly with these types of matchups, and that's the beauty of March Madness.
David versus Goliath, and sometimes, the little guy wins.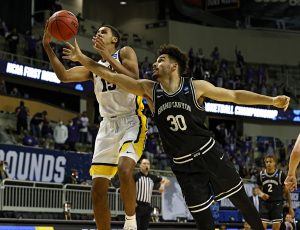 Iowa just had to make sure that Saturday's game wasn't one of those rare times, and it was mission accomplished in impressive fashion.
Iowa bolted to an 11-2 lead, thanks to two 3-point baskets by Garza, and one by Bohannon, led 42-31 at halftime and never relinquished the lead in the second half.
Garza only played 13 minutes in the first half after picking up two fouls, but his teammates, especially the bench, which accounted for 20 points in the first half, sustained the lead without him.
Keegan Murray, who is the son of former Iowa player Kenyon Murray, and the twin brother of freshman forward Kris Murray, stuffed the stat sheet again, finishing with 13 points, seven rebounds, four blocks, three assists and one steal.
"We've had that mentality all year, we're next man up," Garza said. "We've had a couple guys get hurt or in foul trouble in different spots and we have guys who step up off the bench.
"Keegan Murray was huge tonight. Tony Perkins came off the bench and Patrick McCaffery, those guys just created so much effort, Joe Toussaint, so many guys, and they helped me out when I got into foul trouble."
Iowa's bench came through despite being without 6-foot-11 forward Jack Nunge, who is out for the remainder of the season because of a knee injury.
"I don't want to put my team in that position to go to the bench, especially now that we don't have Jack Nunge," Garza said. "I've got to be smarter in the future. But I'm glad my guys stepped up."
Garza is on the verge of capping one of the greatest careers in program history, a career in which he has become Iowa's all-time leading scorer and a two-time consensus first-team All-America selection.
Garza is without question the most decorated player in program history, so all that's left for him is team goals and Saturday's victory was a good first step.
Iowa fell short in winning the Big Ten regular-season title, and lost in the semifinals of the Big Ten Tournament, so the Big Dance is the last dance, and the last chance for Garza and Bohannon to make a statement by making a deep run.
Fair or not, Iowa has to at least make the Sweet 16 to satisfy the fan base.
But that won't be enough to satisfy Garza, who declared for the NBA draft last spring before deciding to return for his senior season.
Iowa was a lock to the make the NCAA Tournament last season, but the event was canceled due to the outbreak of the coronavirus.
So this is it for Garza, and for Bohannon, and maybe even for junior Joe Wieskamp, should he decide to skip his senior season to pursue a professional career.
Garza is determined to make team success a major part of his legacy and Saturday's victory was a good first step.