By Pat Harty
IOWA CITY, Iowa – Up until Saturday night when Spencer Lee did what almost seems absurd, one moment had stood out to me as an example of what somebody is willing to do to fulfill an athletic dream.
That moment took place in the fall of 1977 when my older brother, in order relieve pressure on his two big toes, had his high school trainer poke holes in his toe nails with a white-hot paper clip.
I wasn't there to see it, but as the story goes, blood squirted from brother's toes all the way to the ceiling in the training room at West Des Moines Dowling where my brother was a senior at the time. It was described as a red geyser gushing with blood.
His teammates had gathered around my brother to witness the toe poking, and the blood supposedly stayed on the ceiling until Dowling finally won its first state title in football in 2000 as a way to remind future players about what some athletes are willing to do in order to fulfill a dream.
My brother was willing to put himself through excruciating pain because he wanted to get back on the football field as soon as possible.
One of his goals was to earn a football scholarship in order to pay for college.
And if having the nails on your two big toes poked with a white-hot paper clip wasn't earning a scholarship, then what is?
My father also had tried to poke holes in my brother's toe nails, but was unsuccessful because he used a hot needle instead of a paper clip.
The paper clip, according to my brother, was the key in making it work. The trainer from Dowling made it hot with a match and then stuck two small holes in my brother's toe nails in order to relieve the pressure and pain.
It still sort of makes me queasy to this day thinking about it.
My brother's toes were injured when he dropped a bar bell and weights on his feet, while you guessed it, training to be a better football player.
He did return to action without missing a game and actually played at least one game that season in tennis shoes instead of cleats because it felt more comfortable on his toes.
The sacrifice ultimately paid off as my brother earned a football scholarship to Iowa as a defensive lineman.
And that brings me back to Spencer Lee and his incredible story that nobody probably would believe if it hadn't happened right before our eyes.
Michael Jordan playing in an NBA playoff game with the flu is one thing.
Spencer Lee wins at 125-pounds!#NCAAWrestling x 🎥 @espn pic.twitter.com/LuF1V2T3Hs

— NCAA Wrestling (@ncaawrestling) March 21, 2021
But to do what Spencer Lee did on Saturday surpasses anything I've ever witnessed from a crazy, courageous and improbable standpoint.
Despite wrestling with a torn anterior cruciate in his left knee, Lee displayed dominance on his way to winning a third national title at 125 pounds.
He outscored his six overmatched opponents, 59-8, and yet, something still didn't seem right with Lee.
He didn't have that same bounce, leverage, flexibility and energy that makes him arguably the most outstanding college wrestler in the country, and arguably the greatest wrestler in program history.
Fans speculated on social media heading up to Saturday's title match about whether Lee was injured, and then he ended the speculation while being interviewed on ESPN just moments after his 7-0 victory over Arizona State's Brandon Courtney in the title match.
My jaw dropped as Lee explained why he maybe didn't look quite as dominant as usual.
"Eight days ago, I tore my ACL in my other knee, so I'm wrestling with no ACLs," Lee said. "Whatever man. I didn't want to tell anybody, because excuses are for wusses."
Lee's knee injuries date back to his senior year of high school. The Pennsylvania native wrestled his senior year at Franklin Regional High School after tearing his right ACL.
Lee told ESPN Saturday night that he re-injured his other ACL in the 2019 NCAA finals, when he defeated Virginia's Jack Mueller, 5-0.
So that's three different torn ACLs in about four years.
But remarkably, Lee has refused to let that stop him, which is truly what makes him a Hawkeye legend, and one of the greatest his sport has ever produced.
Lee only lost one match in high school, and that was against current Iowa teammates Austin DeSanto in the state finals as a senior when Lee had a torn ACL.
There is just no quit, or even the thought of backing down in Spencer Lee's world.
He is the ultimate gladiator in a sport filled with tough-minded gladiators.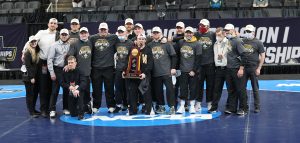 He is also the centerpiece to Iowa's return to glory as Saturday's national title was the first for Iowa since 2010.
"You can't understate his importance," said Iowa coach Tom Brands said. "It's certainly as a spark plug and an igniter, but it's more than that."
Lee admitted afterwards, reluctantly, that it was hard to do what he did, which might be the understatement of the year.
"It was hard, but I said, if I'm going to lose, I'm going to lose my way," Lee said. 'That's it. It doesn't matter. If I lost, I probably wouldn't have said anything because that's just how I am. You have to win no matter what. That's what defines a champion.
"I'm kind of upset I told the world. I don't make excuses, man."
One of Lee's goal is to become Iowa's first four-time NCAA champion, and just the fifth ever.
He also hopes to make the U.S. men's freestyle team, and automatically qualified for the US. Olympic Trials , set for April 2-3 in Texas, by winning a national title.
Lee's ultimate goal is to win an Olympic Gold Medal, but this latest knee injury could stand in the way.
But on the other hand, we're talking about Spencer Lee.
"Right now, we're taking it day-by-day," Lee said. "But that's my goal, man. I'll go down swinging if I have to. How's that?"
It's incredible, that how it is.