By Pat Harty
Luka Garza will be without question the most decorated player on the court when Iowa faces Oregon in the second round of the NCAA Tournament on Monday.
And likely the tallest.
Oregon only has three players taller than 6-foot-8 on its roster, and rarely uses anyone taller than 6-6, so the Ducks rely more on speed and quickness. That means the 6-11 Garza will have a considerable height advantage in the paint.
"They do a great job of crowding the post, doubling when they get there," Garza said Sunday on a zoom conference. "Definitely I have a height advantage, so I'll try to score inside. I'm just going to play my game, see where my advantages are in the moment, and be able to read and attack."
Iowa advanced to the second round by defeating Grand Canyon 86-74 Saturday in the first round.
Oregon should be well-rested for Monday's game after having not played for 10 days. Its first-round game against Virginia Commonwealth was canceled due to positive COVID-19 cases within the Virginia Commonwealth program.
However, Garza doesn't necessarily think that Oregon benefitted from not playing on Saturday, or that the Oregon players liked advancing to the second round without playing.
"I guarantee, if you ask those guys, they wanted to play last night," said Garza, a two-time consensus first-team All-America selection. "I don't think there's an advantage, either way. I think for us, we wanted to play, and we were excited to beat a great team like Grand Canyon. (Oregon will) be excited to play us."
Oregon (20-6) won the PAC-12 regular-season title and reached the conference tournament semifinals before losing to Oregon State. All five starters average in double figures in scoring — forward Eugene Omoruyi and guard Chris Duarte each average 16.7 points to lead the Ducks.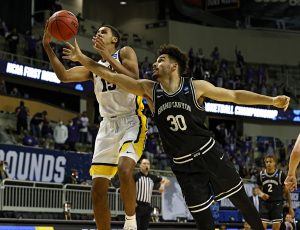 Iowa (22-8) is one victory from advancing to the Sweet 16 for the first time since 1999, and that has been one of the goals for this veteran Iowa team whose starting lineup consists of two seniors, including a fifth-year senior, two juniors, including a fourth-year junior, and a third-year sophomore.
Iowa's experience has been beneficial during a season in which the global pandemic has been a constant threat and distraction.
Iowa was able to play all 27 games during the regular-season, while a lot of teams failed to do that.
"It's just everything we signed up for," said fifth-year senior point Jordan Bohannon said. "We wanted to have a chance to make a deep run in this tournament. Tomorrow is another opportunity for us to do that. Like I said to you guys previously in this tournament, we put ourselves in a position to make a deep run. Oregon is another opponent in our way that's an obstacle for us to get through.
"It took forever to get to this Saturday to play. So we were really excited to get out of the hotel and get to the gym. That's definitely an advantage to anyone when they get outside the hotel to play a basketball game, to get ready for another important basketball game ahead."
Garza twice has been named Big Ten Player of the Year, while Oregon is led by the Associated Press' Pac-12 Player of the Year in 6-6 senior guard Chris Duarte. He was a third-team AP All-American, and was on the Pac-12 All-Defensive team.
"He's got a complete skill set ," Iowa coach Fran McCaffery said of Duarte. 'He can go off the dribble, he can extend and shoot threes, he guards, he sticks his nose on the glass, really athletic."
Cliff Omoruyi, a 6-6, 245-pound transfer from Rutgers, averages 16.7 points per game and will be familiar with Garza after having faced him in the Big Ten.
"Obviously, the won the regular-season in the Pac-12, which is impressive," Garza said. 'They're a real talented team, really athletic.
"They put a lot of pressure on you, trying to create steals and turnovers, and that's how they win."
Oregon is used to winning under Dana Altman, who has taken four Oregon teams to the Sweet 16 since 2013.
Altman is concerned, however, with his team's extended layoff.
Oregon has only played two games in the last two weeks after having played eight games in 18 days during the regular season.
Altman also is concerned with trying to contain Garza, who is Iowa's all-time leading scorer.
"He's a matchup nightmare," Altman said of Garza. 'We'll try some different things on him, and hopefully, something works."
And while Oregon should be rested, Iowa will play its second game in about 40 hours.
The circumstances mean nothing to Fran McCaffery.
"It makes no difference to me," McCaffery said. "We're playing Oregon on Monday."
Iowa vs. Oregon
What: NCAA Tournament second-round game
When: Monday, 11:10 a.m.
Where: Banker's Life Fieldhouse, Indianapolis
TV: CBS
Radio: Iowa Radio Network
Records/seeds: Iowa is 22-8 and a No. 2 seed; Oregon is 20-6 and a seven seed.
Series: Iowa holds a 6-1 series advantage over Oregon. The teams last met in the 2018 2K Empire Classic at Madison Square Garden, with Iowa taking a 77-69 win. Iowa went on to claim the championship of that event with a 91-72 win over Connecticut. Iowa and Oregon met in the 2012 NIT, with Oregon winning 108- 97 in Eugene. Monday's game will mark the third neutral site game in the series.