By Pat Harty
One of the many signs of a transcendent player is the ability to seize the moment on the biggest stage.
Iowa freshman guard Caitlin Clark certainly displayed that quality against No. 4 seed Kentucky in the second round of the Big Ten Tournament.
The former West Des Moines Dowling standout scored 35 points, including 24 in the first half, as No. 5 seed Iowa cruised to an 86-72 victory Tuesday in San Antonio.
This marks the third time in its last four NCAA Tournament appearances that Iowa has advanced to the Sweet 16 where it could face top-ranked Connecticut and its star freshman guard Paige Bueckers.
Iowa led 49-22 at the break as Clark outscored Kentucky 24-22 in the first half.
"I think it all started on the defensive end for us," Clark said to ESPN. "We got stops and we held them to 22 points in the first half, so that's where it all started.
"And our transition offense got going for us, but that was only because we got stops, and when we get stops, we get boards and then we just push the ball. And that's out best offense."
Iowa has now won five of six games in the postseason, the only loss coming against Maryland in the championship game of the Big Ten Tournament.
Clark has now scored at least 30 points in 12 games this season. Her career high of 39 points came against Nebraska in Lincoln, Neb.
She also grabbed seven rebounds and dished out six assists in Tuesday's game.
Tuesday's game was played at the Bill Greehey Arena in San Antonio, which is smaller than a typical Big Ten arena. Clark said she liked the arena from a shooting standpoint and was confident that she would shoot well Tuesday's game.
"Honestly, I knew this was kind of shooter's gym, so I had a feeling that I was going to shoot it well," Clark said. 'It kind of felt like high school  in a way.
"I just came out, my shot was feeling nice, and I just kept on going from there. And when other people make shots, we just feed off each other's energy. So I knew I had to be aggressive from the jump on both ends. I thought our defense all-around was terrific as well."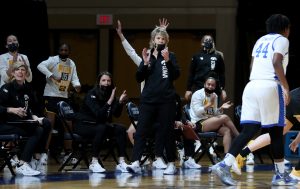 This was a season in which Iowa coach Lisa Bluder's ability to reload would be tested with Iowa having lost starting guards Kathleen Doyle and Makenzie Meyer to graduation from last season.
And while there have been some low points along the way, Bluder's youthful bunch is peaking at the right time, thanks largely to its sensational freshman guard.
In addition to be named Big Ten Freshman of the Year, Clark also made first-team All-Big Ten, and she lived up to those accolades in Tuesday's game.
Kentucky made a run in the third quarter, scoring 11 consecutive points, but the deficit was just too much to overcome.
Kentucky missed its first eight shots from the field as Iowa led 23-11 after the first quarter.
With Tuesday's point total, Clark set a new record for most points by an Iowa women's player in an NCAA Tournament. Former All-Big Ten center Tangela Smith held he previous record of 32 points, which set against Massachusetts in 1998.
All-Big Ten junior center Monika Czinano complemented Clark with 14 points and eight rebounds.
Iowa also improved to 20-9 on the season and has won at least 20 games in 14 seasons under Bluder, and in eight of the last nine seasons.