By Pat Harty
IOWA CITY, Iowa – It took a while for the bats to get going for the Iowa baseball team, but once they finally did, a pitcher's duel soon turned one-sided.
Held without a hit for the first four innings against Minnesota starter Sam Ireland, Iowa erupted for six runs in the bottom of the fifth and then cruised to a 7-1 victory on Friday at Banks Field.
Iowa only had three hits, but they were timely and productive, especially Peyton Williams' mammoth grand slam home run in the bottom of the fifth, while Minnesota only scored one run despite getting 11 hits. The Gophers stranded 14 runners and only had one extra-base hit.
"Weird stat line, but we'll take it," said Iowa coach Rick Heller. "I thought we played real good baseball tonight, very few free bases that we gave up. And we pitched and played defense. And if you do that, you usually score enough runs and that was the case tonight."
Iowa right fielder Zeb Adreon broke up the no-hitter with a single up the middle with no outs in the bottom of the fifth and then Matt Sosa drove in the game's first run with a fielder's choice. Adreon scored on a sacrifice fly by Brandan Sher to give Iowa 2-0 lead.
Iowa then loaded the bases for Williams, who responded by belting a 430-foot grand slam home run to right field, pushing the lead to 6-0.
That was more than enough runs for the Iowa pitching staff, thanks largely to another solid performance by starter Trenton Wallace.
"It's always nice to get a win on Friday," Williams said. "Trenton did a really good good job to start us off and the pitchers that came in after that did good. It's always good to get the first one on Friday."
Williams knew that Ireland often threw off-speed pitches with runners in scoring position, so Williams was ready when Ireland threw him a slider.
"I was just looking for a slider I could hit because we knew he liked to go to that slider," Williams said. "And so I got the hanging slider that I was looking for and kind of just took a swing at it."
Wallace, a junior southpaw, threw six scoreless innings, but it wasn't always easy as he allowed nine hits.
The Gophers put runners on second and third in the top of the first, but Wallace pitched out of the jam.
"It definitely sparked a confidence inside myself and for the team as well," Wallace said of getting out of the first-inning jam. "It kind of kept us all calm and collected.
"And, obviously, the offense did a great job of battling tonight and finding a way to get he job done in the fifth inning. And I think getting out of the first couple inning with runners on base really just kept us going and kept us focused on the game."
Wallace continued to pitch out of mini jams by getting key strikeouts, and with help from his defense.
Minnesota score its only run in the top of the ninth on a fielder' choice.
"The main thing for me on the mound tonight was not letting those hits get to me and just continuing to compete and trust my defense," Wallace said. "The defense behind me tonight was phenomenal, nothing more to ask from them."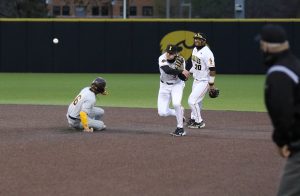 Iowa climbed above .500 for the first time this season at 10-9 with the win and has now won six of its last seven games.
"It's how baseball is, you have to take them one at a time and it can change in a hurry, good or bad," Heller said. "Just try to control what you can control and play the best we can. That's what we're trying to do, just try to get better and try to get healthy and try to get all the right guys out there together at the same time.
"We're finding a way to win and beat good teams and play solid baseball. That all we can keep doing. It's good to see how far we've come back and put ourselves in a lot better position."
Sophomore Ben Probst pitched a scoreless seventh inning and then Iowa added another run in the bottom of the frame without getting a hit.
The Gophers loaded the bases in the eighth, but Iowa pitched out of yet another gem, much to the delight of the fans.
Friday's game was played in chilly conditions, but that didn't stop fans from taking advantage of the new half capacity rule in response to the global pandemic.
It had been nearly two years since fans had attended games at Banks Field, but it was worth the wait as the Hawkeyes gave them something to cheer about.
"Even though it's fifty percent capacity, from our first series to now, it just feels like it's back, the energy from the fans makes it a lot more fun to play baseball," Williams said.
Friday's series opener was also televised by the Big Ten Network, with former Hawkeye Danan Hughes providing the color commentary.
West High graduate Izaya Fullard helped his on-based percentage by reaching base four times on walks. He also made some nifty plays at second base.
Heller challenged his veteran leaders to step up and show a sense of urgency when Iowa was struggling earlier in the season. His message seems to have been heard loud and clear.
"I firmly believe that this offense will kick in at some point and make things a little bit easier," Heller said. How ever you can get them, you get them.
"Tonight was a toughness game. We found a way to get it done. It wasn't the prettiest. But we found a way and that's what good leadership will do for you and toughness will do for you."
The teams will meet again on Saturday with first pitched scheduled for 2:05 p.m. at Banks Field.