By Pat Harty
IOWA CITY, Iowa – As fans and members of the media keep tracking names in the NCAA transfer portal in search of the next addition to Iowa men's basketball team, Riley Mulvey has reminded us that there is another way to add a player.
In his case, it's adding a player who already is committed, just sooner than expected.
The 6-foot-11 Mulvey announced Saturday on Twitter that he has reclassified to the 2021 class and will play for Iowa next season as a freshman.
— Riley Mulvey (@MulveyRiley) April 10, 2021
Mulvey, who is from the Albany, N.Y., area, joins 6-7 Peyton Sandfort from Waukee as members of Iowa's 2021 recruiting class. Mulvey committed to Iowa in March, but he didn't talk about reclassifying.
The fact that Mulvey has decided to bypass his high school senior year to play for Iowa is interesting for a number of reasons, not the least of which is the timing.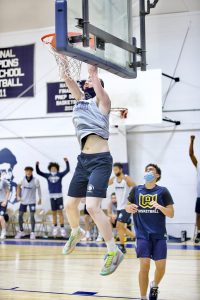 There certainly will be minutes to fill at the center position with all-everything Luka Garza having finished his career in March as Iowa's all-time leading scorer, and as the first consensus National Player of the Year in program history.
Jack Nunge, a 6-11 forward, also has transferred to Xavier after having spent four seasons in the Iowa program.
All that currently remains for Iowa in the post is 6-11 Josh Ogundele, who played sparingly this past season as a true freshman.
Ogundele arrived in Iowa City late last summer from his home in London, England, and then battled with illness and fell behind in his development.
He was it for Iowa in the post until Mulvey decided to reclassify.
What this means to Iowa's chances of adding an older and more experienced post player from the transfer portal is hard to say because rosters are fluid and a lot can change in matter of days or weeks from a scholarship standpoint.
Iowa already has held a virtual interview with 6-9 North Dakota transfer Filip Rebraca, who averaged 16.8 points and 7.6 rebounds per game as junior this past season.
And, of course, one of the biggest names out there is Liam Robbins, who is in the portal for the second time in his career after playing this past season at Minnesota where his uncle, Ed Conroy, was an assistant coach under former Gopher head coach Richard Pitino.
A native of Davenport, the 7-0 Robbins averaged 11.7 points and 6.6 rebounds per game for Minnesota this past season.
He played his first two seasons for Drake, and helped lead the resurgence under Drake head coach Darian DeVries, before deciding to join his uncle in Minneapolis.
Iowa has been in contact with Robbins, but Vanderbilt also could be a serious contender if the rumors and speculation about his uncle being hired as an assistant under Jerry Stackhouse come true.
One things is certain, Ryan Mulvey is ready to move on from high school and believes his game is ready for the next level.
It' hard to coach 6-11, and Syracuse reportedly recruited Mulvey extremely hard, so that tells you something.
Penn State and Virginia Tech also recruited Mulvey, who last season averaged 12.0 points, 12.4 rebounds and 6.0 blocks per game for Albany, N.Y. Academy.
Fran McCaffery, obviously, feels Mulvey is ready for the next level, or he probably wouldn't have signed off on it.
There will be pressure for whomever replaces Garza is the post, but fans also have to be realistic about the situation.
You don't just replace one of the greatest players in program history, you try to move forward the best way you can.
And Iowa now plans to move forward with Riley Mulvey helping in the post, sooner than expected.