By Pat Harty
IOWA CITY, Iowa – I've been covering the Iowa football team since the summer of 1992, which means I've been covering Iowa spring football since 1993.
In other words, I've seen, heard, read and written about the next star-in-the-making too many times to count.
Spring is the perfect time for hype, for superlatives, and for bold predictions about the next great Hawkeye, because no matter what you say or write, it'll be months, or in some cases one or two years, before you're proven right or wrong.
And there is certainly nothing wrong would boarding the spring hype train, because in some cases, what happens in spring practice is a prelude of things to come.
I've predicted stardom for players who made a strong impression during spring practice, assuming it would carry over to the fall.
Sometimes it did, but sometimes it didn't.
What I do now is usually wait until prime time, until real opponents are on the field, to make judgments or predictions about an up-and-coming player.
That's not saying my way is the right way. It's just my way.
I'm reluctant to get carried away during spring practice because I've seen too many cases where the next supposed superstar didn't become the next superstar for lots of different reasons.
Oliver Martin is a recent example of a player who carried the weight of high expectations during his short time as an Iowa receiver.
The former four-star recruit from Iowa City West transferred to Iowa from Michigan in the summer of 2019, and to say that the media thought it was a big deal would be an understatement.
Several factors fed the Martin hype, beginning with his status as a four-star recruit from Iowa City. He also had played two seasons at Michigan, and it's not often that Iowa lands a transfer from Michigan.
And he played receiver, a position in which Iowa sometimes struggles to land big-time recruits.
It was the perfect storm for hype, but with it came incredibly high expectations that Martin fell short of achieving while spending slightly more than one year in the Iowa program.
Martin appeared in eight games during the 2019 season and finished with five catches for 28 yards and one touchdown, which came in the season opener. But then Martin played little after the season opener, and never made the rotation.
Martin left Iowa last August and has since transferred to Nebraska where he played some last season and is expected to start at receiver this coming season.
Another player that comes to mind is Jay Scheel, whose career as a receiver was hampered and cut short by injuries in 2016, and some might say with failed expectations.
Scheel was a talented and accomplished dual-threat quarterback in high school before switching to receiver at Iowa.
He had good size for a receiver, and was shifty in the open field.
He also had tremendous hype, from the fans, and from the media.
Hype is certainly good for a player's ego, but it also brings a burden for which the player being hyped isn't responsible.
Scheel never proclaimed to be a future star. And when he failed to live up to expectations, you could argue that the media and the fans were more to blame than Scheel because they created the expectations based more on hope and hype than anything else.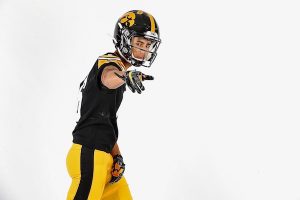 Two current Iowa receivers who are being hyped this spring are freshmen newcomers Keagan Johnson and Arland Bruce, both of whom enrolled in school early.
But it isn't just the media, and the fans feeding the hype.
"The reason why their names keep coming up is because they're answering the bell," Iowa receivers coach Kelton Copeland said of Johnson and Bruce.
Copeland didn't predict stardom or make any other bold predictions, but he did give strong indication that Johnson and Bruce both are catching on quickly and showing that they could help, perhaps right away.
Fans, and the media, will have their eyes fixed on the two freshmen receivers during Saturday's open practice at Kinnick Stadium, and if either one does anything that stands out, watch out because the hype train, which is powered by social media, will have left the station, and there is no turning back.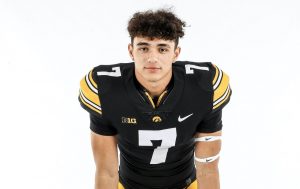 So again, I have no problem with those who like to predict the next big star because it's fun, it helps to excite the fans, and it's better than criticizing a player.
Spring is the time for hope and optimism, and for identifying the next wave of potential stars.
It's just important to remember that with hype comes pressure and high expectations, and that can be a heavy burden.